Muscari, commonly known as Grape Hyacinth, are so winter-hardy and easy to grow that no garden should be without them.
What is Grape Hyacinth?
Muscari, commonly known as Grape Hyacinth, are a group of plants in the Asparagus family. The genus Muscari contains about 30 species. Some of these, such as Muscari botryoides and Muscari comosum, originated in the Mediterranean region. In contrast, others can be found in their natural habitats in Asia Minor and the Caucasus.
Description and Growth Habit: Muscari are perennial bulbous plants with a clump-forming growth habit. They are generally compact, typically reaching a height of 6 to 8 inches (15-20 cm) and spreading a few inches wide.
Flowers: The flowers are what give Muscari its common name, Grape Hyacinths. They are small, urn-shaped, and densely packed in clusters that resemble a bunch of grapes. The flower color most commonly is a rich, cobalt blue, but it can also range from pale blue to violet and even white or pink in some species and varieties. Muscari have a lovely fragrance. The more you plant, the more fragrance you get!
Foliage: The foliage is made up of slender, strap-shaped, green leaves.
Blooming Season: Muscari blooms in mid to late spring, depending on the weather conditions and species.
Hardiness: Muscari are exceptionally hardy and can thrive in USDA Zones 4-8, making them suitable for a broad range of climates.
Uses: Due to their compact size and striking, usually blue flowers, Muscari are often used in rock gardens, borders, or underplanting for taller bulbs or shrubs. They also naturalize well, creating beautiful carpets of color when allowed to spread.
Pollinators: Muscari are known for attracting bees and other pollinators in early spring when food sources may still be scarce.
Toxicity: Like many bulbs, Muscari are toxic when ingested, so they should be planted out of reach of pets and children.
Deer and Rabbit Resistance: Muscari are resistant to deer and rabbits, which typically avoid them due to their toxicity.
Drought Tolerance: Once established, Muscari have good drought tolerance, but they prefer moist but well-drained soil during their growth and bloom period.
Key Facts: Despite the common name Grape Hyacinth, Muscari is not a true hyacinth, although both are part of the larger Asparagus family. Their low maintenance and striking early spring blooms make them a favorite among both novice and experienced gardeners.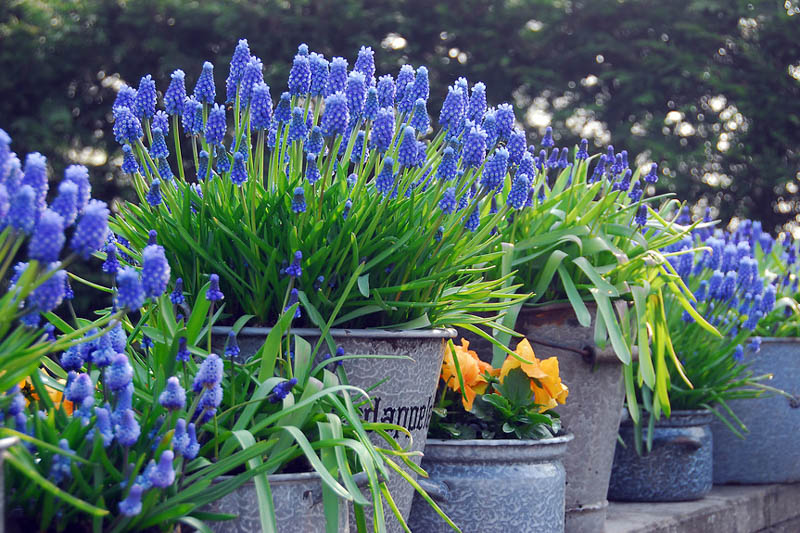 Muscari Popular Species
Here are some of the most popular species:
Muscari armeniacum: This is perhaps the most popular species. It's known for its vibrant blue color and is the variety that most people think of when they hear "grape hyacinth."
Muscari botryoides (syn. Muscari album): This is the species that produces white grape hyacinths. It's a good variety to choose if you're looking for something other than the classic blue.
Muscari latifolium: This species is unique because each stem bears a spike of dark, almost purple-blue flowers at the bottom, and lighter blue flowers at the top. It also has a broader leaf than most other species, which gives it its name.
Muscari azureum: This species features flax-blue flowers with a white fringe. It is smaller and delicate compared to Muscari armeniacum.
Muscari comosum (Tassel Hyacinth): This species is quite different from the others. Instead of a tight cluster of grapes, it has a loose spike of flowers that are typically purple-blue and create a tassel-like effect.
Muscari macrocarpum: This species, also known as Golden Fragrant Grape Hyacinth, produces yellow flowers, a rare color among Muscari, and has a lovely fragrance. 'Golden Fragrance' is a popular cultivar.
Muscari neglectum: Also known as Starch Grape Hyacinth, it's widespread in nature and can be found in many parts of Europe. It has a deep blue color.
Remember, the availability of specific species and cultivars can depend on your location and the nursery or garden center you visit.
Why Should I Grow Grape Hyacinth?
There are several compelling reasons why you should consider growing Grape Hyacinths (Muscari) in your garden:
Early Spring Blooms: Muscari are some of the first flowers to bloom in spring, often when little else is in bloom, providing a much-needed splash of color.
Easy to Grow: Muscari bulbs are incredibly easy to plant and require very little maintenance, making them perfect for beginner gardeners.
Attracts Pollinators: These flowers are known for attracting bees and other pollinators to your garden, which can help the health and vitality of your entire outdoor space.
Resilient: Grape Hyacinths are deer and rabbit resistant, and once established, they can tolerate periods of drought.
Naturalizes Well: Muscari spreads and naturalizes well, making it great for creating a carpet of color in your garden or for a naturalized, woodland-style planting.
Versatile: With their compact size, Muscari work well in a variety of settings such as borders, rock gardens, or underplanting for taller bulbs or shrubs.
Great for Cut Flowers: Muscari's vividly colored flowers are excellent for cutting and adding to spring bouquets.
In short, Grape Hyacinths are easy, resilient, and provide a valuable resource for pollinators, all while adding charm and color to your garden. Their versatility and low-maintenance nature make them a great addition to any garden.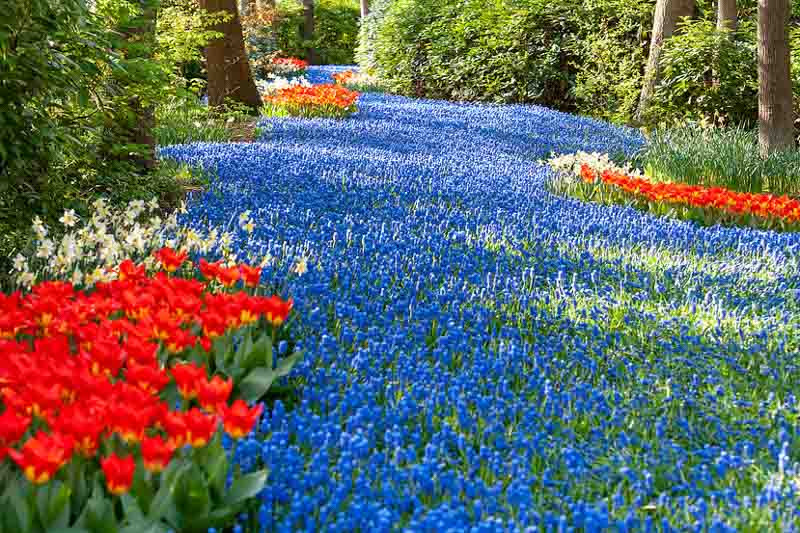 Is Grape Hyacinth invasive?
Grape hyacinths, have a reputation for being quite vigorous and can indeed become invasive in some situations. This is particularly true for certain species, such as Muscari armeniacum, which readily self-seeds and spreads through bulb offsets. They have the ability to naturalize, meaning they spread and can become quite abundant in an area.
While this characteristic is often appreciated by gardeners looking for a plant that will fill in a barren area and provide early spring color, it can become a problem if the Muscari start to crowd out other plants or spread into areas where they're not wanted.
If you're concerned about them becoming invasive, there are a few measures you can take:
Choose less vigorous species or varieties: Some types of Muscari are less likely to spread aggressively. For example, Muscari latifolium and Muscari azureum are known to be less invasive.
Deadhead after blooming: Once the Muscari have finished blooming, remove the spent flower heads before they have a chance to set seed. This will prevent them from self-seeding, though it won't stop them from spreading through their bulbs.
Control their spread: Every few years, dig up and divide the bulbs in late summer or early fall. This can help keep their growth in check.
Physical Barriers: Plant them in containers or use underground barriers to prevent them from spreading too widely.
In some regions, especially in the western United States, Muscari are listed as invasive and are discouraged from planting. Always check with your local extension service or garden center to see if there are any concerns with planting Muscari in your area.
While every effort has been made to describe these plants accurately, please keep in mind that height, bloom time, and color may differ in various climates. The description of these plants has been written based on numerous outside resources.