5 Daffodil Planting Tips
Narcissus, Spring Bulbs
---
Daffodils can be used for almost any purpose and are even more versatile in the garden than tulips and hyacinths. The only use for which hyacinths and certain groups of tulips surpass narcissi is bedding.
The great advantage of using daffodils is that they actually behave as perennial plants in the garden. This, plus the fact that they flower early in the season, means that they are indispensable in the perennial border. Borders that include perennial plants chosen to achieve a summer explosion of color will especially benefit from the early-flowering bulbous and cormous plants - and the daffodils are definitely the most conspicuous representatives of this group!
They can play a solo role when planted among perennial plants that have not emerged or are just starting to do so. Later, the foliage of these perennials will nicely cover the withering foliage of the narcissi. Narcissi can also be combined beautifully with early-flowering perennial plants such as Euphorbia polychroma, Beronia, Primula, Pulmonaria, Pulsatilla, Alchemilla mollis, Brunnera macrophylla, and late-flowering species of Helleborus.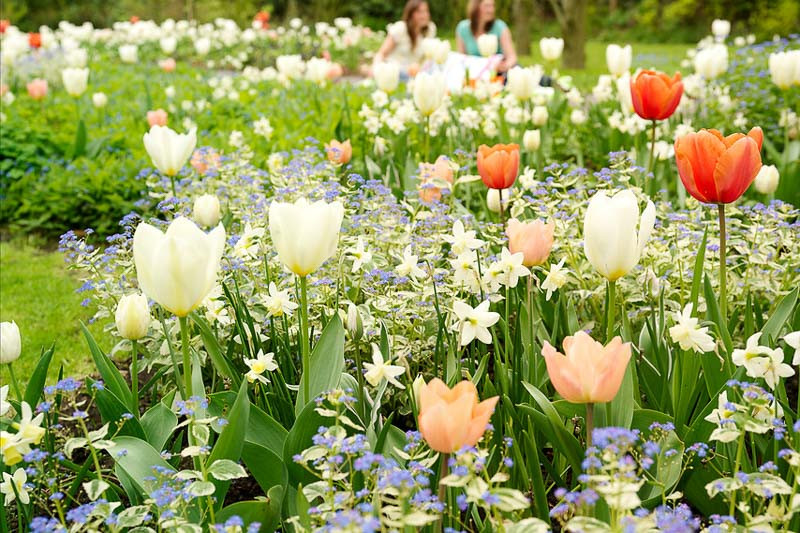 Narcissus Thalia, Tulips 'White Triumphator', 'Parade', and 'Holland Chic' interplanted with Brunerra Macrophylla
Another good use for them is under shrubs and trees with diaphanous crowns. Here, we can profit from the fact that narcissi can tolerate a certain amount of shade. Lovely combinations can be realized by planting narcissi with shrubs that flower simultaneously (approximately March-April).
There are many to pick from: Amelanchier lamarckii, Daphne mezereum, Corylopsis pauciflora, Magnolia stellata, Rhododendron 'Praecox', Mahonia aquifolium, Spiraea thunbergii, Skimmia japonica, and Prunus triloba 'Plena'. Plenty of arguments also exist about planting narcissi in the neighborhood of somber-looking evergreen shrubs and conifers. Here, their bright yellow and white colors will provide a cheery contrast.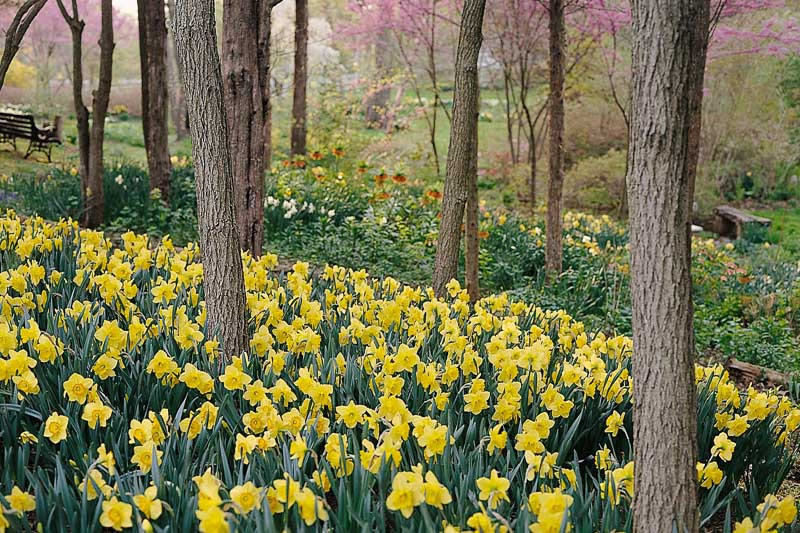 Narcissi are also useful for planting among ground covers such as Vinca minor, Pachysandra terminalis, Lamiastrum galeobdolon, and even Hedera helix. Naturalizing is one of the things daffodils do best, so they are perfect for planting among perennial plants, under shrubs, and between ground covers. They can also be used this way in the lawn if measures are taken to avoid mowing their foliage before it withers. This will mean that the first mowing of the year will have to wait for six weeks after the narcissi have faded, or that mowing will have to be done between the narcissi plants.
For naturalizing, some narcissi are better than others.
While every effort has been made to describe these plants accurately, please keep in mind that height, bloom time, and color may differ in various climates. The description of these plants has been written based on numerous outside resources.