When to Plant Angelonia
Angelonia seeds or seedlings should be planted after the last frost in spring when soil temperatures have warmed up, typically in late spring or early summer.
If you are starting seeds indoors, begin 6 to 8 weeks before the last expected frost date to give them enough time to germinate and grow before transplanting.
Where to Plant Angelonia
Sunlight: Select a location in your garden that receives full sun, as Angelonia prefers at least 6 hours of sunlight per day for optimal growth and flowering.
Soil: Ensure the area has well-draining soil, as these plants are sensitive to overly wet conditions.
How to Plant Angelonia
Follow these steps to plant Angelonia in your garden:
Prepare the planting area: Loosen the soil to a depth of 12 to 15 inches (30-37 cm) and mix in some compost or well-rotted manure to improve fertility and drainage.
Space the plants: Space seedlings or plants approximately 12 to 18 inches (30-45 cm) apart, depending on the variety's mature size, to allow for proper air circulation and growth.
Planting depth: Dig a hole slightly larger than the root ball of your plant. Place the plant in the hole, ensuring that the top of the root ball is level with the soil surface.
Backfill the hole: Gently backfill the hole with soil, firming it around the plant to remove air pockets. Be careful not to bury the plant too deep, as this can lead to root rot.
Water thoroughly: Water the newly planted Angelonia well to help settle the soil and establish good contact between the roots and the soil.
By planting Angelonia at the right time and in the proper location, you can enjoy its colorful, long-lasting blooms throughout the summer and into early fall.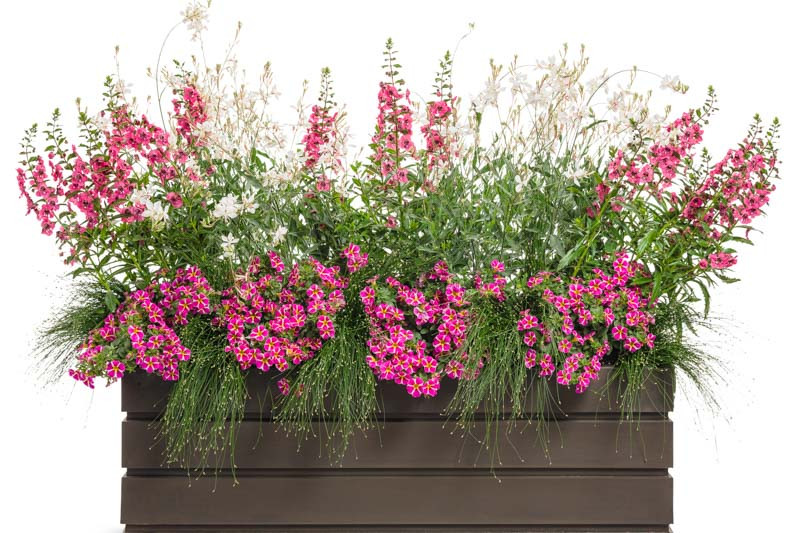 Caring for Angelonia
Caring for Angelonia is relatively simple, as these plants are low-maintenance and fairly easy to grow. Here are some guidelines:
Watering: Water your plants regularly, ensuring the soil remains consistently moist but not waterlogged. They are somewhat drought-tolerant once established, but it's still essential to provide sufficient water during dry spells or when grown in containers.
Fertilizing: Apply a slow-release, balanced fertilizer at planting time, and follow up with a liquid fertilizer every 4 weeks during the growing season. This will promote healthy growth and encourage abundant flowering.
Deadheading: Remove spent blooms regularly to encourage continuous flowering and maintain a neat appearance. This will also prevent the plant from setting seed, which can shorten the blooming period.
Pruning: Lightly prune your plants by pinching back the tips of the stems to encourage bushier growth and more branching, resulting in a fuller plant with more blooms.
Mulching: Apply a 2-inch (5 cm) layer of organic mulch around the base of your plants to help conserve moisture, suppress weeds, and regulate soil temperature.
Overwintering: In USDA hardiness zones 9 to 11, Angelonia plants can survive mild winters as perennials. In colder regions, treat them as annuals or move containers indoors to a sunny location to enjoy them as houseplants during the winter months.
By providing proper care and maintenance, you can enjoy the vibrant blooms and attractive foliage of Angelonia plants throughout the growing season.
Landscaping with Angelonia
Angelonia's vibrant colors and upright growth habit make it an excellent choice for various landscaping uses. Here are some ideas for incorporating Angelonia into your landscape design:
Flower beds and borders: Plant Angelonia in groups or drifts in your flower beds and borders for a striking display of color. Combine them with other flowering plants or foliage plants to create interesting contrasts in texture and color.
Mass plantings: Use Angelonia for mass plantings in large garden areas, where their continuous blooms will create a bold, colorful statement throughout the summer.
Container gardens: Angelonia plants are well-suited for container gardening, either on their own or mixed with other annuals and perennials. They can serve as a "thriller" component in mixed containers, adding height and structure to the arrangement.
Hanging baskets: Some compact or trailing Angelonia varieties are suitable for hanging baskets, providing a cascade of color throughout the season.
Cut flower gardens: Angelonia's long-lasting blooms and sturdy stems make them an excellent choice for cut flower gardens. Plant them in rows or groups for easy harvesting, and enjoy their vibrant colors in floral arrangements.
Cottage gardens: Incorporate Angelonia into your cottage garden design for a touch of whimsy and charm. The plants' informal growth habit and continuous blooms will complement other cottage garden favorites.
Pollinator gardens: Plant Angelonia in pollinator gardens to attract bees, butterflies, and hummingbirds. Pair them with other nectar-rich flowers to create a haven for these beneficial creatures.
Mixed with perennials: Angelonia can be combined with perennials like salvia, echinacea, or coreopsis to add a splash of color and extend the blooming season in perennial gardens.
With its vibrant colors, continuous blooms, and adaptability to various garden settings, Angelonia can be a valuable addition to your landscape design, providing beauty and interest throughout the growing season.
Angelonia Companion Plants
Angelonia plants can be combined with various companion plants to create stunning garden designs with complementary colors, textures, and heights. Here are some suggestions for companion plants to pair with Angelonia:
Lantana: Lantana's bright, colorful blooms work well with Angelonia, and both plants have similar growing requirements, including a preference for full sun and well-draining soil.
Salvia: Both Angelonia and salvia have upright, spiky flowers that create a complementary effect when planted together. Salvia comes in various colors, which can be used to create striking color combinations.
Echinacea: The daisy-like flowers of echinacea pair beautifully with the spiky blooms of Angelonia, creating a contrast in flower shapes while attracting pollinators.
Petunia: Petunias add vibrant colors and a more rounded, trailing growth habit that contrasts nicely with the upright structure of Angelonia.
Calibrachoa: Also known as Million Bells, calibrachoa's trailing habit and abundant blooms work well in combination with Angelonia, especially in container gardens or hanging baskets.
Coleus: The colorful foliage of coleus can provide a beautiful backdrop for Angelonia flowers, adding interest and contrast to garden beds or containers.
Verbena: Verbena's clusters of small, brightly colored flowers and spreading growth habit make it an excellent companion for Angelonia, creating a mix of colors and textures in the garden.
Ornamental grasses: The fine-textured foliage of ornamental grasses like fountain grass or blue fescue can provide a beautiful contrast to the bold flowers of Angelonia, adding movement and softness to the landscape.
Dusty miller (Senecio cineraria): The silvery-gray foliage of dusty miller can act as a stunning contrast to the vibrant colors of Angelonia, creating visual interest in flower beds and containers.
By choosing compatible companion plants for your Angelonia, you can create captivating garden designs with diverse colors, textures, and forms that provide beauty and interest throughout the growing season.
How to Propagate
Angelonia can be propagated through seeds, cuttings, or division. Here are the steps for each method:
Seeds:
Start seeds indoors 6 to 8 weeks before the last expected frost date.
Use a seed-starting mix in trays or small pots, and sow the seeds on the surface. Angelonia seeds need light to germinate, so don't cover them with soil.
Keep the growing medium consistently moist and maintain a temperature of 70-75°F (21-24°C) for optimal germination.
Germination should occur within 10 to 15 days. Once the seedlings have developed a few true leaves, transplant them into larger containers or directly into the garden after the last frost.
Cuttings:
Take cuttings from a healthy plant in late spring or early summer. Choose a 4 to 6-inch (10-15 cm) long stem that has no flowers and cut just below a leaf node.
Remove the lower leaves from the cutting, leaving the top 2 to 3 sets of leaves intact.
Dip the cut end of the stem in rooting hormone powder to encourage faster root development.
Plant the cutting in a container filled with a well-draining potting mix or a mix of equal parts peat moss and perlite or vermiculite.
Keep the cutting in a bright spot with indirect sunlight and maintain consistent moisture in the growing medium.
The cutting should root within 2 to 4 weeks. Once a healthy root system has developed, transplant the cutting into a larger container or into the garden.
Division:
Angelonia can also be propagated through division, although this method is less common. In early spring or fall, carefully dig up a mature plant and gently separate it into smaller sections, ensuring that each division has a good root system and some foliage.
Replant the divisions immediately into prepared soil or containers, water them thoroughly, and care for them as you would a newly planted Angelonia.
Whichever method you choose, be patient and provide the proper care for your new Angelonia plants to ensure successful propagation and a healthy, vibrant garden.
Pests and Diseases
Angelonia is generally low-maintenance and resistant to most pests and diseases. However, like any plant, it can still encounter a few issues. Here are some common pests and diseases that may affect Angelonia:
Aphids: These small insects suck the sap from plant leaves and stems, potentially leading to distorted growth or the spread of plant diseases. To control aphids, use insecticidal soap, neem oil, or release beneficial insects such as ladybugs into your garden.
Spider mites: These tiny pests also feed on plant sap and can cause leaves to become discolored or develop a stippled appearance. Control them with insecticidal soap or neem oil, and keep the plants well-watered to maintain their health.
Powdery mildew: This fungal disease appears as a white, powdery substance on leaves, and it can eventually lead to leaf drop or discolored foliage. Ensure proper air circulation, avoid overhead watering, and remove affected leaves to prevent its spread. Fungicides can be used if the problem is severe.
Root rot: Overwatering or poorly drained soil can lead to root rot, causing plants to wilt, yellow, or die. Prevent root rot by providing well-draining soil and avoiding overwatering. If you suspect root rot, remove the affected plant and improve soil drainage before replanting.
To minimize the risk of pests and diseases, maintain proper growing conditions for your Angelonia plants. This includes providing well-draining soil, adequate sunlight, and regular watering. Also, keep an eye on your plants and address any issues promptly to maintain their overall health and appearance.
Frequently Asked Questions
Is angelonia annual or perennial?
Angelonia is typically grown as an annual in most climates. However, it is a tender perennial in USDA hardiness zones 9 to 11, where it can survive year-round if protected from frost.
Does angelonia need full sun?
Yes, angelonia thrives in full sun, meaning it needs at least 6 to 8 hours of direct sunlight per day. While it can tolerate partial shade, the plant may become leggy and produce fewer blooms in shadier conditions.
Does angelonia need to be deadheaded?
Angelonia is a self-cleaning plant and does not require deadheading to promote continuous blooming. However, you can still remove spent flowers if you prefer a tidier appearance or if you want to prevent seed formation in perennial varieties.
Is angelonia hardy?
Angelonia is a tender perennial, meaning it is not frost-hardy. It is best suited for USDA hardiness zones 9 to 11, where it can survive mild winters. In colder climates, angelonia is typically grown as an annual and will not survive freezing temperatures. To protect your angelonia plants in colder zones, consider bringing them indoors or taking cuttings to propagate for the following year.