Chrysanthemum: A Vibrant Garden Gem
Chrysanthemums, often called "mums", are renowned flowering plants that have graced gardens worldwide with their vibrant blooms. Hailing from Asia and northeastern Europe, these plants exhibit a diversity of colors, from yellows, reds, and whites to purples and even greens.
Chrysanthemums have a bushy growth habit, typically growing between 1 to 3 feet (30-90 cm) tall, depending on the variety. They are herbaceous perennials by nature, though many gardeners treat them as annuals. These plants are hardy, usually thriving in USDA zones 5-9. Their resilience to colder temperatures can be enhanced with proper care and mulching.
The crowning glory of the chrysanthemum is its radiant flowers. Blooms can range from simple, daisy-like appearances to more complex, pom-pom or spider-like forms. They usually flower in late summer to fall, serving as a vibrant finale to the gardening season when many other plants have finished their show.
Beyond their ornamental beauty, chrysanthemums have practical uses. In some cultures, the leaves are used for culinary purposes, and the flowers for making a refreshing tea. Historically, they've been recognized for their medicinal properties.
Moreover, chrysanthemums are beneficial for gardens as they can act as natural insect repellents. Their presence can deter pests, making them an eco-friendly alternative to chemical repellents. Whether for their aesthetic appeal, cultural significance, or practical benefits, chrysanthemums are a cherished addition to any garden.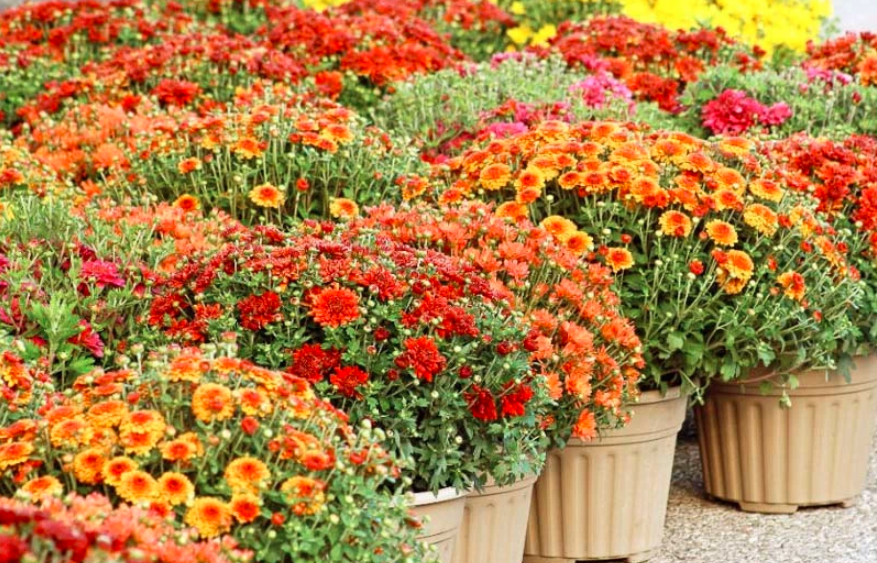 Chrysanthemum – Pest Issues
Chrysanthemums are susceptible to various pests that can cause significant damage if left untreated. Here's a list of common pests that afflict chrysanthemums, with their associated damages and suggested treatments:
Pest
Damage
Treatment
Aphids
Tiny, soft-bodied insects that suck plant sap, often leading to curled, yellowed, or distorted leaves. They also excrete a sticky substance called honeydew which can lead to sooty mold.
Use insecticidal soaps or neem oil. Encourage natural predators such as ladybugs

,

lacewings

,

damsel bugs,

or

hoverflies.
Capsid Bugs
These pierce plant tissues to feed, often leading to distorted growth.
Encourage natural predators into the garden, such as birds and ground beetles. Use insect mesh or netting. Respect good garden hygiene.
Earwigs
Although beneficial, they might chew on young plants or flowers.
Use an oil pit trap. Birds and toads are natural predators.
Foliar Nematodes
Microscopic roundworms that live in the soil and attack plant roots, leading to stunted growth and yellowing of leaves.
Remove and dispose of all infected plant material, control weeds, avoid overhead irrigation, select foliar nematode-resistant cultivars.
Leafminers
These are larvae of certain moths, flies, and beetles that tunnel inside leaves, leaving winding trails or blotches.
Remove affected leaves. Encourage natural predators, such as spiders

,

lacewings

,

ladybugs

,

soldier beetles

, and

parasitic wasps. Use systemic insecticides for severe infestations.
Slugs and Snails
They chew irregular holes in leaves, mostly during the night or on cloudy days.
Use slug pellets, diatomaceous earth, or copper barriers. Handpick during damp evenings.
Spider Mites
Very tiny spider-like creatures, they cause stippling or a dusty look on leaves. Severe infestations can turn leaves yellow or red; fine webbing might be visible.
Avoid overcrowding, introduce natural predators like ladybugs

,

lacewings

, and predatory mites. Use horticultural oil or insecticidal soap.

Tarnished Plant Bug
Discolored, distorted flower heads and leaves.
Use row covers, introduce natural predators like damsel bug

,

lacewings

, and parasitic wasps.

Thrips
Tiny insects that suck plant juices, causing stippling, distorted growth, and silvered or scarred surfaces. They can also spread viruses.
Improve cultural practice, row covers, sticky traps, or introduce natural predators such as lacewings, ladybugs, and parasitic wasps.
Whiteflies
Tiny, white, moth-like insects that suck plant sap and excrete honeydew. They can lead to yellowed leaves and sooty mold.
Remove and destroy infested leaves. Use sticky traps, insecticidal soaps, or garlic oil. Encourage predators such as lacewings and ladybugs.
For all these pests, monitoring your plants regularly, maintaining good garden hygiene, and ensuring that plants are healthy will reduce the likelihood of severe infestations. Sometimes, a combination of treatments might be necessary to combat persistent pests. Always ensure to use chemicals responsibly and as a last resort, considering their potential impact on beneficial insects and the environment.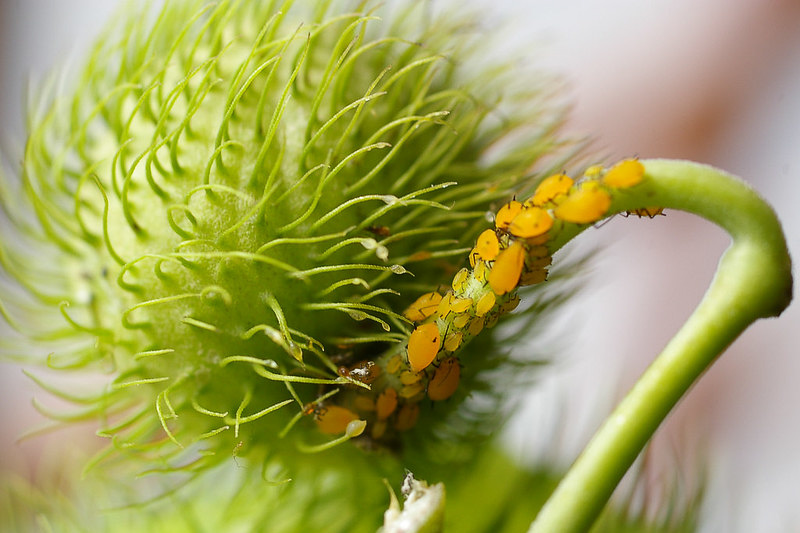 Aphids
Chrysanthemum – Disease Issues
Chrysanthemums are susceptible to several diseases, affecting their health and the beauty of their blooms.
Name
Symptom
Management
Aster Yellows
(Phytoplasma spread by leafhoppers)
Yellowing, stunted growth, and abnormal flower development.
Remove infected plants and manage leafhoppers.
Bacterial Leaf Spot
(Bacterial pathogens)
Water-soaked spots turning brown.
Remove infected leaves. Ensure proper plant spacing. Avoid overhead watering. Practice crop rotation. Apply copper-based fungicides.
Botrytis Blight (Gray Mold)(Botrytis cinerea)
Gray, fuzzy mold on leaves, stems, and flowers.
Remove affected areas, avoid overcrowding and overhead watering, and use appropriate fungicides.
Chrysanthemum White Rust (Puccinia horiana)
Yellow spots on the upper surface of the leaves, white to pinkish pustules on the corresponding undersides.
Remove and destroy infected plants. Fungicides can be effective if used early. Use resistant varieties.
Fusarium Wilt
(Fusarium oxysporum)
Yellowing, wilting, and browning of the lower leaves.
Soil fumigation, good drainage, and use of resistant varieties
Powdery Mildew
White, powdery substance on the leaves.
Improve air circulation, reduce humidity, and use fungicides.
Ray Blight

Brown streaks and spots on petals.
Fungicides and good sanitation.
Septoria Leaf Spot
Yellowish spots on leaves, which darken to brown or black. They may have a purple border. Leaves can wilt early, usually beginning with the lower leaves.
Manually remove and discard affected leaves. Consistently clear and dispose of garden debris. Mulch can hinder spore splash from soil to plants. Fungicides.
Southern Blight
(Sclerotium rolfsii)
Wilting, stem rot at the soil line, and white mycelium.
Crop rotation, soil solarization, mulching, improve drainage. Soil fungicides.
Verticillium Wilt
Yellowing, wilting, and death of plants.
Improve soil health, and ensure good soil drainage.
Virus Diseases (e.g., Chrysanthemum Stunt, Mosaic)
Stunted growth, yellow mottling, and ring spots.
Remove and destroy infected plants. Control vector pests.
To effectively manage chrysanthemum diseases, it's crucial to maintain good garden hygiene, provide proper spacing for air circulation, ensure well-draining soil, and regularly inspect plants for early signs of disease. If using chemical controls, always select the appropriate treatment for the specific disease and follow label instructions carefully.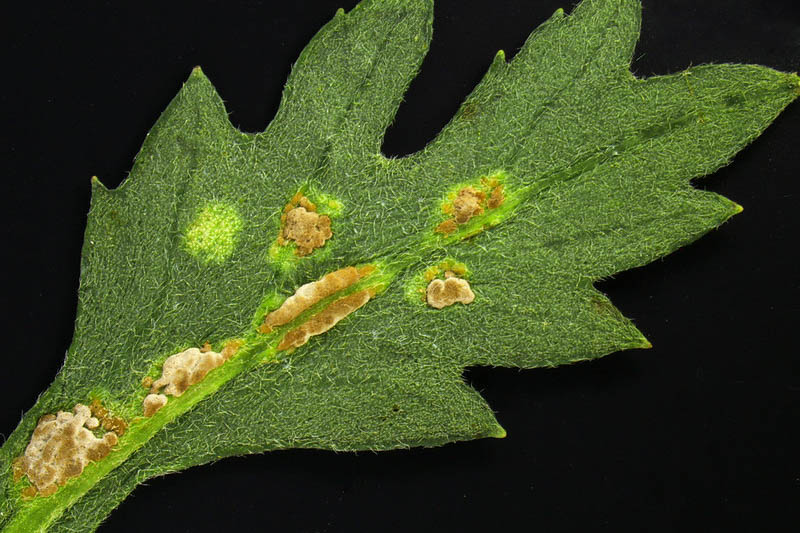 Chrysanthemum White Rust
Chrysanthemum – Abiotic Problems
Abiotic problems refer to non-living factors or stressors that can negatively affect plant health. For chrysanthemums, these can include environmental conditions, cultural practices, and physical or chemical damages. Here's a list of abiotic problems commonly affecting chrysanthemums, along with their causes and suggested solutions:
Cause
Symptom
Treatment
Water Stress

Wilted, curled, or drooping leaves; brown leaf edges.
Cause: Overwatering or underwatering.

Ensure well-draining soil and water consistently, avoiding waterlogged or overly dry conditions.
Sunburn
Leaves appear scorched, bleached or have brown patches.
Cause: Excessive sunlight or sudden exposure after being in the shade.
Provide afternoon shade or use shade cloth during intense heat.
Temperature Stress
Stunted growth, leaf drop, or damaged buds.
Cause: Exposure to extreme cold or heat.
Protect plants from frost and extreme heat. Consider using mulch to regulate soil temperature.
Nutrient Deficiency
Yellowing leaves, poor growth, or discolored leaf veins.
Cause: Too much or too little of certain nutrients in the soil.
Use a soil test to determine needs and apply appropriate fertilizers.
Improper pH
Poor growth, yellowing, or stunted plants.
Cause: Soil pH too high (alkaline) or too low (acidic).
Soil testing and amendments to adjust pH.
Compacted Soil
Poor root growth, water pooling on the surface.
Cause: Heavy foot traffic or machinery.
Loosen the soil and consider adding compost or other organic matter.
Wind Damage
Torn leaves, broken stems, or desiccation.
Cause: Strong winds.
Plant in protected areas or use windbreaks.
Salt Injury
Brown leaf edges, stunted growth, or wilting.
Cause: High salt levels in soil or water.
Leach soil with clean water, and avoid de-icing salts near the garden.
Chemical Injury
Burned or discolored leaves, damaged growth.
Cause: Herbicide drift or misuse of pesticides/fungicides.
Follow label instructions carefully and protect plants from drift.
Addressing abiotic problems in chrysanthemums often involves amending cultural practices and providing the right environmental conditions. Regularly monitoring and understanding the needs of the plants can prevent many of these issues.
While every effort has been made to describe these plants accurately, please keep in mind that height, bloom time, and color may differ in various climates. The description of these plants has been written based on numerous outside resources.