Phlox paniculata (Garden Phlox)
Border Phlox, Fall Phlox, Garden Phlox, Perennial Phlox, Summer Phlox
---
With its showy, sweetly fragrant flowers and long blooming season throughout the summer until early fall, Phlox paniculata is a garden classic that is considered by many as the backbone of summer borders. Their full round heads of white, lavender, pink, rose, red and bi-color blossoms sway attractively in the breeze, adding a gentle fragrance that is always welcome. Rich in nectar, they are visited by hummingbirds, butterflies, and birds that adore them! And so should you!
Growing in upright clumps of stiffly erect, branched stems up to 2-4 feet tall (60-120 cm), clad with narrowly oblong, deep green leaves, they prefer full sun to very light shade and enjoy moderately fertile, medium moisture, well-drained soils. Make sure you space them well to prevent powdery mildew issues. This plant needs good air circulation! Avoid overhead watering and add summer mulch to keep the root area cool.
This plant is not always easy to grow and may be subject to powdery mildew and root rot. It is good to note that more and more mildew-resistant varieties are being created, letting us fully enjoy our garden rather than worry.
Excellent choice for the perennial borders where their dazzling flowers are welcomed in any color scheme. They may be planted as single specimens or in groupings.
Deadhead to preserve a neat appearance, promote new blooms, and prevent self-seeding. Cut back stems after flowering is over.
A few beautiful Phlox paniculata Cultivars
Guide Information
Hardiness
4 - 8

Heat Zones
1 - 8

Climate Zones
1, 2, 3, 4, 5, 6, 7, 8, 9, 10, 11, 12, 13, 14, 18, 19, 20, 21, 22, 23, 24, 1A, 1B, 2A, 2B, 3A, 3B
Plant Type
Perennials
Plant Family
Phlox
Exposure
Full Sun, Partial Sun
Season of Interest
Summer (Mid,Late)
Fall

Height
2' - 4' (60cm - 120cm)
Spread
1' - 2' (30cm - 60cm)
Water Needs
Average
Maintenance
Average
Soil Type
Chalk, Clay, Loam
Soil pH
Acid, Alkaline, Neutral
Soil Drainage
Moist but Well-Drained, Well-Drained
Characteristics
Cut Flowers, Fragrant, Showy
Tolerance
Clay Soil
Attracts
Bees, Birds, Hummingbirds
Landscaping Ideas
Beds and Borders, Patio and Containers
Recommended Companion Plants
Garden Examples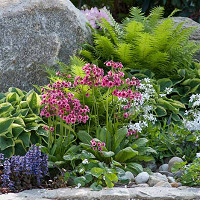 An easy and remarkable scenery to enjoy in mid to late spring. Most plants are deer resistant and...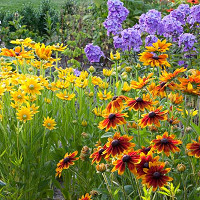 A simple but eye-catching mix realized with 3 favorite perennials for most gardeners which brings...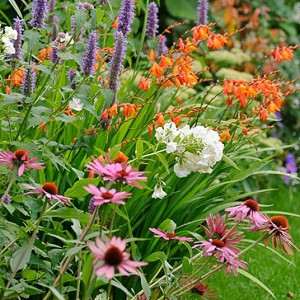 Like a rainbow in your garden!
By Sergejs Filimon, Shutterstock
While every effort has been made to describe these plants accurately, please keep in mind that height, bloom time, and color may differ in various climates. The description of these plants has been written based on numerous outside resources.
Guide Information
Hardiness
4 - 8

Heat Zones
1 - 8

Climate Zones
1, 2, 3, 4, 5, 6, 7, 8, 9, 10, 11, 12, 13, 14, 18, 19, 20, 21, 22, 23, 24, 1A, 1B, 2A, 2B, 3A, 3B
Plant Type
Perennials
Plant Family
Phlox
Exposure
Full Sun, Partial Sun
Season of Interest
Summer (Mid,Late)
Fall

Height
2' - 4' (60cm - 120cm)
Spread
1' - 2' (30cm - 60cm)
Water Needs
Average
Maintenance
Average
Soil Type
Chalk, Clay, Loam
Soil pH
Acid, Alkaline, Neutral
Soil Drainage
Moist but Well-Drained, Well-Drained
Characteristics
Cut Flowers, Fragrant, Showy
Tolerance
Clay Soil
Attracts
Bees, Birds, Hummingbirds
Landscaping Ideas
Beds and Borders, Patio and Containers
Not sure which Phlox to pick?
Compare All Phlox
Great Plant Combination
Ideas with Phlox
Guides with Phlox
Related Items