Calendula officinalis (Pot Marigold)
Pot Marigold, English Marigold, Poet's Marigold, Common Marigold, Scotch Marigold
---
Grown for its cheerful bright flowers and abundant blooming, Calendula officinalis (Pot Marigold) is a fast-growing annual or biennial plant that commands attention in any landscape and rewards you with weeks of blooms, from late spring until the first frosts. Borne in succession, the vibrant blooms provide not only a splash of color in the summer garden, but they are edible and may be added fresh or dried to soups, salads, or rice dishes for both color and flavor.
Native to Southern Europe, Calendula is easy to grow, low maintenance and performs best in early summer and fall.
Vigorously growing up to 12-24 in. (30-60 cm) and 12-18 in. wide (30-45 cm), depending on varieties, Calendula self-seeds readily without being invasive, keeping a presence in the garden.
Calendula is a cool-season hardy annual plant. Preferring cool weather, it is intolerant of intense heat and may die out during periods of hot humid weather.
The showy flowers are daisy-like, about 3-4 in. wide (7-10 cm), and range in color from creamy white to dazzling orange, vibrant yellow, or more subtle shades of apricot, soft yellow, sometimes with contrasting tips. They may be single or double, with light or dark centers, and proudly rise above the aromatic foliage of lance-shaped, green leaves (to 6 in. long or 15 cm).
| | | |
| --- | --- | --- |
| Calendula 'Bon Bon' Series | Calendula 'Fiesta Gitana' | Calendula 'Princess' Series |
Few insects or diseases bother Pot Marigolds. Watch for slugs and snails or powdery mildew. Butterflies love them while deer and rabbits ignore them!
Performs best in full sun in a light, poor to moderately fertile, well-drained soil. Some afternoon shade is tolerated in hot summer areas. Because Calendula are cool-season flowers, they often sulk when summer sets in, especially in hot-weather areas.
Water regularly until the plants are established. Mature plants thrive on only occasional watering. Drought tolerant once established.
Calendula is a great choice for beds and borders, edgings, as a ground cover, or in mass plantings. It is also suitable for cut flower gardens and containers and looks great in the cottage garden.
Calendula is a wonderful companion plant in the garden. Butterflies, bees, and other pollinators and beneficial insects are drawn to the flowers, making them a useful addition to the vegetable garden.
In addition, Calendula is a trap crop, trapping pests such as aphids, whiteflies, and thrips by exuding a sticky sap (resin) that they find more appealing and delicious than nearby vegetable crops.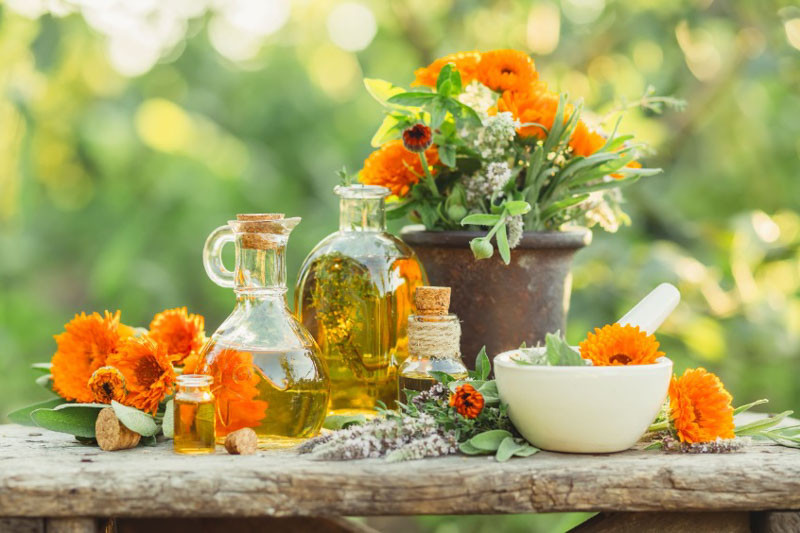 Calendula flowers can be harvested to make brightly colored bouquets. They can be used as a medicinal herb as they possess wound-healing and local anti-inflammatory properties.
The leaves and petals of this plant are edible. The leaves are often added to salads and the fresh petals can be used as a garnish or seasoning.
Seeds can be sown directly in the garden just before the last frost date, but for earlier bloom start seeds indoors about 6-8 weeks before the last frost. Successive sowings will provide fresh, blooming plants throughout the season. Avoid warm propagation temperatures, as they will produce weak plants.
If flowering performance dwindles in midsummer, cut back severely.
Young plants may be pinched back to encourage compact bushy growth. Deadhead spent flowers to promote additional bloom. Cut back to ground level after flowering.
Few insects or diseases bother Calendula. Keep an eye out for aphids, powdery mildew, and occasional cucumber mosaic virus. Deer and rabbits tend to avoid Calendula.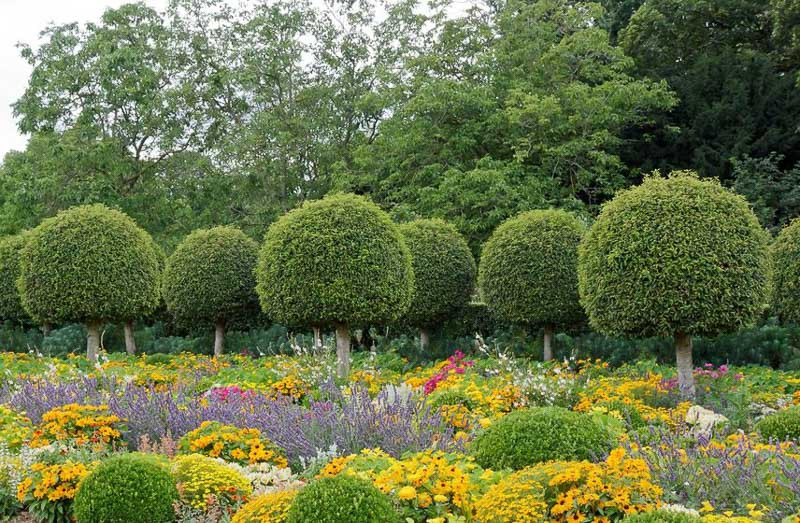 The most popular Calendula varieties are:
'Art Shades' Mix: Double flowers in citrus shades. 2ft. tall (60 cm)
'Bon Bon' Series: Double, pompom-like flowers in shades of yellow, orange, cream, or bronze. 10-12 in. tall (25-30 cm)
'Touch of Red' Mix: Flowers in shades of yellow and orange with red petal backs matching their centers. 2ft. tall (60 cm).
'Calypso' Series: Large, double, orange, and yellow flowers with black centers. Compact, dense plants. 12 in. tall (30 cm)
'Pacific Beauty' Series: Blooms in shades of orange, cream to yellow garland 1-2 ft. tall plants (30-60 cm).
'Princess' Series: Golden yellow and orange flowers with black or green centers. 18-24 in. tall (45-60 cm)
'Kablouna' Series: Large blooms of gold, orange, or apricot with a dark pin-cushion boss of petals. 16 in. tall (40 cm)
'Greenheart Orange': Orange petals are arranged around a large, lime green tufted center. 2 ft. tall (60 cm)
'Radio Extra Selected': Unusual cactus-like orange blooms with quilled petals. 18-24 in. tall (45-60 cm)
Not sure which Calendula - Pot Marigold to pick?
Compare All Calendula - Pot Marigold
Buy Calendula officinalis (Pot Marigold)
Requirements
Hardiness
2 – 11

Heat Zones
1 – 6

Climate Zones
1, 2, 3, 4, 5, 6, 7, 8, 9, 10, 11, 12, 13, 14, 15, 16, 17, 18, 19, 20, 21, 22, 23, 24, A2, A3, H1
Plant Type
Annuals, Herbs
Plant Family
Calendula - Pot Marigold
Exposure
Full Sun, Partial Sun
Season of Interest
Spring (Late)
Summer (Early,Mid,Late)
Fall

Height
1' – 2' (30cm – 60cm)
Spread
1' – 2' (30cm – 60cm)
Spacing
18" (45cm)
Water Needs
Average
Maintenance
Low
Soil Type
Chalk, Loam, Sand
Soil pH
Acid, Alkaline, Neutral
Soil Drainage
Well-Drained
Characteristics
Fragrant, Showy
Tolerance
Deer, Rabbit
Attracts
Bees, Butterflies
Garden Uses
Beds and Borders, Edging, Patio and Containers
Garden Styles
City and Courtyard, Informal and Cottage, Traditional Garden
123rf, Adelart, Shutterstock
While every effort has been made to describe these plants accurately, please keep in mind that height, bloom time, and color may differ in various climates. The description of these plants has been written based on numerous outside resources.
Requirements
Hardiness
2 – 11

Heat Zones
1 – 6

Climate Zones
1, 2, 3, 4, 5, 6, 7, 8, 9, 10, 11, 12, 13, 14, 15, 16, 17, 18, 19, 20, 21, 22, 23, 24, A2, A3, H1
Plant Type
Annuals, Herbs
Plant Family
Calendula - Pot Marigold
Exposure
Full Sun, Partial Sun
Season of Interest
Spring (Late)
Summer (Early,Mid,Late)
Fall

Height
1' – 2' (30cm – 60cm)
Spread
1' – 2' (30cm – 60cm)
Spacing
18" (45cm)
Water Needs
Average
Maintenance
Low
Soil Type
Chalk, Loam, Sand
Soil pH
Acid, Alkaline, Neutral
Soil Drainage
Well-Drained
Characteristics
Fragrant, Showy
Tolerance
Deer, Rabbit
Attracts
Bees, Butterflies
Garden Uses
Beds and Borders, Edging, Patio and Containers
Garden Styles
City and Courtyard, Informal and Cottage, Traditional Garden