What is a Cape Marguerite Daisy?
Dimorphotheca ecklonis, commonly known as Cape Marguerite Daisy, Van Stadens River daisy, Sundays River Daisy, Blue-and-White Daisy Bush, or White Daisy Bush, is a flowering plant in the Asteraceae family. It is native to South Africa, where it grows in open, grassy habitats and along the edges of forests.
Description: Cape Marguerite Daisy is a bushy, clump-forming evergreen perennial that typically grows to about 2 to 3 feet (60-90 cm) tall and wide. Its leaves are dark green, lance-shaped, and slightly fleshy, with a fine covering of hairs.
Flowers: The daisy-like flowers are 2 to 3 inches (5-7 cm) in diameter and come in shades of white, pink, or pale purple with a blue-violet ring around a dark central disk. The flowers close at night or on cloudy days.
Blooming Season: The blooming season for Cape Marguerite Daisies generally occurs from late spring to fall, depending on the climate and growing conditions.
Hardiness: Dimorphotheca ecklonis is frost-sensitive and can be grown outdoors in USDA Hardiness Zones 9 through 11. In colder climates, it is often grown as an annual or brought indoors for the winter.
Uses: Cape Marguerite Daisy is often used as an ornamental plant in gardens, borders, rockeries, and containers. Its showy flowers and drought-tolerant nature make it a popular choice for low-water gardens and xeriscaping.
Cape Marguerite Daisy is closely related to the African daisy (Osteospermum) and is sometimes confused with it due to similarities in flower appearance.
Why Should I Grow Cape Marguerite Daisies?
There are several reasons to consider growing Cape Marguerite Daisies in your garden:
Attractive flowers: The vibrant and showy flowers can add a splash of color to your garden and create a stunning visual display.
Extended blooming season: Cape Marguerite Daisy has a long blooming season, generally from late spring to fall, providing color and interest in your garden for an extended period.
Drought-tolerant: Dimorphotheca ecklonis is drought-tolerant once established, making it an excellent choice for low-water gardens or xeriscaping, particularly in areas with water restrictions or dry climates.
Pollinator attraction: The flowers of Cape Marguerite Daisies attract a variety of pollinators, including bees, butterflies, and other insects, which can help promote biodiversity in your garden and support a healthy ecosystem.
Low-maintenance: This plant is relatively low-maintenance, requiring little care other than occasional watering and deadheading to encourage continuous blooming. It is also adaptable to a variety of soil types, although well-drained soil is preferred.
Versatility: Cape Marguerite Daisy can be grown in various settings, such as garden beds, borders, rockeries, and containers. Its compact, bushy growth habit makes it suitable for both large and small spaces.
These factors make Cape Marguerite Daisy a valuable addition to many gardens, offering visual appeal, low maintenance, and environmental benefits.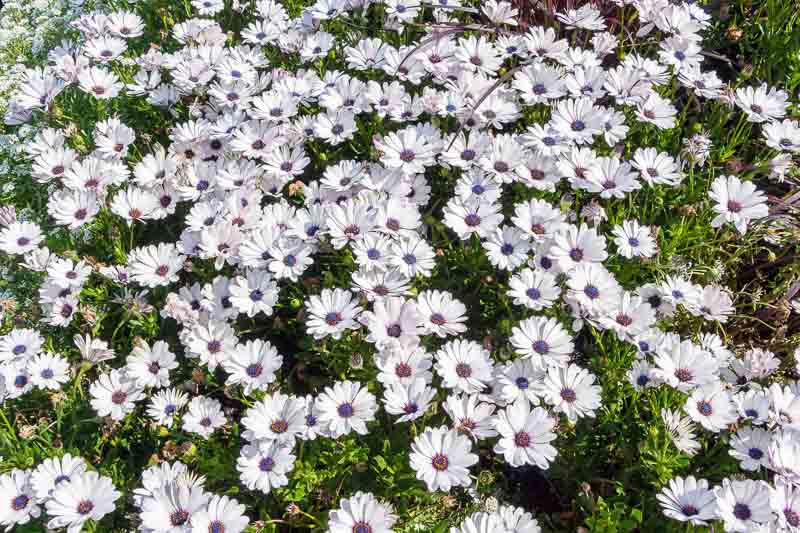 When to Plant
The best time to plant Cape Marguerite seeds or seedlings is in the spring after the risk of frost has passed. For seedlings, you can start them indoors 6-8 weeks before the last frost date to give them a head start.
Where to Plant
Sunlight: Choose a location in your garden that receives full sun for at least 6 hours per day, as Cape Marguerite Daisies require plenty of sunlight for optimal growth and flowering.
Soil: The plant is adaptable to various soil types but prefers well-drained soil. Avoid waterlogged or consistently damp conditions, which can lead to root rot.
How to Plant
Seeds: To plant seeds, prepare the garden bed by loosening the soil and removing any weeds or debris. Sow the seeds on the surface, lightly covering them with soil or fine vermiculite. Space the seeds about 24-36 inches (60-90 cm) apart to allow for adequate airflow and growth. Keep the soil moist until the seeds germinate, which usually takes 2-3 weeks. Thin the seedlings to the appropriate spacing once they have developed two sets of true leaves.
Seedlings: To plant seedlings, dig a hole slightly larger than the root ball of each plant. Space the holes about 24-36 inches (60-90 cm) apart. Gently remove the seedlings from their containers, taking care not to damage the roots. Place each seedling in a hole, ensuring the top of the root ball is level with the soil surface. Fill the hole with soil, gently firming it around the base of the plant. Water the seedlings thoroughly after planting to help them settle into their new environment.
Cape Marguerite Care
Caring for Cape Marguerite Daisies involves providing the right growing conditions and following some basic maintenance practices:
Watering: Water the plant consistently during the initial growth period to help it establish a healthy root system. Once established, Cape Marguerite Daisy is relatively drought-tolerant and can withstand periods of low rainfall. Water when the top few inches of soil feel dry, but avoid overwatering, as this can lead to root rot.
Fertilizing: Apply a balanced, slow-release fertilizer in the spring to support growth and flowering. Be careful not to over-fertilize, as excessive nitrogen can result in lush foliage growth at the expense of flowers.
Deadheading: Regularly remove spent flowers to encourage continuous blooming throughout the season. This practice also helps to maintain the plant's appearance and prevent the spread of disease.
Pruning: Prune the plant lightly in late winter or early spring to remove any dead or damaged growth and maintain a compact, bushy shape. Regular pruning can also encourage more vigorous growth and flowering.
Pest and disease control: Keep an eye out for common pests like aphids or spider mites. If necessary, use insecticidal soap or other appropriate treatments to manage infestations. To prevent fungal diseases, ensure proper air circulation around the plant and avoid overhead watering.
Overwintering: In regions with mild winters, Dimorphotheca ecklonis can be grown as a perennial. In colder climates, it is often grown as an annual, or the plant can be brought indoors for the winter. If overwintering indoors, provide a sunny spot and reduce watering during the colder months.
By following these care guidelines, you can help ensure the health and vigor of your Cape Marguerite Daisies, allowing it to produce vibrant, showy flowers throughout the growing season.
How to Propagate Cape Marguerite Daisies
Propagating Cape Marguerite Daisies can be done through two primary methods: seeds and cuttings.
Seeds
Start seeds indoors 6-8 weeks before the last frost date or sow them directly in the garden after the risk of frost has passed.
If starting indoors, sow seeds in seed trays or small pots filled with a seed-starting mix or well-draining potting soil.
Scatter the seeds on the surface of the soil and lightly cover them with a fine layer of soil or vermiculite.
Keep the soil consistently moist and maintain a temperature of about 65-70°F (18-21°C) to encourage germination.
Seeds typically germinate within 2-3 weeks. Once seedlings have developed two sets of true leaves, transplant them to individual pots or thin them out in the garden, spacing them about 12-18 inches apart.
Cuttings
The best time to take cuttings is in late spring or early summer when the plant is actively growing.
Choose healthy, non-flowering shoots and cut a 3-4 inch (7.5-10 cm) stem tip just below a leaf node. Remove the lower leaves, leaving only the top two or three pairs.
Dip the cut end of the cutting in rooting hormone to promote root development, although this step is optional.
Plant the cutting in a small pot filled with a well-draining potting mix or a mix of perlite and peat moss. Gently firm the soil around the base of the cutting to ensure good contact.
Water the cutting well and place a plastic bag or cover over the pot to create a humid environment that encourages rooting.
Place the pot in a warm, bright location, but avoid direct sunlight, as this may cause the cutting to dry out or overheat.
Keep the soil consistently moist but not waterlogged. Rooting typically occurs within 3-4 weeks.
Once the cutting has developed a healthy root system, transplant it to a larger pot or directly into the garden.
By using either of these propagation methods, you can create new plants to expand your collection or share with friends and fellow gardeners.
While every effort has been made to describe these plants accurately, please keep in mind that height, bloom time, and color may differ in various climates. The description of these plants has been written based on numerous outside resources.