Incredible beauty
The wonderful world of tulips includes some very exceptional ones. Distinctive examples are the winners of the annual Flower Bulb of the Year for 2013. The exceptional tulips in the Parrot Group produce flamboyant flowers that start blooming in April.
Parrot tulips
The decorative tulips in the Parrot Group get their name from their colorful, feather-like petals. There are more than 50 cultivars including 'Apricot Parrot', 'Bastogne's Parrot', 'Black Parrot', 'Blue Parrot', 'Bride Parrot', 'Cerise Parrot', 'Green Wave', 'Irene Parrot' 'Monarch Parrot' and 'Texas Flame'.
What is a parrot tulip?
A parrot tulip is a mutation of an ordinary tulip. In other words, it is the result of a genetic change. They have been selected for their ruffled, serrated petals from among late-flowering tulips and tulips in the Triumph Group. The first parrot tulips appeared during the seventeenth century in France but were not seen in the Netherlands until a century later.
An exotic shape
Parrot tulips are truly unique. Everything about them is larger and more decorative than other tulips. An average parrot tulip is 12 cm across. Their height ranges from 35 to 50 cm. And their fanciful shapes and gradations of color make them real eye-catchers. And their deeply incised petals are painted with striking color combinations. The opulent look of parrot tulips makes them the focal point in a bouquet.
| | |
| --- | --- |
| | Tulip 'Salmon Parrot' |
Added value
Parrot tulips attract attention when still in bud. Even at this stage, they distinguish themselves from other tulips as they start to reveal their promise of spectacular elegance. You can recognize a parrot tulip even from a distance.
Some parrots, like 'Orange Favourite', 'Blue Parrot' and 'Blumex Favourite', have yet another plus: a delightful fragrance.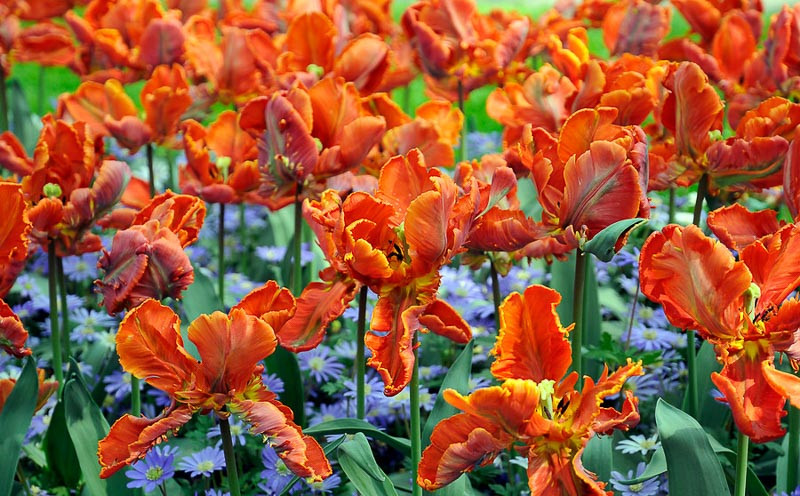 Nice combinations
Parrot tulips are perfect companions for perennials with decorative emerging leaves such as euphorbias or peonies. Beautiful in a border, they also look fabulous in large pots. A sunny, sheltered site is the best place for these tulips.
| | |
| --- | --- |
| | |
| Tulips Arabian Mystery, Rasta Parrot | Tulips 'Angelique', New Design', Blue Parrot' |
While every effort has been made to describe these plants accurately, please keep in mind that height, bloom time, and color may differ in various climates. The description of these plants has been written based on numerous outside resources.