What is Liatris?
Liatris, known as blazing star, features striking vertical spikes of purple, pink, or white flowers that bloom uniquely top-down. Native to North American prairies, this drought-tolerant perennial attracts butterflies and resists deer, enhancing gardens with its resilient and eye-catching presence from late summer into fall.
Native: These plants are indigenous to a variety of North American habitats, including meadows, prairies, and open woodlands. Their presence across different regions has led to the development of numerous species, each adapted to its specific ecosystem.
Liatris belongs to the Asteraceae family, the same family as daisies and sunflowers. With over 32 species within the genus, these plants exhibit diversity in size, habitat preference, and flowering habits, but all share the characteristic flower spike.
Description: Liatris species are herbaceous perennials, meaning they live for more than two years and have a non-woody stem that dies back at the end of the growing season, only to regrow from their rootstock each spring. They boast upright spikes laden with fluffy, brush-like flowers. Their linear growth pattern and tufted flower heads make them unique among prairie plants, offering a textural counterpoint to other perennials.
Growth Habit: These plants typically have a clump-forming habit, with narrow leaves cladding the stems. The foliage grows densely at the base, with the flowers arranged along the erect stem, often giving the appearance of a feathered spike. Depending on the species, the plants arise from a corm, rhizome or elongated root crown.
Size: The size of Liatris plants can vary significantly by species, ranging from 1 to 5 feet in height (30-150 cm). Their slender form and vertical lines allow them to fit well even in small gardens.
Flowers: The standout feature of Liatris is its flowers. These are usually purple, pink, or white and form dense, spike-like heads that open from the top down – a rarity in the flowering world.
Blooming Season: Flowering occurs from mid to late summer into fall, providing a late-season nectar source for pollinators and a splash of color when many other perennials are starting to fade.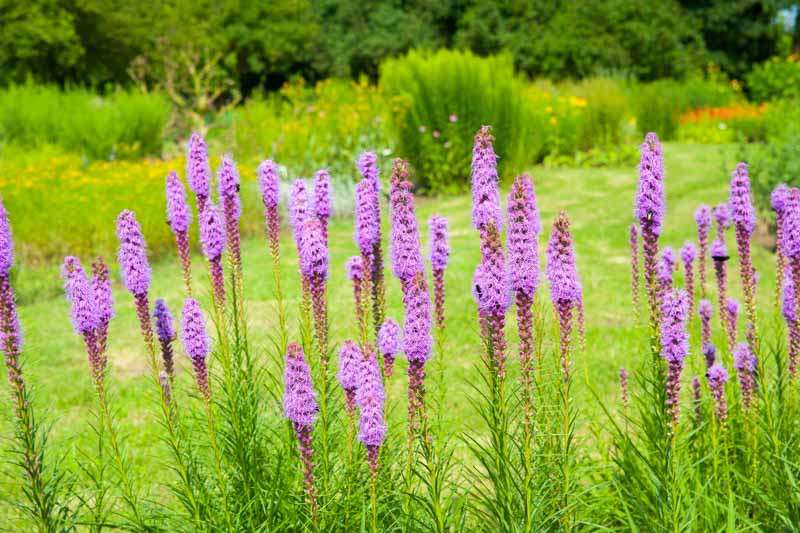 Liatris spicata (Blazing Star)
Fruit: The fruit of Liatris is a small, dry, one-seeded achene. While not particularly ornamental, it is an important food source for wildlife.
Foliage: The foliage of Liatris is typically narrow and grass-like, sometimes with a slightly bluish tinge. The leaves may remain attractive long after the blooming season, offering continued visual interest.
Hardiness: Most Liatris species are hardy in USDA zones 3-9, demonstrating good cold tolerance and the ability to withstand winter conditions in these regions.
Uses: Liatris is favored for ornamental gardens, native plantings, and prairies. It is also popular in cut flower arrangements, both fresh and dried.
Pollinators: These plants are magnets for bees, butterflies, and hummingbirds
Toxicity: Liatris is not known to be toxic to humans or pets, making it a safe choice for gardens frequented by children and animals.
Deer and Rabbit: Deer tend to avoid Liatris, likely due to its coarse texture and less palatable foliage.
Drought: Once established, Liatris is incredibly drought-tolerant, often thriving in dry conditions where other plants might struggle.
Invasiveness: Liatris is not considered invasive; it stays where planted and does not aggressively spread, making it a responsible choice for ecologically-minded gardeners.
While every effort has been made to describe these plants accurately, please keep in mind that height, bloom time, and color may differ in various climates. The description of these plants has been written based on numerous outside resources.