Forsythia is a deciduous shrub prized for its vibrant yellow blooms that herald the onset of spring. These sunlit blossoms emerge before the green foliage, creating a brilliant contrast against the bare branches.
Native to East Asia, Forsythia is hardy and can thrive in a range of soil types, though it prefers well-draining soil. Reaching heights of up to 10 feet (3 meters), depending on the species, its arching branches create an attractive fountain-like form.
Aside from its ornamental value, Forsythia is somewhat drought-resistant and attracts pollinators, making it both a beautiful and beneficial addition to gardens.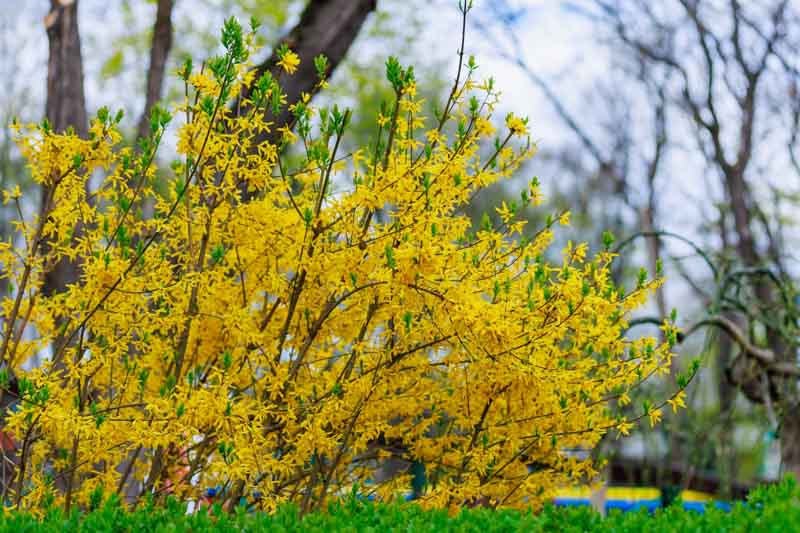 Forsythia – Pest Issues
Forsythia, while relatively hardy and low-maintenance, can sometimes fall prey to certain pests. Here are the main pests that may target Forsythia.
| | | |
| --- | --- | --- |
| Pest | Damage | Treatment |
| Aphids | These small, pear-shaped insects suck the sap from forsythia leaves, leading to yellowed, distorted growth. They also excrete a sticky substance called honeydew, which can attract sooty mold. | Spray with insecticidal soap or neem oil. Encourage beneficial insects like ladybugs, lacewings, and hoverflies that feed on aphids. |
| Spider Mites | These tiny mites can be hard to see, but they suck sap from the undersides of leaves, causing a stippled or bronzed appearance. A fine webbing on the plant often indicates their presence. | Avoid overcrowding, introduce natural predators like ladybugs, lacewings, and predatory mites. Use horticultural oil or insecticidal soap. |
| Four-Lined Plant Bug | This bug creates small, round to oval, sunken spots on forsythia leaves. These spots can cause leaves to become distorted, discolored, or prematurely drop off the plant. | Physical removal by hand. Use row covers. Neem oil can be effective against nymphs. Sprinkle diatomaceous earth around the base of plants. Prune and destroy stems showing egg-laying slits. |
| Japanese Weevil | Both adult and larval stages of the Japanese Weevil can be harmful. Adults notch the edges of leaves, while larvae feed on plant roots, potentially stunting growth or killing young plants. | Hand-pick adults. Use neem oil, insecticidal soaps, diatomaceous earth. Chemical pesticides containing ingredients like pyrethroids can be effective against the weevil. However, they might also impact beneficial insects. |
Always consider integrating organic or biological methods before resorting to chemical treatments. It's essential to correctly identify the pest and use the appropriate treatment method.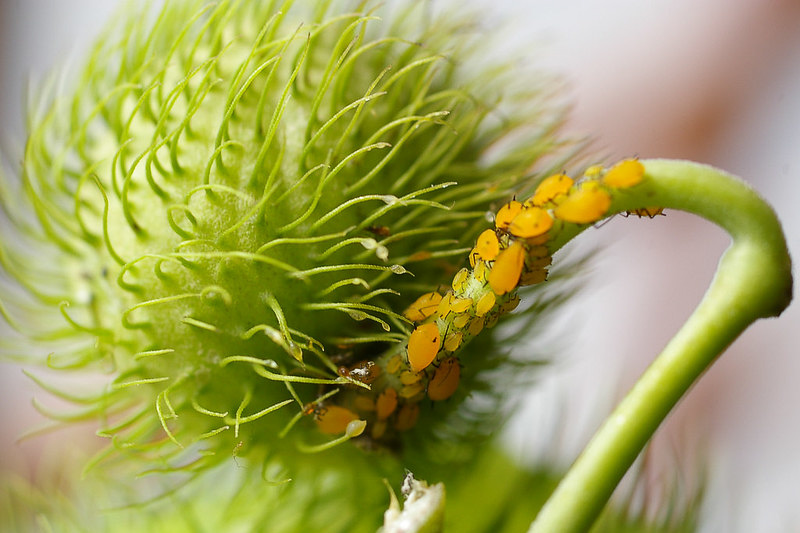 Aphids
Forsythia – Disease Issues
Forsythia is generally a robust plant, but it can still be affected by some diseases. Here are the most common diseases, their symptoms, and treatment options:
| | | |
| --- | --- | --- |
| Name | Symptom | Management |
| Crown Gall | This is caused by a bacterium that results in large, tumor-like growths at the base of the plant or on the roots. Infected plants should be removed and destroyed. | Unfortunately, there's no effective treatment for plants already infected. Remove and destroy affected plants. Ensure tools are sterilized before using them elsewhere. |
| Leaf Spot Diseases | These are caused by various fungi and result in small to large brown or black spots on the leaves. They're mostly an aesthetic issue but can be reduced by ensuring good airflow around the plant and avoiding overhead watering. | Remove and dispose of infected leaves. Apply a suitable fungicide. Maintain good sanitation practices by cleaning up fallen leaves. |
| Twig Blight | Wilted, brown leaves on individual branches, progressing to the entire branch dying. | Prune out infected branches well below the diseased area and sterilize pruning tools between cuts. Fungicidal treatments can help if applied early. |
General Prevention Tips:
Regularly inspect Forsythia plants, checking for signs of diseases, and treat early before they spread.
Ensure proper spacing and pruning practices to allow adequate airflow and reduce the risk of fungal infections.
Clean up and dispose of fallen leaves and debris around the plant base to reduce overwintering disease sources.
Practice crop rotation and avoid planting Forsythia in sites where previous plants were affected by similar diseases.
Regularly sterilize gardening tools, especially when working with diseased plants, to avoid cross-contamination.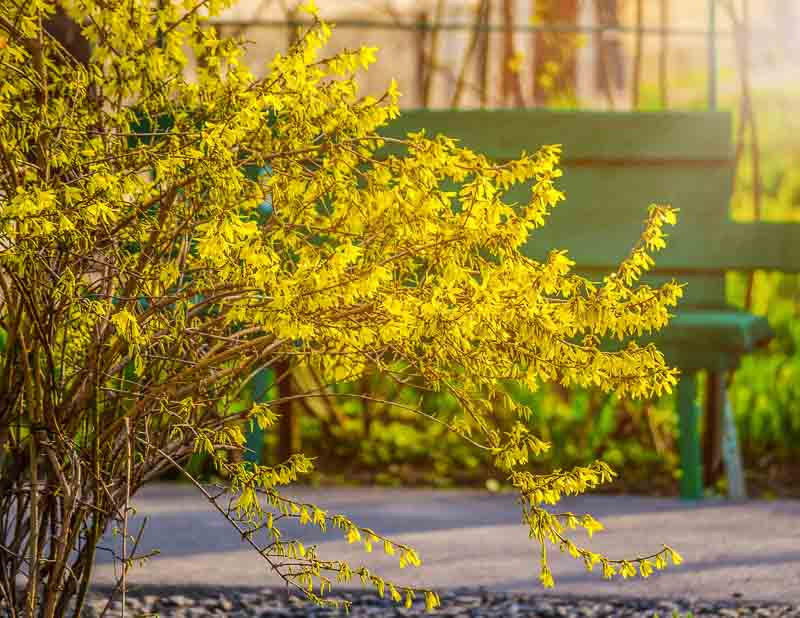 Forsythia ovata (Korean Forsythia)
Forsythia – Abiotic Problems
Abiotic problems are caused by nonliving agents, for example, environmental, physiological, or other non-biological factors. Not all problems are easy to diagnose, and may be a combination of several factors.
Forsythia, like other plants, can face various abiotic issues that affect its health. Here are some abiotic problems directly associated with Forsythia, along with symptoms and potential treatments:
Cause
Symptom
Treatment
Water Stress
Wilted, curled, or drooping leaves; brown leaf edges.
Cause: Overwatering or underwatering.
Ensure well-draining soil and water consistently, avoiding waterlogged or overly dry conditions.
Temperature Fluctuations in Winter
Winter dieback or branch injury.
Planting Forsythia in a protected location, using winter mulch, and ensuring it's adequately hydrated in the fall can help reduce winter injury.
Late Spring Frosts
Blackened or brown buds and young leaves, failure to bloom.
If you expect a late frost after a warm period, try covering plants with frost cloth or old sheets at night. Remove during the day. Choosing a planting site with protection from direct wind and sudden temperature shifts can also help.
Improper Pruning
Reduced blooming or no blooms at all.
Forsythias bloom on old wood. The best time to prune is just after they finish blooming in the spring. This gives the plant a full growing season to develop next year's flower buds.
Poor Soil Conditions
Stunted growth, yellowing of leaves (chlorosis), and poor flowering.
Ensure well-draining soil to prevent waterlogged conditions. Amend with compost or organic matter if necessary. If the soil is too alkaline or too acidic, amending based on soil test recommendations can help adjust the pH.
Excessive Fertilization
Excessive green growth at the expense of blooms, potential leaf burn.
Use a balanced, slow-release fertilizer, and follow label recommendations. If excessive fertilization is suspected, water deeply to leach away excess nutrients.
While every effort has been made to describe these plants accurately, please keep in mind that height, bloom time, and color may differ in various climates. The description of these plants has been written based on numerous outside resources.