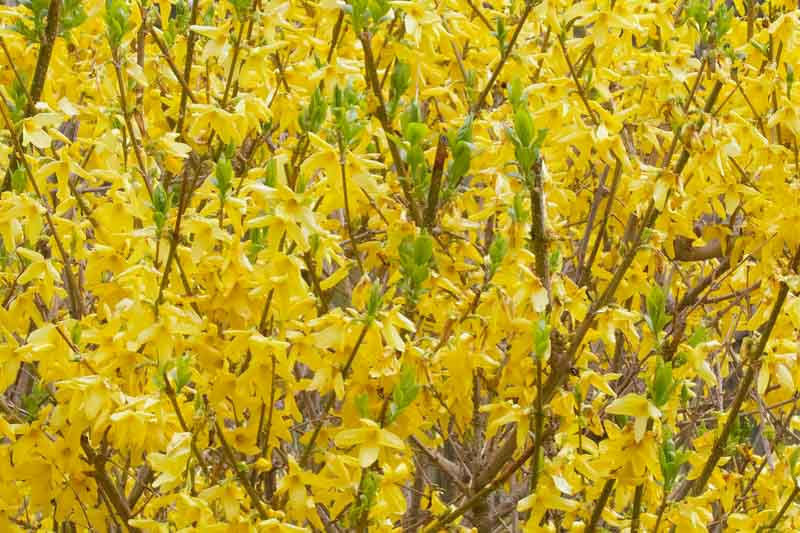 Forsythia, with its vibrant yellow blooms, is a springtime favorite. However, sometimes, the shrub exhibits signs of stress. If your Forsythia isn't thriving, consider these common issues:
Lack of Blooms: Over-pruning or pruning at the wrong time (late summer or fall) can remove next spring's flower buds. Frost can also damage early buds.
Yellowing Leaves: This could be a sign of waterlogged soil or root rot, especially if the leaves are wilting. Ensure good drainage.
Pest Damage: Spider mites, two-banded Japanese weevils, and the four-lined plant bug can attack Forsythias, leading to stippled or misshapen leaves.
Leaf Spot Diseases: Brown or black spots on leaves may indicate a fungal infection. Ensure good air circulation and avoid wetting foliage.
Excessive Fertilization: Over-fertilizing can lead to burnt foliage edges or reduced flowering.
To revive your Forsythia, diagnose the specific issue, then address it directly, whether through adjusted care, pest control, or disease treatment.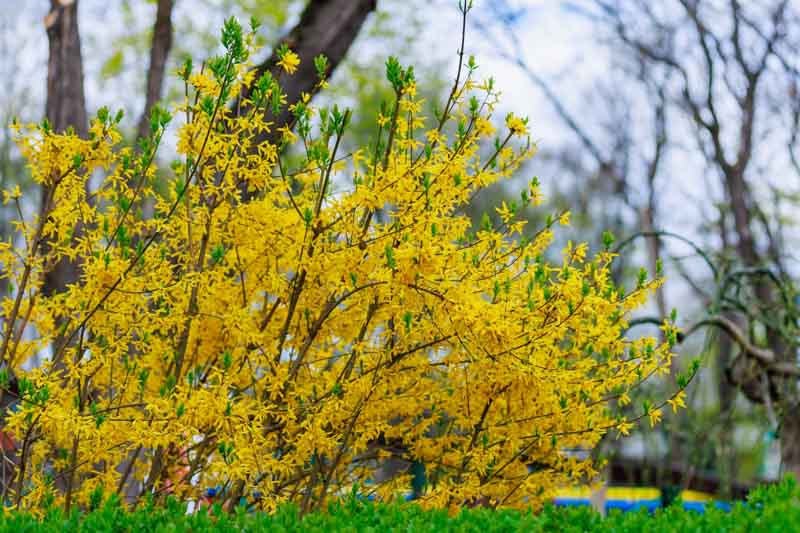 Forsythia – Common Problems
Symptoms: Small green or black insects on the underside of leaves; sticky honeydew residue leading to sooty mold.
Causes: Infestation of aphid pests.
Treatment: Use insecticidal soaps, neem oil, or introduce natural predators like ladybugs.
Symptoms: Yellow stippling on leaves, fine webbing on the plant, and tiny mites.
Causes: Infestation of spider mites, especially in hot, dry conditions.
Treatment: Introduce natural predators, use miticides, or regularly spray water to knock off mites.
Symptoms: Notched or scalloped leaf edges, stunted growth.
Cause: weevils feeding on leaves and roots.
Treatment: Hand-pick adults. Use neem oil, insecticidal soaps, or diatomaceous earth. 
Symptoms: Small, round to oval, sunken spots on forsythia leaves. These spots can cause leaves to become distorted, discolored, or prematurely drop off the plant.
Cause: Nymphs and adults feeding on plant sap.
Treatment: Physical removal by hand. Use row covers. Neem oil can be effective against nymphs. Sprinkle diatomaceous earth around the base of plants. Prune and destroy stems showing egg-laying slits.
Symptoms: Round, wart-like growths on roots and at the base of the stem.
Causes: Bacterial infection.
Treatment: Unfortunately, there's no effective treatment for plants already infected. Remove and destroy affected plants. Ensure tools are sterilized before using them elsewhere.
Symptoms: small to large brown or black spots on the leaves. They're mostly an aesthetic issue.
Causes: Fungi such as Septoria and Alternaria.
Treatment: Remove and dispose of infected leaves. Apply a suitable fungicide. Maintain good sanitation practices by cleaning up fallen leaves. Avoid overhead watering.
Symptoms: Wilted, brown leaves on individual branches, progressing to the entire branch dying.
Cause: Fungal infection.
Treatment: Prune out and destroy affected branches. Ensure good air circulation. Fungicidal treatments can help if applied early.
Water Stress
Symptoms: Wilted, curled, or drooping leaves; brown leaf edges.
Cause: Overwatering or underwatering.
Treatment: Ensure well-draining soil and water consistently, avoiding waterlogged or overly dry conditions.
Late Frosts
Symptoms: Bud damage; lack of flowers.
Cause: Frost damage after buds have formed.
Treatment: Plant in a protected area or cover during late frosts.
Improper Pruning
Symptoms: Reduced flowering or no blooms at all.
Cause: Pruning at the wrong time.
Treatment: Prune immediately after flowering to avoid cutting off next year's buds.
Winter Injury
Symptoms: Browning or dieback of branches exposed to harsh winter conditions.
Cause: Wind burn or sun scald in winter.
Treatment: Plant in locations shielded from winter winds; use winter mulch.
Poor Soil Conditions
Symptoms: Stunted growth, yellowing leaves, and poor flowering.
Cause: Soil compaction or poor drainage.
Treatment: Amend soil with organic matter; improve soil structure.
Excessive Fertilization
Symptoms: Excessive green growth at the expense of blooms, potential leaf burn.
Causes: Forsythias generally don't require a lot of fertilization to thrive. It's especially problematic if high-nitrogen fertilizers are used or if fertilizers are applied during periods of stress, such as drought.
Treatment: Use a balanced, slow-release fertilizer, and follow label recommendations. If excessive fertilization is suspected, water deeply to leach away excess nutrients. If unsure about the nutrient content in the soil, conduct a soil test.
Guide Information
| | |
| --- | --- |
| Hardiness | 5 - 9 |
| Climate Zones | 2, 2B, 3, 3A, 3B, 4, 5, 6, 7, 8, 9, 10, 11, 14, 15, 16, 18, 19, A2, A3 |
| Plant Type | Shrubs |
| Genus | Forsythia |
| Exposure | Full Sun, Partial Sun |
| Season of Interest | Spring (Early, Mid) |
| Maintenance | Low |
| Water Needs | Average |
| Soil Type | Chalk, Clay, Loam, Sand |
| Soil pH | Acid, Alkaline, Neutral |
| Soil Drainage | Moist but Well-Drained |
| Characteristics | Showy, Cut Flowers |
| Tolerance | Deer, Clay Soil |
| Attracts | Bees, Birds |
| Landscaping Ideas | Banks And Slopes, Beds And Borders, Hedges And Screens, Patio And Containers, Wall-Side Borders |
| Garden Styles | City and Courtyard, Coastal Garden, Informal and Cottage, Traditional Garden |
Discover These Helpful Forsythia Guides for Further Reading
Under the same moon, Flickr
While every effort has been made to describe these plants accurately, please keep in mind that height, bloom time, and color may differ in various climates. The description of these plants has been written based on numerous outside resources.