Nipponanthemum nipponicum (Nippon Daisy)
Nippon Daisy, Montauk Daisy, Leucanthemum nipponicum, Chrysanthemum nipponicum
---
What is a Nippon Daisy?
Nippon Daisy (Nipponanthemum nipponicum) is a perennial flowering plant native to the coastal regions of Japan, where it can be found growing on cliffs and rocky shorelines. It is a member of the Asteraceae family and is sometimes referred to as Montauk Daisy or Japanese Chrysanthemum.
Description: Nippon Daisy features dark green, glossy, leathery leaves that are coarsely toothed and have a slightly succulent appearance. The plant has a bushy growth habit with sturdy, woody stems.
Native Growth Habit: Nippon Daisy is well-adapted to coastal environments and can tolerate salt spray, making it a suitable plant for seaside gardens.
Size: This plant typically grows to a height of 18-36 inches (45 to 90 cm) and has a similar spread, forming a mounded clump.
Flowers: Nippon Daisy produces large, showy, white flowers with bright yellow centers. Each flower can measure up to 2 to 3 inches (5 to 7.5 cm) across, consisting of numerous ray florets surrounding a central disk.
Blooming Season: The plant typically blooms from late summer through fall, providing color and interest when many other plants are starting to fade.
Hardiness: Nippon Daisy is hardy in USDA zones 5 through 9. It can tolerate cold temperatures down to -20°F (-29°C) when well-established.
Uses: Nippon Daisy is a popular choice for perennial borders, rock gardens, coastal gardens, or as a low-maintenance landscape plant. Its flowers also make attractive cut flowers for arrangements.
Deer and Rabbit Resistance: Montauk Daisy is considered to be deer and rabbit resistant due to its leathery leaves, which are less palatable to these animals.
Why Should I Grow Nippon Daisies?
There are several reasons why you should consider growing Nippon Daisies (Montauk Daisies) in your garden:
Late-season blooms: Nippon Daisies bloom from late summer to fall, adding color and interest to your garden when many other plants have finished flowering.
Attractive flowers: The large, showy white flowers with bright yellow centers make a striking display and can be used as cut flowers in arrangements.
Pollinator-friendly: Nippon Daisies attract a variety of pollinators, including bees, butterflies, and other beneficial insects, promoting a healthy and biodiverse garden ecosystem.
Low maintenance: These plants are relatively easy to care for, requiring minimal upkeep once established. They are also deer and rabbit resistant, making them a good choice for gardens with wildlife challenges.
Coastal garden suitability: Nippon Daisies are well-adapted to coastal environments and can tolerate salt spray, making them an excellent choice for seaside gardens.
Drought tolerance: Nippon Daisies are drought-tolerant once established, making them suitable for xeriscaping or water-wise gardening.
Versatility: Montauk Daisies can be used in a variety of garden settings, including perennial borders, rock gardens, and mixed landscape plantings.
Hardy and adaptable: Nippon Daisies are hardy in USDA zones 5 through 9 and can tolerate a range of soil types, provided they have good drainage.
Overall, Nippon Daisies are an attractive, low-maintenance, and versatile choice for adding late-season color and pollinator-friendly plants to your garden. Their adaptability to various conditions and resistance to deer and rabbits make them a practical addition to many landscapes.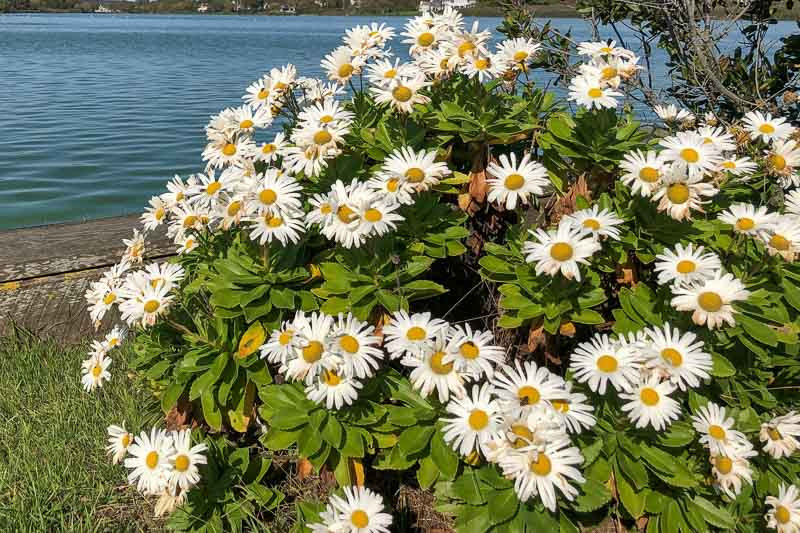 When to Plant
The best time to plant Nippon Daisies is in spring or early fall when the soil temperatures are moderate, and there is sufficient time for the plants to establish before extreme weather sets in.
Where to Plant
Sunlight: Choose a location in your garden that receives full sun for at least 6 to 8 hours per day, as Nippon Daisies require plenty of sunlight for optimal growth and flowering. Nippon Daisies tolerate light shade in hot climates.
Soil: Ensure the planting site has dry, well-drained soil, as these plants are susceptible to root rot in poorly drained conditions. They can tolerate a range of soil types, including sandy and loamy, as long as there is good drainage.
How to Plant
Prepare the planting site by removing any weeds, rocks, or debris. If necessary, amend the soil with organic matter, such as compost, to improve drainage and fertility.
Dig a hole that is slightly larger and deeper than the root ball of the Nippon Daisy plant.
Carefully remove the plant from its pot, taking care not to damage the roots. Gently tease apart any circling or tangled roots to encourage proper root growth.
Place the plant in the hole, ensuring that the top of the root ball is level with the surrounding soil. Fill in the hole with soil, firmly pressing it down around the plant to eliminate any air pockets.
Water the plant thoroughly to help settle the soil and establish good root-to-soil contact.
Apply a layer of mulch around the base of the plant, leaving a small gap between the mulch and the stem to prevent moisture buildup and potential rot. Mulch will help retain soil moisture, suppress weeds, and regulate soil temperature.
Space Nippon Daisy plants about 2 to 3 feet (60 to 90 cm) apart to allow for proper air circulation and growth.
Nippon Daisy Care
Nippon Daisy is a relatively low-maintenance plant, but to keep it healthy and thriving, follow these care tips:
Watering: This plant has a preference for well-drained soil and exhibits considerable drought tolerance, so it typically doesn't require much additional watering beyond natural precipitation. If your region experiences a prolonged drought and the plant begins to show signs of wilting, provide supplemental water.
Fertilizing: Nippon Daisies do not require heavy fertilization. An annual application of compost or well-rotted manure around the base of the plant should provide sufficient nutrients. Alternatively, you can use a slow-release granular fertilizer or a balanced liquid fertilizer, following the package instructions.
Pruning: Prune your Nippon Daisies in early spring, cutting back the stems to about 6 inches (15 cm) above the ground to encourage bushy growth and prevent the plant from becoming leggy. Throughout the growing season, you can deadhead spent flowers to encourage continuous blooming and maintain a tidy appearance.
Mulching: Apply a layer of organic mulch, such as shredded bark or compost, around the base of the plant to help conserve soil moisture, suppress weeds, and regulate soil temperature. Keep the mulch a few inches away from the stem to prevent moisture buildup and potential rot.
Pest and disease control: Nippon Daisies are generally pest and disease-resistant. However, they may occasionally be affected by common garden pests, such as aphids or spider mites. Monitor your plants regularly, and if you notice an infestation, treat it with insecticidal soap or other appropriate measures. To prevent fungal diseases, ensure proper air circulation and avoid overhead watering, which can create a damp environment conducive to fungal growth.
By following these care tips, you can keep your Nippon Daisies healthy and ensure that they continue to produce beautiful flowers year after year.
How to Propagate Nippon Daisy
There are two main methods for propagating Nippon Daisies (Montauk Daisies): stem cuttings and division. Here's a step-by-step guide for each method:
Stem Cuttings
In late spring or early summer, select a healthy, vigorous stem from the parent plant. Choose a stem that has not yet flowered and has at least 3-4 sets of leaves.
Using clean, sharp pruning shears or a knife, cut a 4 to 6-inch (10 to 15 cm) section of the stem, making the cut just below a leaf node.
Remove the leaves from the lower half of the cutting, leaving only the top 2-3 sets of leaves intact.
Dip the cut end of the stem into rooting hormone powder to promote root development. This step is optional, but it can increase the chances of successful rooting.
Fill a small pot or container with a well-draining rooting medium, such as a mix of equal parts perlite and peat moss or a commercial potting mix designed for cuttings.
Insert the cut end of the stem into the rooting medium, ensuring that the lowest set of leaves is just above the surface.
Water the rooting medium thoroughly and cover the pot with a plastic bag or place it in a propagator to maintain high humidity around the cutting. Alternatively, you can use a clear plastic bottle with the bottom cut off to create a mini-greenhouse.
Place the pot in a location with bright, indirect light and a consistent temperature of around 65-75°F (18-24°C).
Monitor the cutting for signs of growth and water as needed to keep the rooting medium evenly moist but not soggy.
After 4-6 weeks, check for root development by gently tugging on the cutting. If it resists being pulled out, it has likely rooted. At this point, remove the plastic covering and gradually acclimate the cutting to normal conditions.
Once the cutting has established a strong root system, transplant it to a larger pot or directly into the garden.
Division
In early spring or late fall, dig up the parent Nippon Daisy plant, taking care to remove as much of the root ball as possible.
Using a sharp spade or garden knife, carefully divide the root ball into smaller sections, each with a healthy portion of roots and stems. Aim to have at least 2-3 shoots per division.
Replant the divisions in prepared soil, maintaining the same soil level as they were in their original location. Space them 2 to 3 feet (60 to 90 cm) apart to allow for proper air circulation and growth.
Water the divisions thoroughly and apply a layer of mulch around the base to help retain moisture and suppress weeds.
Keep the soil consistently moist as the divisions establish themselves in their new location.
Using either of these methods, you can propagate Nippon Daisies and expand your collection or share them with friends and family.
Not sure which Chrysanthemum to pick?
Compare All Chrysanthemum
Buy Nipponanthemum nipponicum (Nippon Daisy)
Requirements
Hardiness
5 – 9

Plant Type
Perennials
Plant Family
Leucanthemum - Daisies, Chrysanthemum
Exposure
Full Sun
Season of Interest
Summer (Late)
Fall

Height
1' – 3' (30cm – 90cm)
Spread
1' – 3' (30cm – 90cm)
Spacing
24" – 36" (60cm – 90cm)
Water Needs
Low
Maintenance
Low
Soil Type
Loam, Sand
Soil pH
Acid, Alkaline, Neutral
Soil Drainage
Well-Drained
Characteristics
Cut Flowers, Showy
Tolerance
Deer, Drought, Rabbit, Dry Soil, Salt
Attracts
Bees, Butterflies
Garden Uses
Beds and Borders
Garden Styles
Coastal Garden, Informal and Cottage
Great Plant Combination Ideas with Leucanthemum - Daisies
Guides with Leucanthemum - Daisies
Christina Duarte, Joe Trentacosti, Shutterstock
While every effort has been made to describe these plants accurately, please keep in mind that height, bloom time, and color may differ in various climates. The description of these plants has been written based on numerous outside resources.
Requirements
Hardiness
5 – 9

Plant Type
Perennials
Plant Family
Leucanthemum - Daisies, Chrysanthemum
Exposure
Full Sun
Season of Interest
Summer (Late)
Fall

Height
1' – 3' (30cm – 90cm)
Spread
1' – 3' (30cm – 90cm)
Spacing
24" – 36" (60cm – 90cm)
Water Needs
Low
Maintenance
Low
Soil Type
Loam, Sand
Soil pH
Acid, Alkaline, Neutral
Soil Drainage
Well-Drained
Characteristics
Cut Flowers, Showy
Tolerance
Deer, Drought, Rabbit, Dry Soil, Salt
Attracts
Bees, Butterflies
Garden Uses
Beds and Borders
Garden Styles
Coastal Garden, Informal and Cottage
Great Plant Combination Ideas with Leucanthemum - Daisies
Guides with Leucanthemum - Daisies