The Olea europaea, commonly referred to as the olive tree, is a symbol of peace, prosperity, and longevity. Its gnarled trunk and silvery-green leaves have graced Mediterranean landscapes for millennia, bearing fruit that has shaped cuisines and cultures. Long-lived and resilient, olive trees are an iconic and beloved plant worldwide.
Olea europaea: An In-depth Look
Native: This tree is indigenous to the Mediterranean region, spanning across southern Europe, northern Africa, and western Asia.
Plant Type and Habit: The olive tree is a slow-growing, evergreen tree or shrub. It has an upright growth habit when young but becomes more sprawling and contorted with age, often with a twisted trunk.
Size: Olive trees can grow up to 20-30 feet (6-9 meters) tall and wide.
Flowers: The olive tree produces small, fragrant, creamy-white flowers that cluster in the axils of the leaves. Flowering typically occurs in late spring to early summer.
Fruits: Its fruits, known as olives, start green and gradually darken to purple or black when ripe. These are harvested for eating or for producing olive oil. Olives come in many sizes and shapes. They need good summer heat to make their best fruit.
Foliage: The gray-green leaves are lance-shaped, 2-3 inches long (5-7 cm), silvery beneath and beautiful through the seasons. They add to the tree's unique aesthetic appeal.
Bark: The olive tree's bark is smooth and gray when young, becoming more gnarled, textured, and darker as it matures.
Hardiness: The olive tree is hardy in USDA zones 8-10, thriving best in regions that mirror their Mediterranean origins.
Uses: The olive tree offers ornamental appeal with its silvery-green foliage, gnarled trunk, and elegant form, making it ideal for coastal gardens, Mediterranean gardens, gravel gardens, courtyards, patio containers, and as a striking landscape centerpiece. Beyond their culinary value, olives are pressed to extract olive oil, a staple in Mediterranean cuisine and known for its health benefits. The wood is also valued for carving.
Wildlife: Olive trees are pollinated by wind, not by wildlife. However, birds are fond of the ripe olives.
Deer and Rabbits: Deer can target young olive trees for their tender tips. While they can harm mature trees by consuming bark, buds, and fruits, they might also damage them by rubbing against the trunk, leading to potential tree injuries.
Drought: Olive trees are notably drought-tolerant, once established. Their deep root systems allow them to access moisture even in dry conditions.
Toxicity: The fruit and leaves are non-toxic to humans and pets.
Invasiveness: Olea europaea is being grown as a crop in some states. It has escaped cultivation in California where it can be found in grasslands and shrublands. Gardeners should use caution planting olives near open space and consider seedless varieties of this species instead.
Benefits: Olive trees are not just providers of fruit and oil. They are vital for erosion control in their native habitats and act as windbreaks. The oil extracted from olives is renowned for its health benefits, including heart health and anti-inflammatory properties.
Key Facts:
The olive branch is a symbol of peace in many cultures.
Olive trees are some of the oldest cultivated trees, with some specimens believed to be over a thousand years old.
The tree's resistance to disease and ability to thrive in challenging soils have contributed to its long-standing importance in Mediterranean cultures.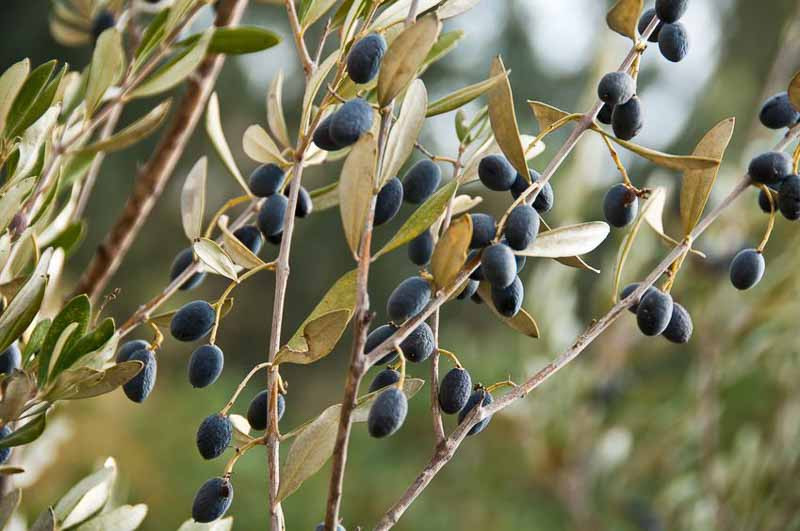 How to Grow and Care for an Olive Tree Outdoors
Light: Prefers full sun for best growth and fruit production.
Soil: Sharply-draining soil, moderately acidic or alkaline. Tolerant of various soil types.
Water: Moderate watering needs; drought tolerant once established. Deep but infrequent watering is best.
Fertilizer: Feed with a balanced fertilizer in spring. For fruiting varieties, a nitrogen-based fertilizer is beneficial.
Pruning: Prune in early spring to maintain shape, increase airflow, and encourage fruiting. Remove dead or damaged branches.
Harvesting:If you want to harvest fruit from your olive tree, it is best to grow two different varieties, as cross-pollination increases yields significantly.
Propagation: Propagate by seed in spring at a temperature of 13-15°C (55-59°F). It can also be propagated by semi-ripe cuttings in summer.
Pests and Diseases: Watch for olive fruit fly, scale insects, xylella fastidiosa, and root rot.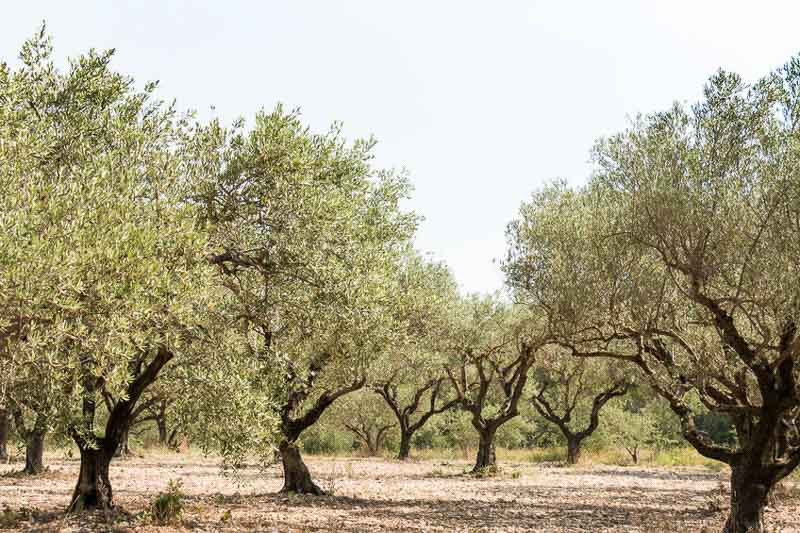 How to Grow an Olive Tree Indoors
Growing an olive tree (Olea europaea) indoors allows you to enjoy this Mediterranean native without living in a warm climate. Here's a step-by-step guide:
Choose the Right Variety: Opt for a dwarf variety suitable for indoor cultivation, such as 'Little Ollie' or 'Skylark Dwarf'.
Select the Right Pot: Ensure it has drainage holes. Start with a medium-sized pot and upgrade as the tree grows.
Potting Mix: Use a well-draining potting mix, preferably a cactus or succulent mix.
Light: Olive trees require full sun. Position the tree near a south-facing window that receives at least 6 hours of sunlight daily. Consider supplemental lighting with a grow light during darker months.
Watering: Water when the top 2 inches of soil feel dry. Olive trees dislike sitting in water. Ensure the pot drains well.
Humidity: Olive trees tolerate indoor humidity, but avoid overly humid conditions.
Temperature: Keep temperatures between 60-80°F (15-27°C). Avoid sudden temperature changes.
Fertilizing: Feed with a balanced, water-soluble fertilizer every month during the growing season (spring and summer).
Pruning: Trim to shape and maintain size. Pruning also encourages bushier growth. Remove dead or diseased branches.
Repotting: As the tree grows, it may become root-bound. Repot every 2-3 years or when roots circle the pot's base.
Pests and Diseases: Watch out for common indoor pests like spider mites, scale insects, and mealybugs.
Treat any infestations promptly using insecticidal soap or neem oil.
Acclimation: If you decide to move your olive tree outdoors during warmer months, do so gradually. Start by placing it in a shaded spot and slowly transition it to direct sunlight to avoid sunburn.
With proper care, your indoor olive tree can thrive and even produce fruit in time, though fruiting is more common in outdoor settings.
While every effort has been made to describe these plants accurately, please keep in mind that height, bloom time, and color may differ in various climates. The description of these plants has been written based on numerous outside resources.