Handsome and easy-going, Tropaeolum majus (Nasturtium) is a popular annual or short-lived perennial with creeping or sprawling stems that command attention in any landscape. Blooming from winter through spring in mild winter areas and from summer to fall in colder climates, Nasturtium boasts a profusion of long-stalked, funnel-shaped flowers, about 2-3 in. wide (5-7 cm), ranging in color from creamy white to orange, mahogany, red, and yellow. The blossoms may be single or double and have an unusual and refreshing fragrance. They stand out against the pretty foliage of rounded, parasol-like leaves.
Nasturtium is perennial in hardiness zones 9-11 and grown as an annual plant elsewhere.
Nasturtium can grow up to 1-10 ft. (30-300 cm), depending on the variety. There are both climbing and dwarf bush types.
The dwarf types, from 12 in. tall (30 cm) and 2 ft. wide (60 cm), are great selections for beds and borders, rock gardens, edgings, ground covers, or in mass plantings.
Climbing Nasturtiums, up to 6-10 ft. tall (180-300 cm), can quickly cover fences, banks, or stumps.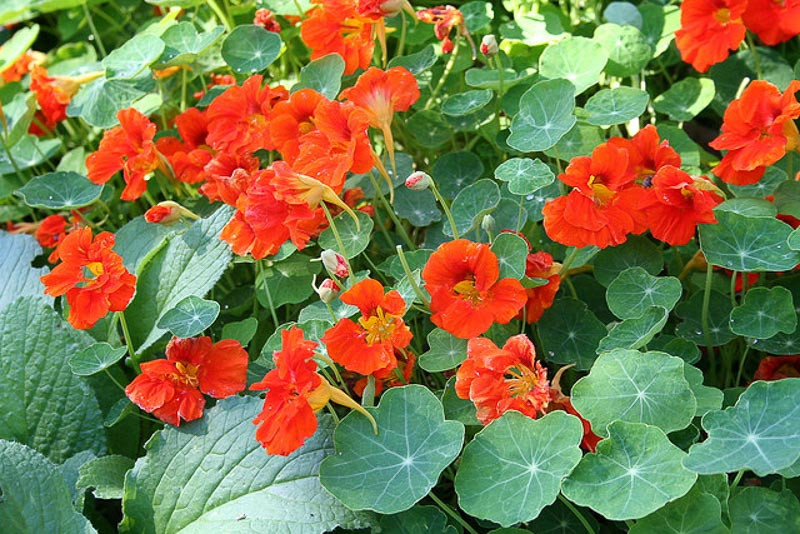 Nasturtiums add a touch of old-fashioned charm in herb gardens, cottage gardens, or as potted specimens on the patio.
They are also an excellent choice to mix with spring-flowering bulbs since they can effectively hide the unattractive bulb foliage that may be allowed to mature.
Bees, butterflies, hummingbirds, and other pollinators are drawn to the flowers, making Nasturtium a valuable addition to the vegetable garden.
Nasturtium is a good companion plant for beans, broccoli, cabbage, cucumber, kale, melon, pumpkin, and radish.
In addition, Nasturtium can be used as a trap crop, trapping pests such as aphids and giving a more appealing and delicious meal than nearby vegetable crops.
Nasturtiums rank among the most common edible flowers. The delicate blossoms have a sweet, peppery taste similar to watercress. Leaves and unripe seed pods add a citrusy and peppery flavor to salads. Flower buds contain mustard oil and may be used for seasonings. The flowers add eye-catching beauty to the plate and can be used to garnish salads, platters, and savory dishes.
Nasturtium thrives in full sun in poor, well-drained soils. Some afternoon shade is appreciated in hot summer areas. Rich, fertile soils are not recommended as they yield more foliage but reduce flowering. Nasturtiums do better in soils of moderate to low fertility.
Nasturtium relishes cooler temperatures (in the 70sºF or 20sºC) and often sulks in extremely dry or humid conditions.
Nasturtium plants are drought-tolerant once established.
Few insects or diseases bother Nasturtiums. Watch for blackflies (black aphids), caterpillars, flea beetles, slugs, and glasshouse whiteflies. Deer resistant.
Deadhead to prolong flowering.
Propagate by seed. Sow seeds outdoors after all danger of frost has passed or indoors 4-6 weeks before the last spring frost date.
Avoid fertilization, which tends to increase foliage and decrease flowering.
Nasturtium will self-seed, keeping a presence in the garden. In warm climates, it blooms and seeds all year round and is considered invasive in many of those areas. It is listed as invasive in coastal California (USA), Hawaii, and in Malta, where it has spread rapidly to form large invasive populations to the detriment of native flora or ecosystems.
Tropaeolum majus is native to Central and South America.
Nasturtium is toxic to dogs, cats, and horses.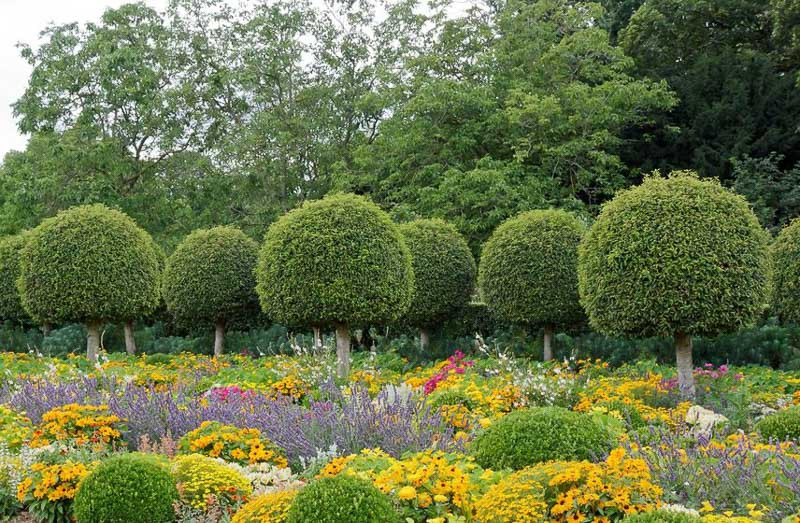 Most popular Nasturtium varieties
Nasturtium 'Alaska Hybrids' – mixed with white spotted leaves, compact, 12-15 in. (30-37 cm)
Nasturtium 'Cherry Rose Jewel' – cherry rose, semi-double green compact, 12-18 in. (30-45 cm)
Nasturtium 'Double Gleam Hybrids' – mix, semi-double, fragrant green semi-trailing, 12 in. (30 cm)
Nasturtium 'Empress of India' – crimson purplish compact, 12 in. (30 cm)
Nasturtium 'Gleam Hybrids' – mix, double green semi-trailing, 2 in. (30 cm)
Nasturtium 'Hermine Grasshof' – bright red, double green compact, 9-12 in. (22-30 cm)
Nasturtium 'Jewel of Africa' – mix marbled vine, 8 ft. (240 cm)
Nasturtium 'Jewel Hybrids' – mix, semi to double green compact, 12 in. (30 cm)
Nasturtium 'Moonlight' – light yellow-green vine, 6 ft. (180 cm)
Nasturtium 'Park's Fragrant Giants' mix green trailing vine
Nasturtium 'Peach Melba' – yellow, red blotched green compact, 12 in. (30 cm)
Nasturtium 'Salmon Baby' – salmon pink, fringed green compact, 12 in. (30 cm)
Nasturtium 'Strawberries and Cream' – yellow, red blotched green compact, 9-12 in. (22-30 cm)
Nasturtium 'Strawberry Ice' – gold, red blotched bluish compact, 9 in. (22 cm)
Nasturtium 'Tip Top Hybrids' – mix green compact, 8 in. (20 cm)
Nasturtium 'Tom Thumb Hybrids' – mix green compact, 8-10 in. (20 25 cm)
Nasturtium 'Whirlybird Cream' – creamy yellow, semi-double green compact, 9-12 in. (22-30 cm)
Nasturtium 'Whirlybird Hybrids' – mix, semi-double green compact, 9-12 in. (22-30 cm)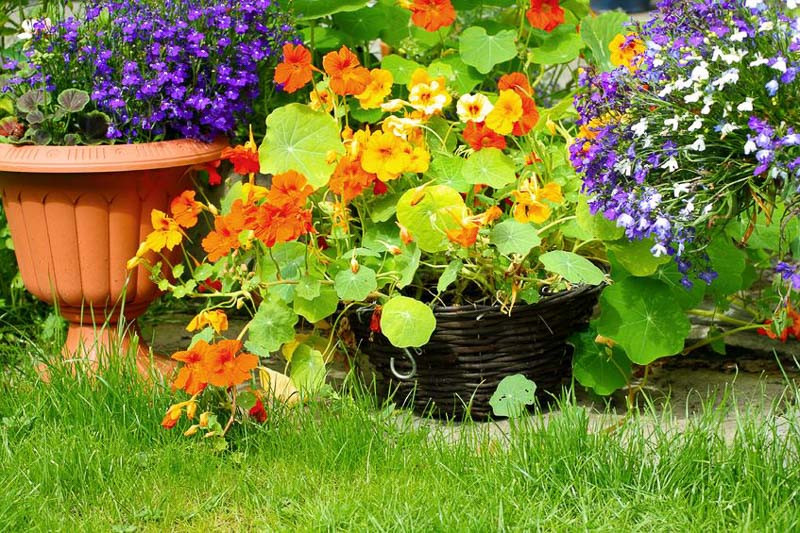 While every effort has been made to describe these plants accurately, please keep in mind that height, bloom time, and color may differ in various climates. The description of these plants has been written based on numerous outside resources.