Why Should I Grow African Daisies?
Growing African daisies in your garden, comes with a range of benefits:
Vibrant Colors: The bright, daisy-like flowers of Arctotis are a standout feature in any garden. They come in a variety of colors including orange, pink, yellow, and white, which can add a pop of color to your landscape.
Long Blooming Period: Arctotis blooms from late spring to fall, providing long-lasting color in your garden.
Drought Tolerance: Arctotis is remarkably drought-tolerant. If you live in a region with low rainfall or want to conserve water, these plants are an excellent choice.
Low Maintenance: These plants are ideal for gardeners who want maximum impact with minimal effort. They are hardy, can thrive in poor soils, and require little care once established.
Attracts Pollinators: The vibrant flowers of Arctotis are a magnet for bees and butterflies, making them a great choice for those wishing to support local pollinators.
Versatility: Arctotis can be used in a variety of garden settings, including borders, rock gardens, or as ground cover. They also work well in containers.
Deer and Rabbit Resistance: Arctotis is typically resistant to deer and rabbits, so it's an excellent option for areas where these animals may be a problem.
Remember, despite all these benefits, Arctotis does best in sunny locations with well-draining soil. Keep this in mind when deciding where to plant it in your garden.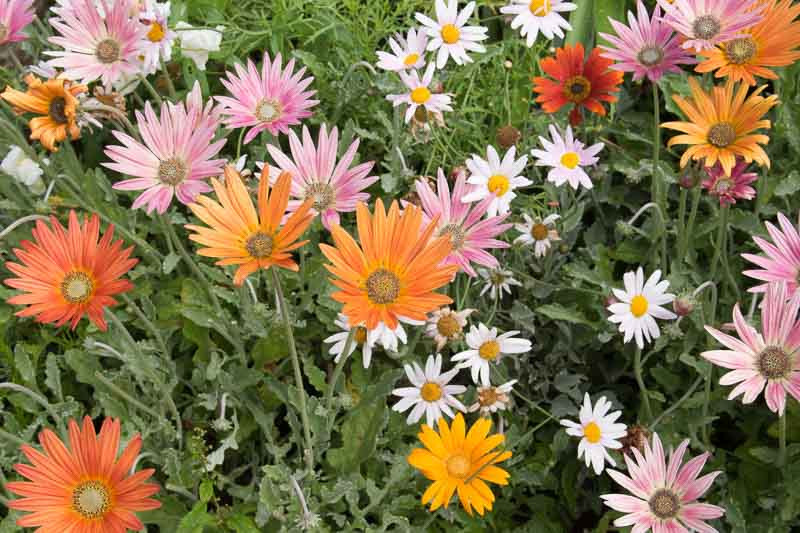 Garden Design with African Daisy
Designing a garden with Arctotis can add vibrant colors and interest to your landscape. Here are a few ideas:
Colorful Borders: African Daisies can be used to create a bright, cheerful border along paths or garden beds. Their vibrant flowers and compact growth habit make them a great choice for this purpose.
Rock Gardens: Arctotis plants are perfect for rock gardens because of their drought tolerance and ability to thrive in poor soils. Their bright flowers can bring a burst of color to the otherwise neutral tones of a rock garden.
Mixed Beds: Pair African Daisies with other sun-loving perennials and annuals for a mixed bed with continuous color. Good companions might include lavenders, sedums, and ornamental grasses.
Container Gardens: African Daisies work well in containers. You can use them alone for a bold statement or mix them with other drought-tolerant plants for a varied display. They can add height and color when paired with trailing plants like ivy or creeping sedum.
Wildlife Garden: Because Arctotis attracts pollinators, consider incorporating them into a wildlife-friendly garden. They pair well with other pollinator-friendly plants like salvia, echinacea, and buddleia.
Xeriscaping: Given their drought tolerance, African Daisies are an excellent choice for xeriscaping or dry gardens. Use them with other drought-tolerant plants like succulents, yucca, or agave.
Remember, regardless of how you decide to use African Daisies in your garden design, these plants prefer sunny spots and well-drained soil. Given the right conditions, they'll provide a spectacular display of color from spring through fall.
Companion Plants
African Daisy can be paired with several companion plants to create a vibrant and diverse garden display. Here are a few companion plants that would pair well with Arctotis:
Lavender: The contrasting purple hues and aromatic foliage of lavender can create a delightful sensory combination with the bright colors of Arctotis.
Sedum: Sedums are succulents that share Arctotis's love for sun and well-drained soil. They can create a contrasting texture with their thick, fleshy leaves.
Ornamental Grasses: Ornamental grasses like blue fescue or fountain grass can provide a contrasting texture and movement in the breeze, highlighting the vibrant colors of Arctotis.
Echinacea (Coneflower): These perennials are drought-tolerant like Arctotis and have daisy-like flowers in colors that can complement or contrast with Arctotis.
Other Drought-Tolerant Perennials: Consider pairing Arctotis with other drought-tolerant perennials such as salvia, agastache, and yarrow.
Succulents: Plants like echeveria and sempervivum also appreciate the sunny, well-draining conditions that Arctotis loves and can provide interesting leaf forms and colors to contrast with the African Daisy.
Trailing Plants: In container plantings, consider pairing Arctotis with trailing plants like creeping thyme or trailing lobelia to create a layered effect.
When choosing companion plants, it's important to consider their light and water requirements to ensure they are compatible with Arctotis. The plants mentioned above share similar needs and should thrive together.