A Traditional White Spring Garden
---
Bulbous plants are available in so many colors close to white that you can create a wide range of delightful combinations within this range: perfect for the traditional white garden.
White grape hyacinths, for example, go together beautifully with white hyacinths that are still somewhat greenish in an early stage of flowering.
| | |
| --- | --- |
| Hyacinth 'Carnegie', Muscari botryoides 'Album' | |
Yet other tints of green present in great abundance in the spring garden provide a lovely background for white flowers. Consider planting Narcissus 'Bridal Crown' which is highly fragrant and incredibly good-looking with its double flowers full of creamy-white petals interspersed with saffron-yellow cup segments.
| | |
| --- | --- |
| Narcissus 'Bridal Crown' | Narcissus 'Bridal Crown' |
| | |
| --- | --- |
| Leucojum aestivum 'Gravetye Giant' | Leucojum aestivum 'Gravetye Giant' |
| Dicentra spectabilis | Narcissus 'Thalia' |
| | |
| --- | --- |
| Fritillaria,Tulips 'White Triumphator', 'Spring Green' | Tulip 'Swan Wings' |
| Tulips 'Mindszenty' | Anemone blanda, Muscari botryoides |
When pondering a planting plan for a park or garden, you can consider various groups of plants such as trees and shrubs, but what about flower bulbs? Flower bulbs are enchanting and just a bit magical. Planted during the last months of the year, they start displaying their quality by emerging and blooming as early as January/February. When the first leaf tips of the snowdrops peek up above ground, you know the gardening season has begun again!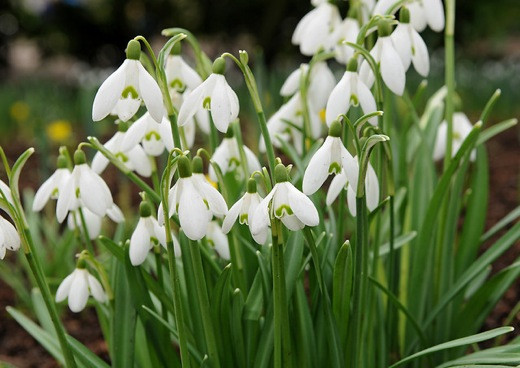 Galanthus nivalis
During the winter months, parks and gardens look rather lifeless; there's little color to enjoy. But flower bulbs are soon going to change all that. The energy displayed by flower bulbs as they start emerging so early in the year is sure to cheer you up.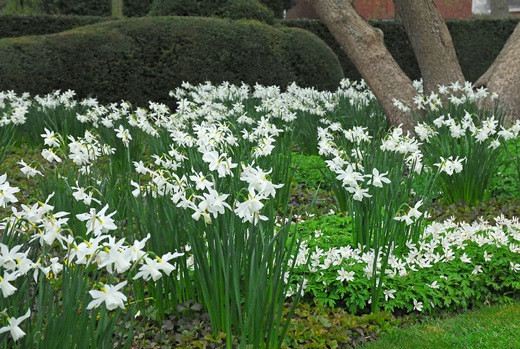 Narcissus 'Thalia'
Before you know it, they're creating a living palette of color that changes its looks a little with each passing day. Spring flowering bulbs in particular provide an explosion of color and fragrance in the garden.
While every effort has been made to describe these plants accurately, please keep in mind that height, bloom time, and color may differ in various climates. The description of these plants has been written based on numerous outside resources.