Fir Trees: Nature's Evergreen Treasures
Abies, commonly known as fir trees, is a genus of evergreen conifers from the Pinaceae family. They are native to much of North and Central America, Europe, Asia, and North Africa, preferring mountainous regions and cool climates.
Characterized by their symmetrical, spire-like shape, fir trees boast needle-like leaves and upright cones that differentiate them from other conifers. The needles, when crushed, often release a pleasant, resinous aroma.
Species: There are approximately 48–56 species, some of the most popular and widely cultivated include:
These species are valued for their ornamental beauty, impressive size, and, in some cases, their use as Christmas trees.
Hardiness: Fir trees have a wide range of hardiness, depending on the species, from USDA hardiness zones 3 to 8. They generally prefer well-drained, acidic soil and a location with full to partial sun.
Uses: Fir trees are commonly used in landscapes for their stately presence, acting as majestic focal points or screen plantings, and their evergreen foliage provides year-round visual appeal and privacy. They are of significant economic importance too. Fir trees are extensively used for timber and pulp production due to their rapid growth and straight grain. The wood, being light yet strong, is used in construction, furniture, and paneling. The resin extracted from some species has medicinal uses and is a source of turpentine. The aromatic foliage of fir trees, especially Balsam fir, is used for making wreaths and other Christmas decorations.
Benefits: Fir trees, like other conifers, play a crucial role in carbon sequestration, helping mitigate climate change. Their extensive root systems help stabilize soils and prevent erosion. Additionally, they provide essential habitats for a variety of wildlife, offering shelter and food resources.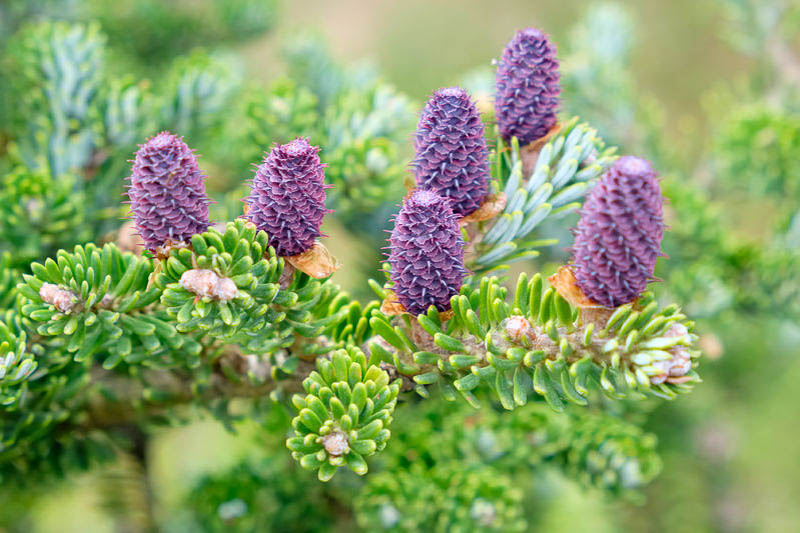 Fir – Pest Issues
Fir trees encounter numerous pests. The most prevalent are spruce budworms, which defoliate trees and balsam woolly adelgids, causing growth deformities and decline. Fir engraver beetles can bore into the trunk, disrupting the nutrient flow. Mitigating these pests necessitates timely detection, appropriate treatment, and maintaining overall tree health.
Pest
Damage
Treatment
Bagworms
(Thyridopteryx ephemeraeformis)
They defoliate trees, leading to reduced growth, branch dieback, and tree death in severe infestations.
Hand-pick bags in winter or early spring. Use Bacillus thuringiensis (Bt) or spinosad when larvae are young and active.
Balsam Twig Aphids
(Mindarus abietinus)
They cause needles to curl and turn yellow, can stunt growth, and produce a sticky honeydew, which can lead to sooty mold.
Use natural predators (ladybugs, lacewings, and hoverflies). If insufficient, use systemic insecticides after the eggs hatch but before bud break.
Balsam Woolly Adelgid
(Adelges piceae)
They inject toxins while feeding, causing deformation, reduced growth, and eventually death of the tree.
If the infestation is detected early and is limited, pruning affected branches may control the spread. For larger infestations, systemic insecticides might be necessary.
Cinara Aphids
Their feeding can lead to the yellowing or browning of needles, premature needle drop, and overall tree stress. They promote black sooty mold, further weakening the tree.
Encourage natural predators like lady beetles

,

lacewings

, and

syrphid flies. Pruning out heavily infested branches. Spray aphids directly with insecticidal soaps or neem oil. Use systemic insecticides.
Fir Engraver Beetle
(Scolytus ventralis)
They tunnel through the tree's inner bark, disrupting nutrient and water transport, leading to crown wilt, tree decline, and, eventually, death.
Maintain tree vigor and health. Promptly remove and destroy infested trees. Encourage natural predators (woodpeckers, braconid wasps). Use insecticides on trunks and larger branches in early spring before adult beetles emerge.
Hemlock Looper
(Lambdina fiscellaria)
They cause severe defoliation, leading to growth loss and tree mortality in severe infestations.
Use Bacillus thuringiensis (Bt) for young caterpillars. Encourage natural predators where possible.
Spruce Budworm
(Choristoneura fumiferana, Choristoneura freemani)
They consume new growth, causing widespread defoliation, reduced growth, and potentially tree death in severe infestations.
Use Bacillus thuringiensis (Bt) for young caterpillars. Pheromone traps can be used to capture adult males. Maintain tree health and vigor.
Spruce Spider Mites
(Oligonychus ununguis)
They suck sap from needles, causing them to turn a speckled yellow or brown, eventually leading to needle drop and reduced growth.
Encourage natural predators (ladybugs, lacewings), and use insecticidal soaps, horticultural or neem oil, or dormant oil spray in mid-winter. Use miticides in spring or fall during active periods. Ensure good watering practices to maintain tree health.
Western Balsam Bark Beetle (Dryocoetes confusus)
Their tunnels cut off nutrient and water flow, potentially leading to branch dieback or tree death.
Maintaining tree health, pruning, and burning the affected parts may help to prevent infestations.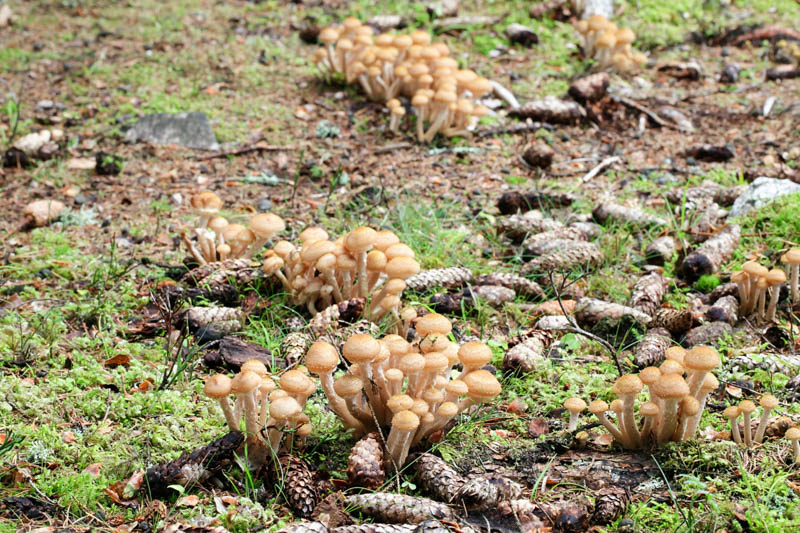 Armillaria Root Rot
Fir – Disease Issues
Fir trees (Abies) are susceptible to various diseases stemming from fungal, bacterial, and pest infestations. From needle cast diseases to root rot, these afflictions can cause various symptoms like discolored foliage, growth reduction, and even tree death. Therefore, proactive monitoring, proper tree care, and swift treatment are essential in maintaining the health of these majestic conifers.
| | | |
| --- | --- | --- |
| Name | Symptom | Management |
| Canker Diseases (Cytospora, Phomopsis) | These cause sunken areas or "cankers" on branches and stems. | Prune out infected branches, avoid wounding the tree, and maintain tree health to prevent these diseases. |
| Heart Rots | These cause the decay of the inner wood of the tree, often resulting in hollow sections and structurally weak trees. | Prevent wounding, provide proper pruning, and maintain tree health. Remove the tree if heart rot is advanced and poses a risk. |
| Needle Casts (Rhizosphaera, Lirula) | These fungi cause needles to discolor and drop. | Prune affected branches and improve air circulation. Fungicides may be used as a preventative measure during wet periods. |
| Needle Rusts (Melampsorella, Puccuniastrum, Uredinopsis) | These fungi cause yellow-orange pustules on needles. | Prune affected branches and remove fallen needles. Fungicides can be used as a preventative measure. |
| Root Rots (Phytophthora, Armillaria, Heterobasidion) | These result in wilting, yellowing, and tree death. | Improve soil drainage and avoid overwatering. Fungicides can help, but removing severely infected trees may be necessary to prevent the spread. |
| Twig Blights (Botrytis, Diplodia, Sirococcus) | These result in browning and dieback of new shoots. | Prune and destroy affected twigs. Fungicides can help control the disease. |
In all cases, promoting overall tree health is key to preventing and managing diseases. A healthy tree is better equipped to withstand and recover from disease pressure. Regular monitoring can help detect diseases early, and cultural practices such as proper watering, mulching, and avoiding mechanical damage can also help prevent many tree diseases.
Note that using fungicides should be considered as part of an integrated disease management strategy. Also, it's important to follow the product label instructions when using these chemicals and consider the potential impacts on non-target organisms and the environment.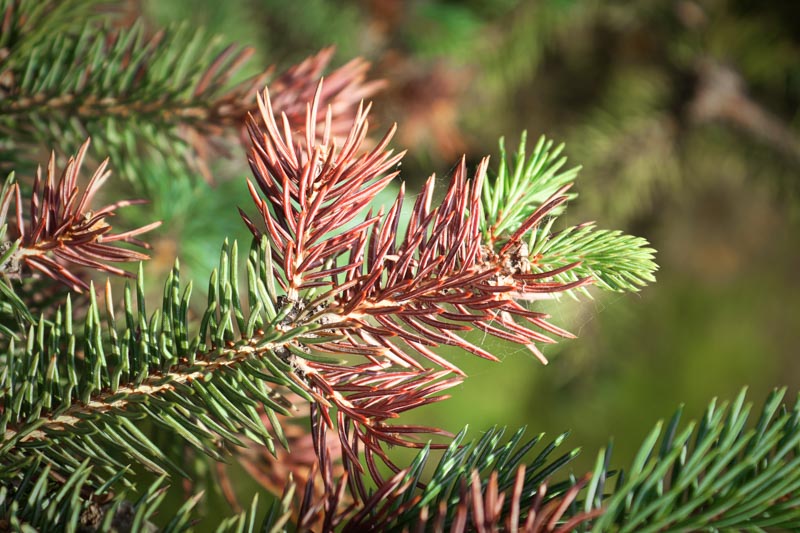 Needle Cast
Fir – Abiotic Problems
Abiotic problems are caused by nonliving agents, for example, environmental, physiological, or other non-biological factors. Not all problems are easy to diagnose, and may be a combination of several factors.
| | | |
| --- | --- | --- |
| Cause | Symptom | Treatment |
| Drought Stress | Symptoms include wilting, browning needles, and premature needle drop. | Deep water during dry periods promotes healthy root growth. Mulching can also help retain soil moisture. |
| Winter Injury | Cold weather can cause browning of needles, dieback of branches, or even whole tree death. | Protect younger trees with covers during severe cold. Choose species and cultivars that are hardy for your local climate zone. |
| Soil Compaction | This leads to poor root growth, yellowing needles, and general decline. | Avoid heavy machinery near trees, and aerate soil if necessary. |
| Nutrient Deficiency | Symptoms depend on the nutrient but can include chlorosis (yellowing), stunted growth, and dieback. | Use a soil test to determine needs and apply appropriate fertilizers. |
| Salt Damage | Often caused by road salts, this can cause the browning of needles and reduced vigor. | Avoid planting near roads or paths where salt is used, and water deeply in spring to help leach salts from the soil. |
| Wind Damage | High winds can cause broken branches or uproot trees. | Plant in sheltered locations and stake young trees to provide support |
| Poor Drainage/Waterlogged Soil | This can lead to root rot and overall poor health | Choose planting sites with good natural drainage or plant on mounds to raise the soil level. |
| Incorrect Planting Depth | Planting too deep can lead to stem and root problems | Always plant at the same depth as the tree was in its nursery pot. |
While every effort has been made to describe these plants accurately, please keep in mind that height, bloom time, and color may differ in various climates. The description of these plants has been written based on numerous outside resources.