Penstemons, commonly known as beardtongues, are a magnet for a variety of pollinators, playing a pivotal role in ecosystems by providing vital resources necessary for a wide range of insects. Understanding the relationship between penstemons and their pollinators is not only fascinating but also crucial for gardeners looking to promote biodiversity.
Pollinators Attracted to Penstemons
Pollinators are drawn to flowers to collect food, searching for either nectar, pollen, or both. The flowers are often shaped to fit their primary pollinators perfectly, ensuring pollen gets picked up and dropped off each time they're visited.
For these creatures, transferring pollen from the anthers of one bloom to the stigma of another is an unintentional consequence while feeding. Take hummingbirds, for instance, who seek out nectar and unknowingly facilitate pollen movement between flowers via their foreheads.
For flowers, however, this pollination process is crucial, relying on the inadvertent help from their animal guests.
Flower visitors searching for nectar are usually better for the flower because no pollen is taken away.
However, certain guests, like bumblebees, purposefully gather pollen as food for their offspring, visible as tiny clumps on their legs during foraging. Unfortunately, this harvested pollen won't contribute to the plant's reproduction.
Around 80% of penstemon species, specifically those with white, blue, or purple blossoms, primarily attract bees and the wasp Pseudomasaris vespoides for pollination.
The other 20%, characterized by red or pink flowers, are tailored for hummingbird pollination, though bees continue to play a role for some of these plants.
Beyond these main pollinators, penstemons also receive occasional visits from various insects, including flies, butterflies, and moths, indicating their broad appeal to the insect world.
Bees
Bees, both native species and honey bees, are frequent visitors to penstemon flowers. Their bodies are perfectly suited for pollination, as they collect pollen on their furry bodies and transfer it between flowers. Bees are particularly attracted to brightly colored flowers, with penstemons offering a variety of hues.
Mason bees are highly efficient pollinators and are often seen buzzing around penstemon flowers.
Bumblebees frequently visit penstemon flowers for nectar, typically ignoring the pollen. Sometimes, they even cut a small hole at the bottom of a slender penstemon flower to access the nectar without touching the pollen-producing parts. This sneaky act is called "nectar robbing."
Carpenter bees also frequent various penstemons, but they commonly use nectar robbing, taking the nectar without fulfilling the role of pollinators.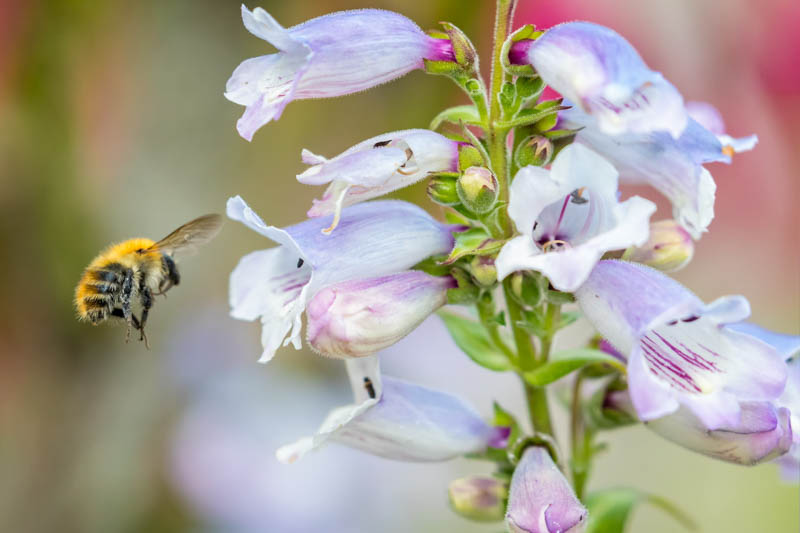 A bee hovers near Penstemon flowers, actively participating in pollination
Hummingbirds
Certain species of penstemons with longer, tubular flowers are favored by hummingbirds. The flower's shape is ideally suited for the long beak of a hummingbird, and these birds are especially attracted to bright red and pink varieties like Penstemon barbatus (Beardslip Penstemon) and Penstemon eatonii (Firecracker Penstemon).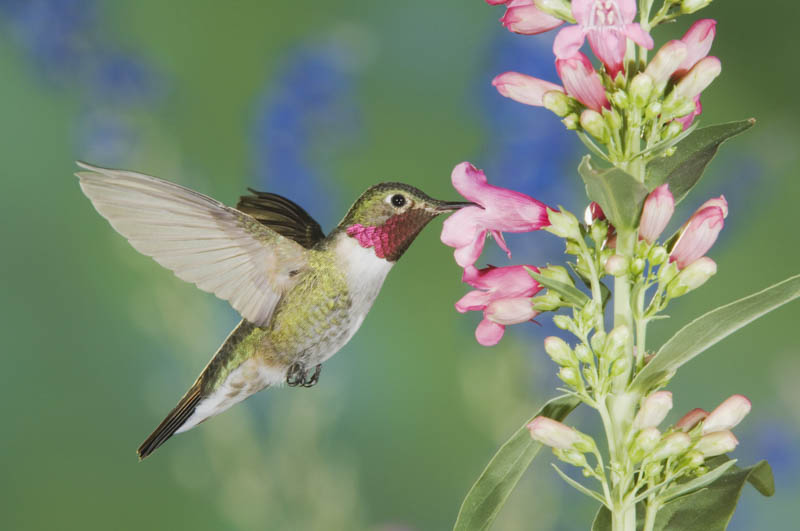 Broad-tailed Hummingbird in flight feeding on Penstemon flower
Butterflies
Butterflies are occasional guests to penstemon flowers, but they are not the most common pollinators. Their visits appear to be more opportunistic or incidental rather than a regular, reliant interaction. Species with larger, open flowers are more accessible to butterflies. Penstemon digitalis (Foxglove Beardtongue) is a species known for its attractive flowers, which can draw the attention of butterflies.
Moths
Some penstemons are pollinated by moths, usually around dusk or dawn or later in the evening. Flowers that are pale or white, like those of Penstemon pallidus (Pale Beardtongue), are more visible in the evening, attracting night-flying moths.
Hawk moths, known for their swift, darting flight patterns and large size, have a unique and fascinating relationship with penstemons. These moths, also called sphinx moths, have long proboscises, or feeding tubes, that are well-adapted for reaching the nectar deep within the tubular flowers of many penstemon species. The large and tubular flowers of Penstemon pseudospectabilis (Desert Beardtongue) are perfect for the long proboscis of the hawkmoth to access the nectar within.
 Flies
While they're not the first pollinator that comes to mind for most people, some flies contribute to certain penstemon species' pollination. They are generally attracted to flowers with open access, but they're less specific in their flower preferences. Among them are the Syrphid flies, often known as hoverflies. These flies resemble bees or wasps but are indeed harmless. They visit penstemon flowers primarily for nectar, which they consume for energy, and sometimes for pollen, which they need for reproduction. Syrphid flies are considered beneficial insects in the garden. Their larvae are voracious predators of aphids and other pests, providing natural pest control. The presence of penstemons can help attract these helpful flies to your garden, promoting a healthy ecosystem.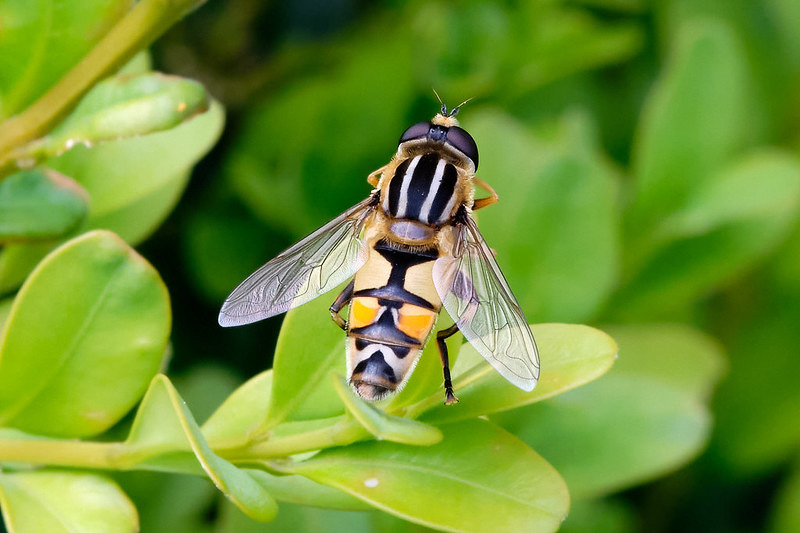 Syrphid Fly
Penstemon and Pollinator Preferences
Pollinators have preferences, often based on the accessibility of nectar, the flower's color, and its shape:
Penstemon cobaea (Wild Foxglove): This species has large, open flowers, allowing easier access for bees and butterflies. Its pale to vibrant pink coloration is a visual attractant for these pollinators.
Penstemon strictus (Rocky Mountain Penstemon): With its royal blue to purple flowers, this penstemon is visually appealing to bees and hummingbirds. The tubular shape of the flowers is ideal for the long beaks of hummingbirds.
Penstemon pinifolius (Pineleaf Penstemon): This bright red penstemon is a favorite among hummingbirds. Its needle-like foliage is also an interesting feature, adding texture to gardens.
Penstemon eatonii (Firecracker Penstemon): Its bright red flowers are not only appealing to the eyes of gardeners but also a favorite of hummingbirds. The tubular flowers are perfect for the birds' feeding style.
Penstemon digitalis (Foxglove Beardtongue): This species has lighter-colored flowers, often white, which are attractive to a variety of pollinators, including bees and butterflies.
Penstemon palmeri (Scented Penstemon): This penstemon has a fragrance that's appealing to pollinators. The large pink flowers are frequented by bees and hummingbirds alike.
The Role of Color and Shape
Color: Pollinators have different color preferences. Bees tend to be attracted to blue, purple, and yellow flowers; butterflies prefer red and pink; hummingbirds are most attracted to red, which is why many penstemons that attract hummingbirds are of this color.
Shape: The shape of penstemon flowers plays a significant role in pollinator attraction. Tubular flowers are perfect for hummingbirds and certain types of bees, while open, flat flowers might attract more butterflies.
Penstemon and Pollinators: Benefits to Ecosystems
Penstemons are native to North America, making them an essential part of the local ecosystems. By attracting and feeding a variety of pollinators, they support biodiversity.
They're crucial for gardens designed to support pollinators, especially in areas where these critical creatures are under threat due to habitat loss or pesticide use.
While every effort has been made to describe these plants accurately, please keep in mind that height, bloom time, and color may differ in various climates. The description of these plants has been written based on numerous outside resources.