What is Penstemon?
Penstemon, also known as beardtongue, encompasses a diverse group of plants highly regarded in the gardening world.
Native: Penstemons are native to North America, with the highest diversity in the western United States. However, certain species extend into the northern regions of the Midwest and Canada, and some are native to the eastern United States. Their habitats are equally diverse, ranging from open plains and desert regions to alpine mountain zones.
Penstemon belongs to the Plantaginaceae family, which includes common flowers such as snapdragon and foxglove. There are approximately 250-280 species, making it one of the largest genera of flowering plants native to North America.
Description: Penstemon plants are recognized for their striking tubular flowers, each with a distinct, often bearded, fifth stamen. They exhibit a wide range of colors, from serene blues and purples to vibrant reds and pinks, often with contrasting throat markings.
Growth Habit: Most penstemons are herbaceous perennials, meaning they die back in winter and regrow in spring. However, the genus also includes some subshrubs and shrubs, particularly in its southern range. Penstemons generally have an upright growth habit with a clumping form. They produce dense spikes or loose racemes of flowers atop stems that can be either leafy or bare, depending on the species.
Size: Penstemon plants vary widely by species, ranging from compact forms only a few inches tall to robust species that can reach several feet in height.
Flowers: Penstemon flowers are tubular and bilaterally symmetrical, with five prominent stamens, one of which is usually bearded – the characteristic that gives them the common name "beardtongue." The colors span nearly the entire spectrum and attract a host of pollinators.
Blooming Season: While blooming times can vary among species, most penstemons flower in late spring to early summer, with blooms lasting several weeks. Some species have a secondary bloom in late summer or early fall.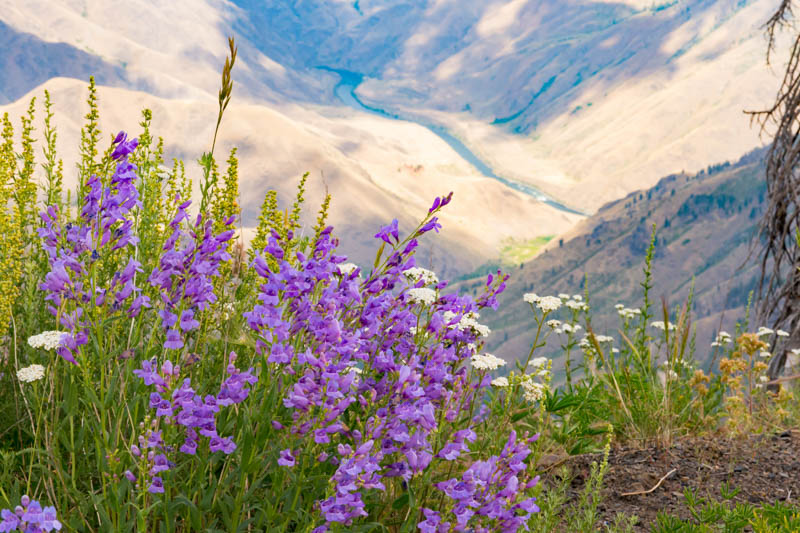 Penstemon venustus, commonly known as charming penstemon or Venus penstemon, is native to the western United States
Fruit: Penstemons produce small seed capsules containing numerous tiny seeds after flowering. Gardeners sometimes use these for propagation.
Foliage: Foliage among Penstemon species varies, but leaves are generally lanceolate to ovate, with entire or serrated margins. Some species feature evergreen foliage, while others are deciduous.
Hardiness: Penstemons are hardy plants, with different species adapted to different USDA zones. Most are suited for zones 4-9, though this can vary, especially with species native to higher elevations or southern latitudes.
Uses: Penstemons are widely used in ornamental gardening due to their beautiful flowers and ease of care. They're also used in habitat restoration projects, native plant gardens, and xeriscaping due to their drought tolerance and low maintenance requirements.
Pollinators: The tubular flowers of penstemons are magnets for pollinators, particularly hummingbirds and various species of bees, which are attracted to the nectar and vibrant colors.
Toxicity: Penstemons are generally considered non-toxic to humans and animals, making them safe additions to gardens.
Deer and Rabbit: Most penstemons are resistant to browsing by deer and rabbits due to the slightly bitter taste of their foliage.
Drought: Many penstemon species are remarkably drought-tolerant, particularly those native to desert or prairie environments, making them suitable for water-wise gardens.
Invasiveness: While penstemons can self-sow, they are typically not considered invasive and are often encouraged in native plantings.
While every effort has been made to describe these plants accurately, please keep in mind that height, bloom time, and color may differ in various climates. The description of these plants has been written based on numerous outside resources.