What is Ironweed?
Vernonia, commonly known as ironweed, is a genus of about 350 species of flowering plants in the family Asteraceae, the same family as daisies and sunflowers. The members of this genus are mostly herbaceous perennials and some shrubs, notable for their striking purple or magenta flowers.
Native: Vernonia species are native to various regions, including North America, South America, Africa, and Asia, with each species adapted to specific ecological niches within these continents.
Description: Vernonia species vary widely, but most are upright, clump-forming perennials that add a bold texture to garden landscapes. Their plant family, Asteraceae, is known for its composite flower heads, and Vernonia is no exception. Each 'flower' is actually a collection of many small flowers, or florets, which are attractive to a variety of pollinators.
Growth Habit: Ironweed plants typically exhibit a robust growth habit, often characterized by tall, sometimes woody stems that tend to be top-heavy when in full bloom. This growth form can lend a striking architectural element to garden settings.
Size: Sizes vary among species, some reaching up to 8 feet tall (240 cm), while others are more compact and suitable for smaller gardens.
Flowers: The flowers of Ironweed are its most notable feature, with dense clusters of tiny, fluffy, purple to magenta florets that typically bloom in late summer to early fall. This late-season blooming makes them valuable in providing color when many other plants are winding down for the season.
Fruit: The fruit of ironweed is a small achene, typically topped with a tuft of bristles that aids in wind dispersal. While not particularly ornamental, these fruits are a food source for wildlife.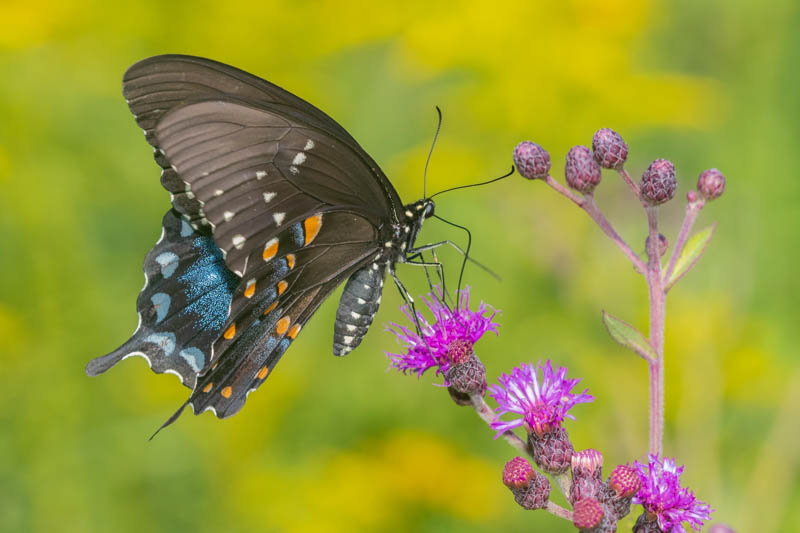 Spicebush Swallowtail (Papilio troilus) on Missouri Ironweed (Vernonia missurica)
Foliage: Foliage among Vernonia species can vary, but leaves are generally lanceolate with serrated edges, and some species have leaves that are strikingly silvery or woolly in texture. This foliage is often substantial and contributes to the overall presence of the plant in the garden.
Hardiness: Hardiness depends on the species, with many North American natives being hardy in USDA zones 4 through 9. Vernonia plants are typically robust and can withstand challenging weather conditions once established.
Uses: Ironweed species are primarily planted for their ornamental value in naturalistic plantings, meadow gardens, and borders. Their tall stature makes them excellent back-of-border plants or visual anchors in garden designs.
Pollinators: Ironweed is highly attractive to pollinators, including bees, butterflies, and other insects, which find the flowers a rich nectar source. Their role in supporting pollinator populations is a key ecological benefit.
Toxicity: Most species are not known to be toxic to humans or animals, making them a safe choice for gardens frequented by pets and children.
Deer and Rabbit: Their bitter taste often deters deer, making them an excellent choice for gardens plagued by these foragers.
Drought: Several Vernonia species are drought-tolerant once established, making them suitable for xeriscaping or in areas where water conservation is a priority.
Invasiveness: Invasiveness is not typically a concern, though gardeners should always check local guidelines as conditions can vary, and non-native species may become invasive in certain regions.
While every effort has been made to describe these plants accurately, please keep in mind that height, bloom time, and color may differ in various climates. The description of these plants has been written based on numerous outside resources.