Phygelius (Cape Fuchsia)
Cape Fuchsia, Cape Figwort
---
Native to South Africa, Cape Fuchsias (Phygelius) are invaluable additions to beds and borders with their abundant, showy flowers in eye-catching colors that bloom for months in summer and fall. Arranged in clusters at the top of sturdy stems rising above the bushy foliage, the funnel-shaped blossoms are highly attractive to hummingbirds! The shiny and generally dark green 4-inch-long lance-shaped leaves give the plants a handsome appearance before and after flowering.
Mostly pest or disease-free, Cape Fuchsia plants are evergreen in warm winter climates (USDA Zones 8-9) but they often do not survive in colder winter climates (USDA Zones 6-7). Selecting a protected area and using winter mulch might help in mild Zone 6 winters.
Performing best in full sun (some shade is tolerated), and in moist, organically rich, well-drained soils, Cape Fuchsia are perennials that grow 3-5 feet tall and wide in cooler climates and even grow larger in warmer areas.
There are many available hybrid cultivars in warm-toned colors to enjoy. Most of them result from crosses between Phygelius Capensis and Phygelius Aequalis. 'Devil's Tears', features dark red buds that open to red flowers with creamy yellow throats; 'African Queen' enjoys lovely deep salmon blossoms, while 'Salmon Leap' is a paler apricot; 'Winchester Fanfare' glows in a mix of pink, red, and orange shades. Luminous, 'Moonraker' and 'Yellow Trumpet' display light yellow flowers that contrast beautifully against their dark green foliage; 'Sunburst' has chartreuse leaves and pink flowers. 'Pink Elf', a 2 ft. variety with creamy coral-pink blooms, is perfect for small spaces and containers.
Cape Fuschias are great candidates for beds, borders, containers, banks and slopes.
Deadhead spent flowers to promote new blooms. Cape Fuchsias are suckering plants that will spread if not contained. Remove these running suckers from the plant to keep it from dominating.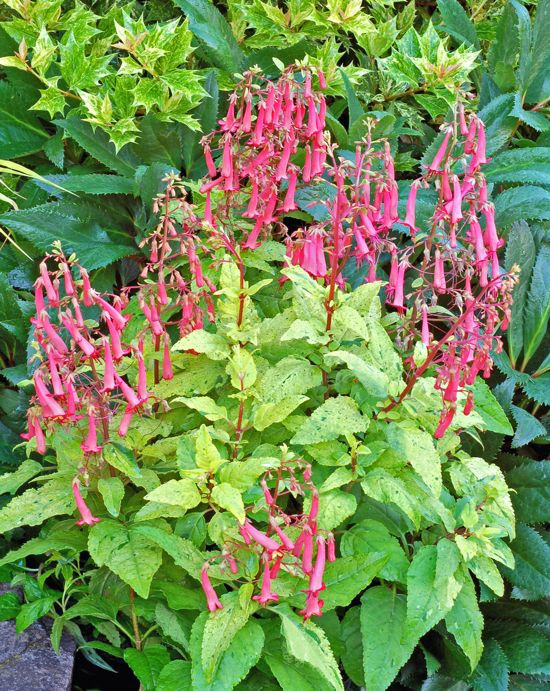 Phygelius 'Lemon Spritzer'
Not sure which Phygelius - Cape Fuchsias to pick?
Compare All Phygelius - Cape Fuchsias
Requirements
Hardiness
7 – 10

Heat Zones
8 – 9

Climate Zones
4, 5, 6, 7, 8, 9, 13, 14, 15, 16, 17, 18, 19, 20, 21, 22, 23, 24, H1, H2
Plant Type
Perennials
Plant Family
Phygelius - Cape Fuchsias
Exposure
Full Sun
Season of Interest
Summer (Early,Mid,Late)
Fall

Height
3' – 5' (90cm – 150cm)
Spread
3' – 5' (90cm – 150cm)
Spacing
36" – 60" (90cm – 150cm)
Water Needs
Average
Maintenance
Average
Soil Type
Chalk, Clay, Loam, Sand
Soil pH
Acid, Alkaline, Neutral
Soil Drainage
Moist but Well-Drained, Well-Drained
Characteristics
Showy
Tolerance
Deer
Attracts
Butterflies, Hummingbirds
Garden Uses
Banks and Slopes, Beds and Borders, Wall-Side Borders
Garden Styles
City and Courtyard
Great Plant Combination Ideas with Phygelius - Cape Fuchsias
*Pictures are courtesy of Terra Nova® Nurseries, Inc. - www.terranovanurseries.com and Botanik Foto
While every effort has been made to describe these plants accurately, please keep in mind that height, bloom time, and color may differ in various climates. The description of these plants has been written based on numerous outside resources.
Requirements
Hardiness
7 – 10

Heat Zones
8 – 9

Climate Zones
4, 5, 6, 7, 8, 9, 13, 14, 15, 16, 17, 18, 19, 20, 21, 22, 23, 24, H1, H2
Plant Type
Perennials
Plant Family
Phygelius - Cape Fuchsias
Exposure
Full Sun
Season of Interest
Summer (Early,Mid,Late)
Fall

Height
3' – 5' (90cm – 150cm)
Spread
3' – 5' (90cm – 150cm)
Spacing
36" – 60" (90cm – 150cm)
Water Needs
Average
Maintenance
Average
Soil Type
Chalk, Clay, Loam, Sand
Soil pH
Acid, Alkaline, Neutral
Soil Drainage
Moist but Well-Drained, Well-Drained
Characteristics
Showy
Tolerance
Deer
Attracts
Butterflies, Hummingbirds
Garden Uses
Banks and Slopes, Beds and Borders, Wall-Side Borders
Garden Styles
City and Courtyard
Great Plant Combination Ideas with Phygelius - Cape Fuchsias