You want to plant bulbs in your garden or containers. Good choice! Bulbs are easy to grow and offer a wide and enchanting array of colors, sizes, and blooming periods. But you have some 'homework' to do before you can fully enjoy them.
Don't limit yourself to tulips, crocus, and daffodils
There is a plethora of interesting plants such as allium, fritillaria, crocosmia, anemones, and many others. They will introduce diversity, originality, and structure to your beds or borders.
| | | | |
| --- | --- | --- | --- |
| | | | |
Prepare a shopping list after considering the 4 following elements
1. Color: what color scheme to use? Mixing bulbs makes a dazzling color display, but resist the temptation of interplanting too many colors.
2. Plant height: what sizes, shapes and silhouettes to introduce interest and structure? Do not hesitate to mix ball-shaped alliums with slender iris or daisy-like anemones with pointy Muscari. There are zillions of possible marriages, be creative!
3. Flowering period: what mix of spring bloomers with summer and fall bloomers for a year-round display should I target? Bulbs are Early Spring, Late Spring, Midseason, Summer, or Fall bloomers. You have all the possible choices! The following link will provide you with their detailed grouping by season: Which bulbs for which seasons?
4. Climate Conditions: what plants are adequate for your weather conditions? Bulbs can be tender or hardy. Hardy bulbs tolerate, and often thrive, in cool temperatures to produce gorgeous blooms. Tender bulbs do not tolerate cold temperatures. They need to be lifted and stored before the cold weather damages them. However, some tender bulbs may overwinter if the season is mild.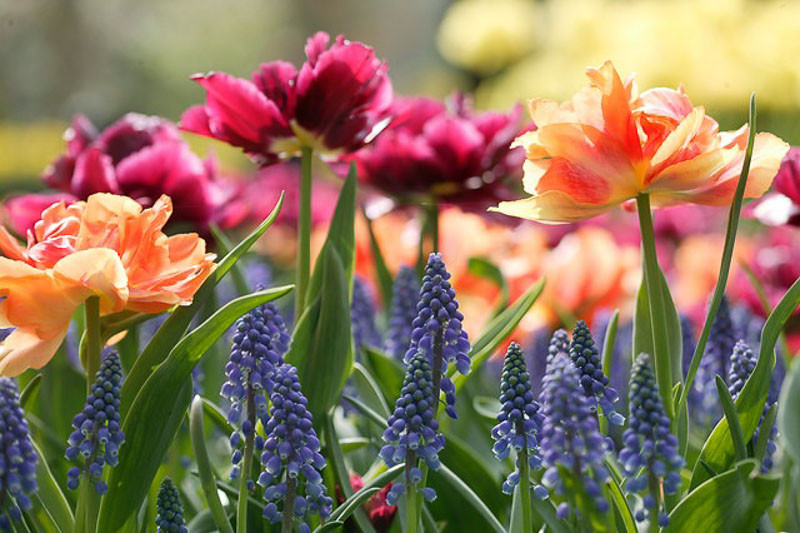 Muscari, Tulip David Teniers, Tulip Willem von Oranje
While every effort has been made to describe these plants accurately, please keep in mind that height, bloom time, and color may differ in various climates. The description of these plants has been written based on numerous outside resources.