Landscaping with Honeysuckle
Landscaping with honeysuckle offers a myriad of opportunities for creating inviting, aromatic, and visually pleasing outdoor spaces. Whether you're working with a sprawling garden or a compact urban balcony, here are some ways to incorporate honeysuckle into your landscape design:
Focal Points
Entranceways: Plant honeysuckle around gates or arches to make a fragrant and welcoming entrance.
Pergolas and Gazebos: Utilize the climbing nature of honeysuckle to add natural beauty to pergolas, gazebos, or other overhead structures.
Vertical Spaces
Walls and Fences: Honeysuckle vines can cover walls and fences, adding both greenery and bursts of color.
Trellises: A honeysuckle vine on a trellis can serve as a standalone focal point or as part of a flowerbed.
Ground Cover
Banks and Slopes: Low-growing honeysuckle varieties can be effective ground covers that help control erosion on sloped areas.
Borders: Use honeysuckle to edge pathways or flowerbeds.
Containers
Pots and Planters: Compact honeysuckle varieties can thrive in containers, offering flexibility for those with limited space.
Hanging Baskets: Some varieties can also be grown in hanging baskets, cascading down to add vertical interest.
Wildlife Attraction
Pollinator Garden: Honeysuckle attracts various pollinators, making it an excellent addition to a pollinator garden.
Bird-Friendly: The berries of some honeysuckle species can attract birds, adding another layer of life to your garden.
Companion Planting
Mixed Planting: Pair honeysuckle with other perennial plants that offer different blooming periods for a season-long display.
Herb Gardens: Incorporate honeysuckle as a backdrop in herb gardens where its sweet fragrance can complement aromatic herbs.
Practical Uses
Privacy Screen: A dense honeysuckle vine can act as a natural privacy screen.
Noise Barrier: Its thick foliage can also serve as a moderate noise barrier.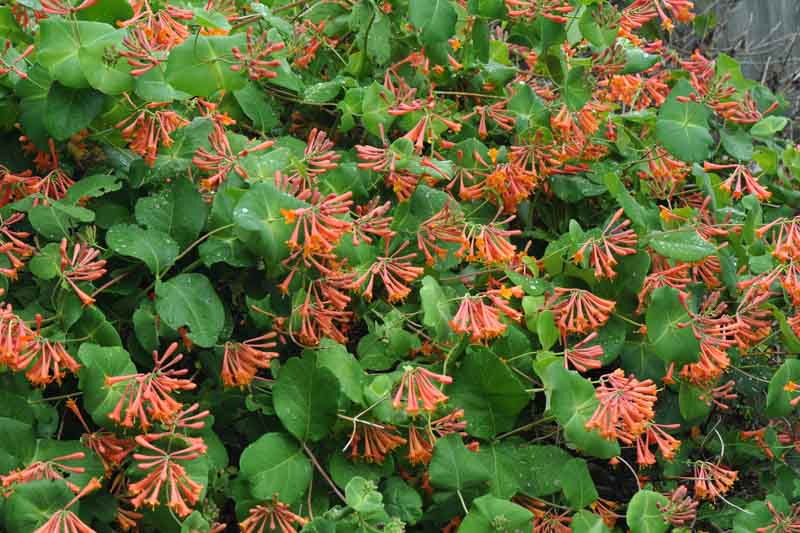 Lonicera x brownii 'Dropmore Scarlet'
Companion Plants for Honeysuckle
Companion plants for honeysuckle can vary depending on your specific goals, such as attracting pollinators, creating a certain aesthetic, or fulfilling practical needs like shade or soil improvement. Here are some suggestions:
Clematis: These vines enjoy similar growing conditions and can intertwine beautifully with honeysuckle. Their large, showy flowers provide a nice contrast.
Rose: Particularly climbing roses, can make a stunning combination with honeysuckle, both aesthetically and aromatically.
Salvia: Particularly the blue or purple varieties, offer a nice color contrast and attract even more pollinators.
Hosta: These shade-loving plants can be placed under the honeysuckle vine, providing an interesting texture contrast with their large leaves.
Fern: Also good for filling in the area under a honeysuckle vine, ferns can thrive in the partial shade provided by the honeysuckle.
Lavender: This fragrant herb can pair well with certain types of honeysuckle, offering both color and scent contrasts.
Echinacea (Coneflower): These can attract pollinators and provide a strong visual contrast, particularly with red or coral honeysuckle.
Daylilies: These are easy to grow and their showy flowers can complement those of the honeysuckle.
Sedum: Low-growing sedums can provide ground cover below a honeysuckle vine, preventing weeds and adding interest at lower levels.
Daffodils: Early spring bloomers like daffodils offer a burst of color before many honeysuckle varieties start flowering.
Asters: Late-season flowers like asters can take over the show when honeysuckle blooms start to fade.
Remember to take into consideration factors like soil type, sunlight, and watering needs when choosing companion plants. Also, make sure the plants you choose are compatible in terms of growth habit so that one doesn't overpower the other.