Stately and elegant, delphinium flowers add a touch of charm to any garden.
Delphinium: A Symphony of Spire Blooms
Delphinium, commonly known as larkspur, is a classic annual or perennial that graces gardens with tall, elegant spires of colorful blooms. Native to the Northern Hemisphere, it belongs to the buttercup family Ranunculaceae, along with clematis, columbines, and poppies.
A favorite among cottage garden enthusiasts, its flowers range from deep blues and purples to vibrant pinks, whites, and even reds.
Delphiniums can reach heights of up to 8 feet (240 cm), depending on the variety, with flowers neatly arranged along their elongated stems.
These plants thrive in full sun to partial shade and prefer rich, well-draining soil.
They're especially cherished for their ability to bring vertical interest to garden beds. However, delphiniums require some care; staking is often necessary to support their tall growth, and they need protection from strong winds.
Gardeners should also be aware that all parts of the delphinium are toxic if ingested, so they should be planted away from curious pets and children.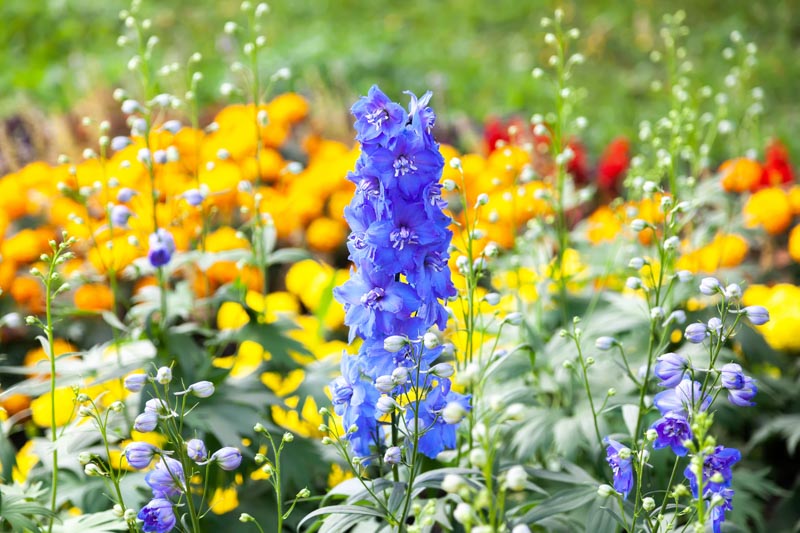 Delphinium – Pest Issues
Delphiniums, while breathtakingly beautiful, are not immune to pest issues. Here's a list of some of the most common pests that target delphiniums, with their associated damages and suggested treatments:
| | | |
| --- | --- | --- |
| Pest | Damage | Treatment |
| Aphids | Tiny, soft-bodied insects that suck plant sap, often leading to curled, yellowed, or distorted leaves. They also excrete a sticky substance called honeydew which can lead to sooty mold. | Use insecticidal soaps or neem oil. Encourage natural predators such as ladybugs, lacewings, damsel bugs, or hoverflies. |
| Borers | Wilting, especially in the heat of the day. Entry and exit holes may be found in the stems, sometimes accompanied by frass (excrement). | Prevention is the best approach. Properly disposing of plant debris at the end of the season can help reduce the borer population. If borers are detected, the affected stems should be removed and destroyed. In severe cases, consider applying an appropriate insecticide to the base of the plants in early summer. |
| Cutworms | They are caterpillar pests that pose a significant threat, especially to young plants. They get their name because of their behavior of "cutting" off a seedling at ground level by chewing through the stem | Hand-picking, physical barriers (collars made from cardboard, aluminum foil, or plastic can be placed around the base of seedlings), tilling, diatomaceous earth, Bacillus thuringiensis (Bt). Birds, toads, and ground beetles are natural predators of cutworms. |
| Cyclamen Mites | Infested plants may exhibit stunted growth, distorted flowers, and curled or blistered leaves. | Remove and destroy affected plants. For minor infestations, a miticide or neem oil can be effective. Use water spray. Immersing infested plants in hot water (111°F – 44°C) for about 15 minutes can effectively kill cyclamen mites. |
| Root-knot nematodes | Infested plants often display stunted growth, yellowing, wilting, and reduced yield because the nematodes interfere with the plant's ability to take up water and nutrients. Root examination reveals the presence of galls or swellings. | Crop rotation, soil polarization, beneficial nematodes, Marigold cover crops, soil amendments. |
| Leafminers | These are larvae of certain moths, flies, and beetles that tunnel inside leaves, leaving winding trails or blotches. | Remove affected leaves. Encourage natural predators, such as spiders, lacewings, ladybugs, soldier beetles, and parasitic wasps. Use systemic insecticides for severe infestations. |
| Slugs and Snails | They chew irregular holes in leaves, mostly during the night or on cloudy days. | Use slug pellets, diatomaceous earth, or copper barriers. Handpick during damp evenings. |
| Spider Mites | Very tiny spider-like creatures, they cause stippling or a dusty look on leaves. Severe infestations can turn leaves yellow or red; fine webbing might be visible. | Avoid overcrowding, introduce natural predators like ladybugs, lacewings, and predatory mites. Use horticultural oil or insecticidal soap. |
To minimize pest problems, it's essential to maintain good garden hygiene. This includes regularly inspecting plants for signs of infestation, removing affected plant parts promptly, ensuring plants are not overly crowded, and rotating crops if possible. Healthy, well-tended plants are also generally more resistant to pests and diseases.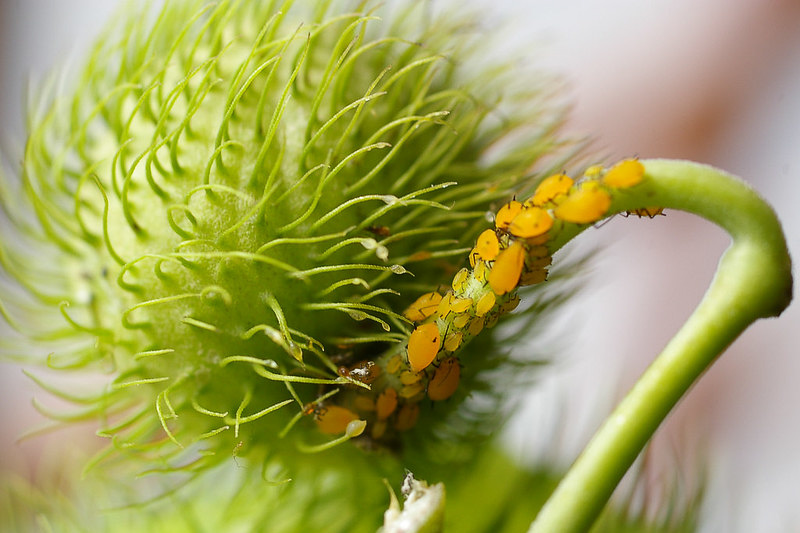 Aphids
Delphinium – Disease Issues
Delphiniums are stunning plants, but they can be susceptible to a range of diseases. Here's a rundown of some of the most common diseases that can afflict delphiniums:
Name
Symptom
Management
Aster Yellows
(Phytoplasma spread by leafhoppers)
Yellowing, stunted growth, and abnormal flower development.
There is no cure for aster yellows. Remove infected plants and manage leafhoppers.
Bacterial Leaf Spot
(Bacterial pathogens)
Water-soaked spots turning brown.
Remove infected leaves. Ensure proper plant spacing. Avoid overhead watering. Practice crop rotation. Apply copper-based fungicides.
Bacterial Soft Rot

Water-soaked lesions, softening and decomposition, foul smell, bacterial ooze
Good sanitation, proper irrigation, crop rotation, use soft rot resistant varieties, minimize wounding, biological and chemical controls.
Botrytis Blight (Gray Mold)(Botrytis cinerea)
Gray, fuzzy mold on leaves, stems, and flowers.
Remove affected areas, avoid overcrowding and overhead watering, and use appropriate fungicides.
Crown Rot
Browning or blackening at the base of the stem
Soil management, crop rotation, proper watering, soil solarization, biological and chemical controls
Damping Off
Seedlings suddenly collapse, darken at the base, and die
Ensure seed trays or pots have good drainage and avoid over-watering. Consider using sterilized potting mix when sowing seeds. Increase air circulation.
Powdery Mildew
White, powdery substance on the leaves.
Improve air circulation, reduce humidity, and use fungicides.
Root Rot
Yellowing leaves, stunted growth, roots are mushy and dark brown or black, foul odor
Improve drainage, water carefully, remove infected plants, sterilize tools and containers, use fungicides.
Rust
Yellow-orange pustules on the undersides of leaves, often accompanied by yellowing or pale green spots on the upper surface. Over time, these can turn black.
Remove and destroy infected leaves. Improve air circulation and avoid overhead watering. Fungicides containing sulfur or copper can be applied as a preventive measure or at the first sign of infection.
Southern Blight
(Sclerotium rolfsii)
Wilting, stem rot at the soil line, and white mycelium.
Crop rotation, soil solarization, mulching, improve drainage. Soil fungicides.
Virus Diseases (e.g. Mosaic)
Stunted growth, yellow mottling, and ring spots.
Remove and destroy infected plants. Control vector pests.
Prevention is often the best cure for many of these diseases. Regularly inspecting plants, providing good airflow, using clean tools, ensuring good soil drainage, and planting in optimal conditions can help keep your delphiniums healthy.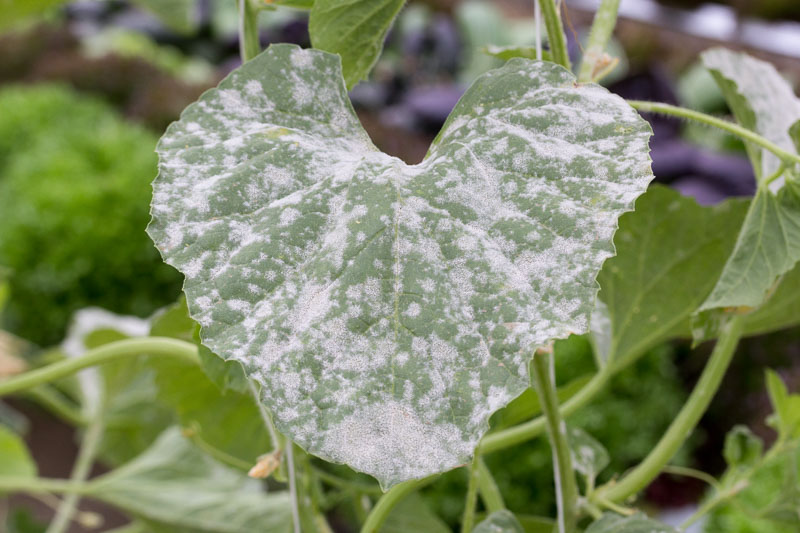 Powdery mildew
Delphinium – Abiotic Problems
Abiotic problems are non-living factors that can adversely affect plant health. For delphiniums, these factors can range from environmental stressors to improper care. Here are some common abiotic problems that may affect delphiniums:
Cause
Symptom
Treatment
Water Stress
Wilted, curled, or drooping leaves; brown leaf edges.
Cause: Overwatering or underwatering.
Ensure well-draining soil and water consistently, avoiding waterlogged or overly dry conditions.
Sunburn
Leaves appear scorched, bleached or have brown patches.
Cause: Excessive sunlight or sudden exposure after being in the shade.
Provide afternoon shade in hotter regions. Consider relocating the plant if consistently exposed to harsh sunlight.
Temperature Stress
Stunted growth, leaf drop, or damaged buds.
Cause: Exposure to extreme cold or heat.
Protect plants from frost and extreme heat. Consider using mulch to regulate soil temperature.
Nutrient Deficiency
Yellowing leaves, poor growth, or discolored leaf veins.
Cause: Too much or too little of certain nutrients in the soil.
Use a soil test to determine needs and apply appropriate fertilizers.
Improper pH
Poor growth, yellowing, or stunted plants.
Cause: Soil pH too high (alkaline) or too low (acidic).
Soil testing and amendments to adjust pH.
Compacted Soil
Poor root growth, water pooling on the surface.
Cause: Heavy foot traffic or machinery.
Loosen the soil and consider adding compost or other organic matter.
Wind Damage
Torn leaves, broken stems, or desiccation.
Cause: Strong winds.
Plant in protected areas or use windbreaks.
Chemical Injury
Burned or discolored leaves, damaged growth.
Cause: Herbicide drift or misuse of pesticides/fungicides.
Follow label instructions carefully and protect plants from drift.
Addressing abiotic stresses often involves understanding the specific needs of the plant and adjusting care routines accordingly. It's also beneficial to monitor plants regularly for signs of stress so that early interventions can be made.
While every effort has been made to describe these plants accurately, please keep in mind that height, bloom time, and color may differ in various climates. The description of these plants has been written based on numerous outside resources.