While Delphiniums are undoubtedly charming, they're not without their challenges. These plants are susceptible to various pests, diseases, and environmental stresses. From munching pests like snails and slugs to fungal ailments such as powdery mildew and crown rot, proactive care is essential to keep Delphiniums thriving and flaunting their iconic spires.
Delphinium: Towering Jewels of the Garden
Delphinium, commonly known as larkspur, is a classic annual or perennial that graces gardens with tall, elegant spires of colorful blooms. Native to the Northern Hemisphere, it belongs to the buttercup family Ranunculaceae, along with clematis, columbines, and poppies.
A favorite among cottage garden enthusiasts, its flowers range from deep blues and purples to vibrant pinks, whites, and even reds.
Delphiniums display a spectacular array of colors, primarily blues, purples, and whites, with some varieties showcasing pinks and reds. Their palmate leaves form a dense bushy mound at the base, giving rise to their towering flower spikes.
Delphiniums thrive in cooler climates, relishing well-drained soils and full sun to partial shade exposure. Typically associated with cottage garden aesthetics, they bring vertical interest and a splash of color to the garden during their summer bloom.
Besides their ornamental value, Delphiniums also attract pollinators, including bees and butterflies, enhancing the garden's biodiversity. However, gardeners should exercise caution as all parts of Delphinium are toxic if ingested.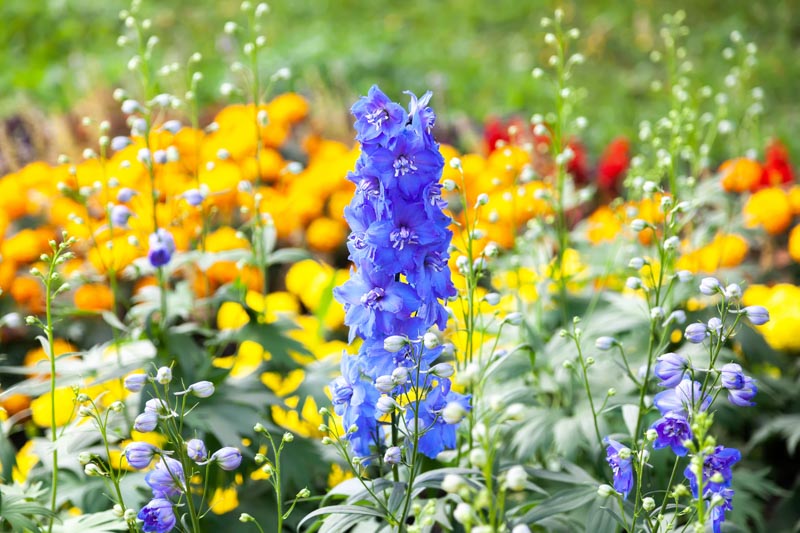 Delphinium – Common Problems
Delphiniums, while breathtakingly beautiful, are not immune to pest and disease issues. Here's a list of some of the most common problems that target delphiniums, with their associated damages and suggested treatments:
Symptoms: Small green or black insects on the underside of leaves; sticky honeydew residue leading to sooty mold.
Causes: Infestation of aphid pests.
Treatment: Use insecticidal soaps, neem oil, or introduce natural predators like ladybugs, lacewings, damsel bugs, or hoverflies.
Symptoms: Wilting, especially in the heat of the day. Entry and exit holes may be found in the stems, sometimes accompanied by frass (excrement).
Cause: Larvae of certain beetles or moths.
Treatment: Prevention is the best approach. Properly disposing of plant debris at the end of the season can help reduce the borer population. If borers are detected, the affected stems should be removed and destroyed. In severe cases, consider applying an appropriate insecticide to the base of the plants in early summer.
Symptoms: Cutworms get their name from their habit of "cutting" off a seedling at ground level by chewing through the stem. On larger plants, they might chew large holes in the foliage or flowers, or even burrow into the stems. .
Cause: Cutworms are the larval stage of various species of moths.
Treatment: Hand-picking, physical barriers, tilling, diatomaceous earth, Bacillus thuringiensis (Bt). Birds, toads, and ground beetles are natural predators of cutworms.
Symptoms: Distorted and stunted new growth.
Cause: Mite infestation.
Treatment: Remove and destroy affected plants. For minor infestations, a miticide or neem oil can be effective. Use water spray. Immersing infested plants in hot water (111°F – 44°C) for about 15 minutes can effectively kill cyclamen mites.
Symptoms: Infested plants often display stunted growth, yellowing, wilting, and reduced yield because the nematodes interfere with the plant's ability to take up water and nutrients. Root examination reveals the presence of galls or swellings.
Cause: Nematode infestation.
Treatment: Crop rotation, soil polarization, beneficial nematodes, Marigold cover crops, soil amendments.
Symptoms: Winding white trails within leaves.
Cause: Larvae of certain moths, flies, and beetles that tunnel inside the leaves
Treatment: Remove affected leaves. Encourage natural predators, such as spiders, lacewings, ladybugs, soldier beetles, and parasitic wasps. Use systemic insecticides for severe infestations.
Symptoms: Irregular holes in leaves; slimy trails.
Cause: Snails and slugs feeding on the plant.
Treatment: Use slug pellets, diatomaceous earth, or copper barriers. Handpick during damp evenings.
Symptoms: Yellow stippling on leaves, fine webbing on the plant, and tiny mites.
Causes: Infestation of spider mites, especially in hot, dry conditions.
Symptoms: Affected plants show yellowing leaves, stunted growth, and twisted or distorted flowers that often take on a greenish hue.
Cause: Caused by a phytoplasma, which is spread by leafhoppers.
Treatment: There is no cure for aster yellows. Remove and destroy affected plants. Control leafhoppers to reduce the spread.
Symptoms: Dark, water-soaked spots appear on the leaves. As the disease progresses, these spots may turn necrotic with a yellow halo.
Cause: Caused by various bacteria, often exacerbated by high humidity and moisture.
Treatment: Remove infected leaves. Ensure proper plant spacing. Avoid overhead watering. Practice crop rotation. Apply copper-based fungicides, though prevention is more effective than treatment.
Symptoms: Soft, mushy areas develop on the plant, often at the base. These areas ooze a foul-smelling liquid.
Cause: Bacteria, typically Pectobacterium carotovorum, which enter the plant through wounds or natural openings.
Treatment: Remove and destroy affected plants. Ensure good drainage in the planting area. Practice crop rotation. Avoid injuring plants as wounds are entry points for bacteria.
Symptoms: Brown spots on flowers; fuzzy mold.
Cause: Botrytis fungus in humid conditions.
Treatment: Improve air circulation; apply fungicides; avoid overhead watering.
Symptoms: Yellowing leaves, wilted plants, rotten crown/root.
Cause: Fungi like Fusarium and Phytophthora in waterlogged soils.
Treatment: Improve soil drainage; avoid overwatering; apply fungicides.
Symptoms: Seedlings collapse and die.
Cause: Soilborne fungi in overly wet conditions.
Treatment: Ensure seed trays or pots have good drainage and avoid over-watering. Consider using sterilized potting mix when sowing seeds. Increase air circulation.
Symptoms: White, powdery substance on leaves and stems.
Causes: Fungal infection favored by high humidity.
Treatment: Apply fungicides, improve air circulation, avoid overhead watering.
Symptoms: Orange to brown pustules on undersides of leaves.
Cause: Fungal infection.
Treatment: Remove and destroy infected leaves. Improve air circulation and avoid overhead watering. Fungicides containing sulfur or copper can be applied as a preventive measure or at the first sign of infection.
Symptoms: Wilting and yellowing of the upper plant parts. At the soil line, there may be a white, cottony fungal growth, sometimes accompanied by small, round, tan to brown structures called sclerotia.
Cause: Caused by the fungus Sclerotium rolfsii. The fungus survives in the soil as sclerotia.
Treatment: Remove and destroy affected plants and surrounding soil. Solarize soil in the summer to kill the fungus. Practice crop rotation. Maintain good garden hygiene.
To reduce the chance of these issues, practice good garden hygiene, ensure proper spacing, use resistant varieties when available, and monitor plants regularly for signs of problems.
While every effort has been made to describe these plants accurately, please keep in mind that height, bloom time, and color may differ in various climates. The description of these plants has been written based on numerous outside resources.