Betula is a genus of deciduous trees and shrubs commonly known as birch. They are characterized by their distinctive papery bark, graceful form, and delicate foliage.
Exploring the Charm and Diversity of Birch Trees
The Betula genus belongs to the Betulaceae family and consists of more than 50 species, each with its unique features and adaptations.
Native: Birch trees are native to various parts of the world, including North America, Europe, and Asia. Their natural habitat ranges from temperate to Arctic regions. They are often found in moist soil near rivers, lakes, and swamps.
Growth Habit: Birch trees are prized for their slender, graceful appearance, often with arching branches that give the tree a delicate, yet robust aesthetic. They are deciduous trees or shrubs that grow in upright, columnar, or weeping forms. Their growth rate is typically moderate to fast, and these trees often possess a single or multi-stemmed trunk.
Size: Birch species range from as small as 12 inches (30 cm) to as tall as 80 feet (24 meters), depending on the species. The spread can also vary widely, from 12 inches (30 cm) to 50 feet (15 meters).
Flowers and Blooming Season: Birch trees produce catkins, which are elongated clusters of flowers without petals. Male and female flowers usually appear on the same tree but are separated into different catkins. Birch trees generally bloom in late spring to early summer, depending on the species and geographical location.
Foliage: The leaves of birch trees are typically simple, alternate, and have a serrated margin. Their color changes with the seasons, starting green and turning shades of yellow or golden in the fall.
Fruit: The fruit is a small nutlet that is encased in a wing, aiding in wind dispersal. These fruits usually appear after the blooming season.
Bark: One of the most distinctive features of birch trees is their bark, which can be white, gray, yellow, or silver and often peels off in paper-like layers.
Hardiness: Most birch trees are hardy and can be grown in USDA Zones 2-9. They tolerate a variety of soil types and climates, though they generally prefer cooler conditions.
Uses: Birch trees offer versatile uses in gardens, from serving as elegant focal points to providing shade. Their distinctive bark and delicate foliage make them excellent choices for woodland or contemporary settings. Dwarf varieties fit well in small spaces, and they're often used to create natural screens or hedges. Additionally, certain Betula species are used for their wood, which is suitable for furniture and plywood. Their sap can be tapped similarly to maple trees and is used for making birch syrup. In traditional medicine, parts of the tree have been used for their antiseptic properties.
Pollinators: Bees and other insects are attracted to the flowers for nectar, thus aiding in pollination.
Toxicity: Some species of Betula produce a sap that can be irritating to the skin in certain individuals. However, they are generally not considered toxic to humans or animals.
Deer and Rabbit: Birch trees are less favored by deer – but they are not immune to browsing, especially during winter months when food sources are scarce.
Drought: Although birch trees prefer moist soil, some species are relatively drought-tolerant once established.
Invasiveness: Most birch species are not invasive and coexist well with native plants in their natural habitat. Silver Birch (Betula pendula) is listed as invasive in Oregon.
Key Facts: Birch trees have a long history of human use; their sap can be tapped for beverages, and their wood is highly valued for furniture and cabinetry.
With their myriad uses, distinctive appearance, and adaptability to various environments, Birch trees offer something for everyone, from the casual gardener to the professional arborist. Learn how to choose the right birch tree for your garden.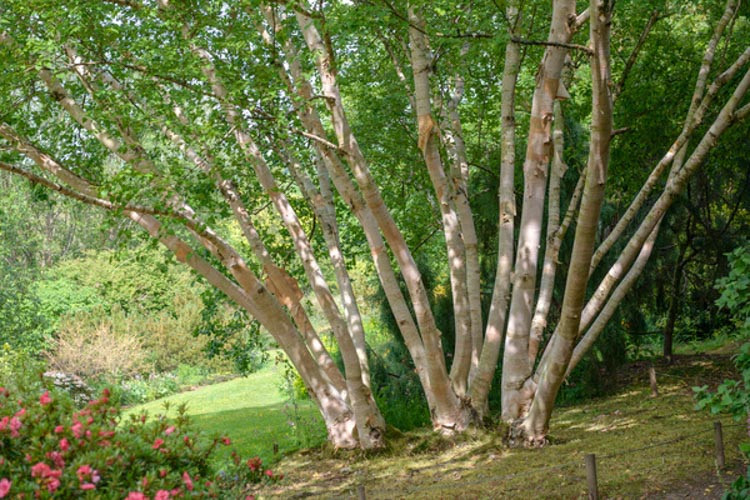 Erman's birch (Betula ermanii 'Grayswood Hill')
What is Special About a Birch Tree?
Birch trees are unique for several reasons:
Aesthetic Appeal: Their distinctive white or silver bark and slender, upright form make them highly decorative.
Seasonal Interest: They offer year-round beauty—from the lush green of spring and summer to the golden yellow leaves in fall and the striking bark in winter.
Native Importance: They are native to many parts of the world, serving as a crucial part of local ecosystems.
Versatility: Birch trees can adapt to a range of soil types and environmental conditions, though they prefer well-drained, acidic soil and full sun to partial shade.
Wildlife Value: The trees provide habitat and food for various species, including birds and butterflies.
Medicinal Uses: Their bark, leaves, and sap have been used for centuries for various medicinal purposes, including as an antiseptic and pain reliever.
Cultural Significance: In various cultures, the birch symbolizes renewal and purification, and is often a subject of art and folklore.
Fast Growth: Birch trees are fast growers, often adding 1-2 feet (30-60 cm) per year, which makes them an excellent choice for new landscapes in need of quick canopy or shade.
While every effort has been made to describe these plants accurately, please keep in mind that height, bloom time, and color may differ in various climates. The description of these plants has been written based on numerous outside resources.