Cornus, commonly known as Dogwood, is a genus comprising around 30 to 60 species of woody plants. These are often small to medium-sized deciduous trees or shrubs that are primarily known for their beautiful, showy flowers and brightly colored fruit.
Exploring the Charm and Diversity of Dogwood Shrubs and Trees
Cornus is part of the Cornaceae family. Notable species include Cornus florida (Flowering Dogwood), Cornus kousa (Kousa Dogwood), and Cornus sericea (Redosier Dogwood), among others.
Native: Most Dogwood species are native to North America, East Asia, and Europe, with specific species often localized to certain geographical areas. For example, Cornus florida is native to eastern North America, while Cornus kousa is native to Asia.
Growth Habit: Cornus can vary widely in form, from deciduous trees to shrubs and even ground cover. The types of Cornus can be categorized as either flowering, twig, or fruiting dogwoods.
Size: Dogwoods vary in size, ranging from small shrubs, such as the Cornus canadensis reaching 4-9 inches (10-22 cm) tall, to larger species like Cornus florida, which can grow up to 30 feet (9 meters) in height.
Flowers and Blooming Season: Dogwood flowers are iconic symbols of spring, offering delicate, star-shaped blossoms in shades of white, pink, or yellow. Often mistaken as petals, the flower's showy bracts surround a small, inconspicuous central cluster. Most Cornus species bloom in the late spring, although some flower as early as late winter or as late as early summer, depending on the species and local climate conditions.
Foliage: Cornus leaves are usually opposite, simple, and oval-shaped, often displaying beautiful autumn coloration in shades of red and purple.
Fruit: The fruit of Cornus plants is typically a bright red or white berry-like drupe that attracts birds and other wildlife.
Hardiness: Dogwoods are hardy in USDA zones 2 to 10, depending on the species.
Uses: Dogwood trees are often used as ornamental plants in gardens and landscapes for their attractive flowers, fall color, and interesting bark. Some species, like the Cornelian cherry, have edible fruit that can be used to make jams, jellies, and beverages. The wood of dogwood trees is dense and strong, making it valuable for crafting tool handles, golf club heads, and other items that require durability.
Pollinators: The flowers attract a variety of pollinators, including bees and butterflies.
Toxicity: The toxicity of dogwood plants can vary, and it's important to identify the specific species you're dealing with. While some species produce fruit that is consumed by wildlife and has traditional culinary uses, others can be toxic. Specifically, the fruit of flowering dogwood (Cornus florida) is poisonous to humans and should be avoided. Some species may also present toxicity risks to dogs. Therefore, proper identification and knowledge of the specific dogwood species you are dealing with are essential for safety.
Deer and Rabbit: Cornus species have varying degrees of resistance to deer and rabbits, depending largely on the availability of other food sources.
Invasiveness: Most Cornus species are not considered invasive, although they can spread through suckering if not properly managed.
Fun Facts: Native American tribes used the bark and roots of certain species to treat various ailments, highlighting the plant's historical and ongoing significance.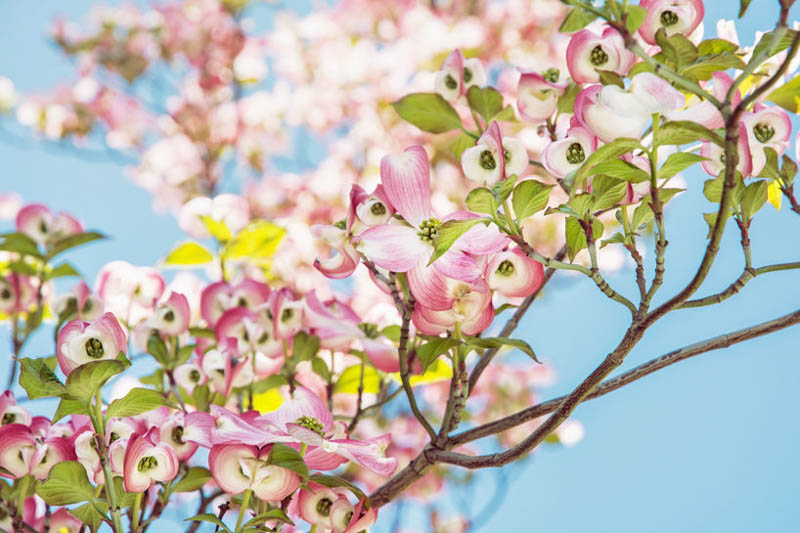 Cornus florida – Flowering Dogwood
What is Special About Dogwood?
Dogwood trees and shrubs hold a special place in gardens and landscapes for several reasons:
Four-Season Interest: Many dogwoods offer year-round visual appeal—spring flowers, summer berries, vibrant fall foliage, and visually striking winter bark.
Floral Beauty: Dogwoods are especially renowned for their springtime blossoms. While people often think these are flowers, they are technically bracts, or specialized leaves, that surround a cluster of small, actual flowers. This unique arrangement creates a dramatic floral display.
Wildlife Attraction: The berries produced by many dogwoods are a food source for birds and other wildlife, adding an ecological benefit to their ornamental value.
Variety: Dogwoods come in many shapes and sizes, ranging from ground-covering subshrubs to tall trees. They also offer a variety of flower colors, including white, pink, and red, making them versatile choices for different garden themes and sizes.
Cultural Significance: The dogwood is rich in symbolism and folklore. In the United States, the flowering dogwood is a symbol of spring and rebirth, and in Christian tradition, it is sometimes associated with Easter.
Adaptability: Several species are remarkably adaptable to different soil types and environmental conditions, including some tolerance to drought and poorer soil qualities.
Disease Resistance: Modern cultivars have been developed to be resistant to diseases like anthracnose and powdery mildew, making them easier to maintain.
Easy to Grow: Generally, dogwoods are low-maintenance plants. They can often tolerate less-than-ideal conditions and still produce their characteristic blossoms and foliage.
Architectural Interest: The layered branching pattern of some dogwood species, like the Pagoda Dogwood, offers strong architectural interest, even when the tree is bare in winter.
Native Choices: Many areas have native dogwoods that are well-adapted to local conditions and serve native wildlife, making them excellent choices for ecologically responsible gardening.
Shade Tolerance: Certain types of dogwoods can thrive in partial to full shade, making them useful for brightening up darker areas of the landscape.
Erosion Control: The root system of some species is effective at soil stabilization, making them useful for planting on slopes and along streams to control erosion.
With all these attributes, it's no wonder that dogwoods are a cherished feature in many gardens.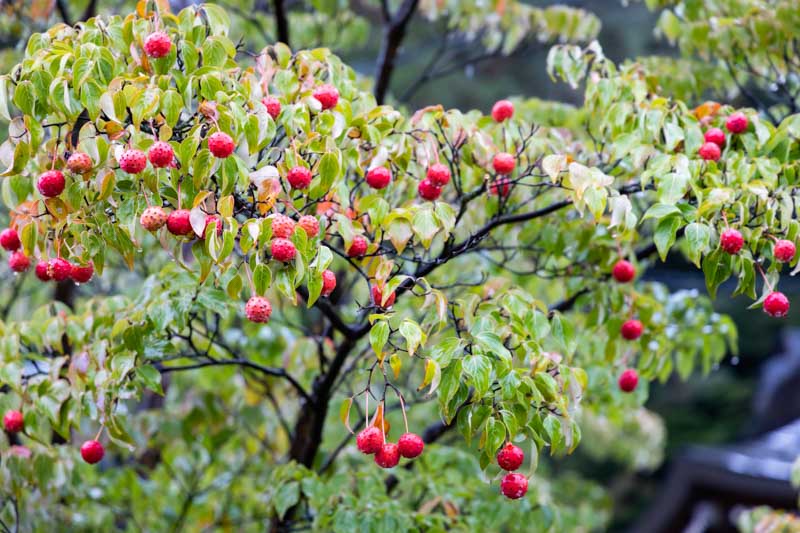 Cornus kousa – Kousa Dogwood fruit
While every effort has been made to describe these plants accurately, please keep in mind that height, bloom time, and color may differ in various climates. The description of these plants has been written based on numerous outside resources.