Viburnum is a diverse genus of shrubs and small trees known for their attractive foliage, fragrant flowers, and colorful fruit. They are incredibly versatile in the landscape and can serve multiple purposes depending on the species or cultivar.
Exploring the Charm and Diversity of Viburnum Shrubs
Viburnum belongs to the Adoxaceae family, and the genus comprises over 150 different species, each with its own unique characteristics, such as leaf shape, flower color, and growth habit.
Native: Viburnum species are native to various parts of the world, including North America, Europe, Asia, and Africa. The native range varies by species, and they have been widely cultivated and naturalized in other parts of the world.
Growth Habit: Primarily, viburnum is a woody shrub, although some species can grow into small trees. They are deciduous, semi-evergreen, or evergreen, depending on the variety and climate. Their growth habit varies from compact and bushy to more open and spreading. Some are low-growing, making excellent ground cover, while others can reach towering heights.
Size: Viburnum species range from as small as 2 feet (60 cm) to as tall as 30 feet (9 meters), depending on the species. The spread can also vary widely, from 2 feet (60 cm) to 12 feet (3.6 meters).
Flowers and Blooming Season: Viburnum flowers are typically white or pink and can be sweetly fragrant to unpleasantly scented. They usually appear in spring, often clustered in flat-topped or rounded cymes.
Foliage: The leaves are generally oval or lobed and can be smooth or textured. Many species offer stunning autumn displays as their leaves change color.
Fruit: After flowering, most viburnums produce small, often bright-colored berries that can be red, blue, black, or yellow. The fruit is attractive to birds and can add winter interest to the garden.
Hardiness: Viburnum species are generally hardy and can tolerate a range of climates. Hardiness zones vary by species, but most are hardy in USDA Zones 2-10.
Uses: Viburnums are versatile in the landscape. They can be used as hedging, specimen plants, or as part of mixed borders. They are also frequently used in wildlife gardens.
Pollinators: The fragrant flowers attract a variety of pollinators, including bees and butterflies, contributing to garden biodiversity.
Toxicity: Viburnum species are generally considered to be of low toxicity to humans and pets. Many are used in traditional medicine and some types even have edible fruits. However, it's always best to consult with a medical professional or veterinarian if ingestion occurs and symptoms develop. Always exercise caution when allowing children or pets to interact with any plant material.
Deer and Rabbit: Viburnum species have varying degrees of resistance to deer and rabbits, depending largely on the availability of other food sources.
Invasiveness: Not many gardeners are aware that certain viburnum species have become invasive in some regions and should be steered clear of. Among them are:
If you're concerned about the potential for a specific species to become invasive in your area, it's always best to consult with local experts or your local extension service to get the most accurate and region-specific advice.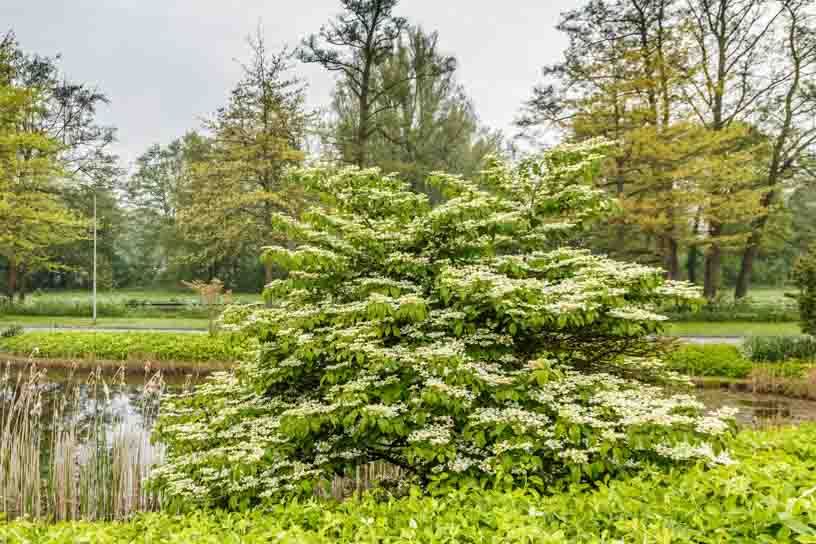 Viburnum plicatum f. tomentosum 'Mariesii' (Doublefile Viburnum)
While every effort has been made to describe these plants accurately, please keep in mind that height, bloom time, and color may differ in various climates. The description of these plants has been written based on numerous outside resources.