Fall Blooming Camellias
Fall Blooming Camellias, Winter Blooming Camellias, How to Grow Camellias, How to Care for Camellias, Landscaping with Camellias
---
As summer fades and the leaves begin to turn, the fall-blooming camellias open the camellia season, adding charm and color in the garden, at a time of the year when most plants are going to bed for the winter. Most fall-blooming camellias are camellia sasanquas which boast one of the loveliest fall flowers, are graceful in form, tender in color and pleasing in fragrance.
Blooming in fall and early winter, their flowers, mostly single or semi-double, are not quite as large and showy as those of Japanese camellias (Camellia japonica), but they are born in such profusion that a camellia sasanqua in full bloom becomes one of the glories of the fall garden.
Never bigger than 3-4 in. (7-10 cm), the scented blooms feature fluted, ruffled petals and range from white through to deep pink. Each flower only lasts a couple of days before it drops its petals which makes them ill-suited for cutting.
These fall-blooming camellias are wonderful garden subjects. They make spectacular additions to partially shaded landscapes and their evergreen foliage creates lovely hedges or backdrops to foundation plantings and perennial borders year-round. The elegant and open habit of Camellia sasanquas allows them to blend beautifully with other shrubs, without dominating the way the larger leaved, denser growing camellia Japonica do.
Faster growing than Camellia japonica, these broadleaved, evergreen shrubs are more sun tolerant than Camellia japonica and are slightly less cold hardy.
Beautiful Early Season Camellias
You may want to review these useful guides too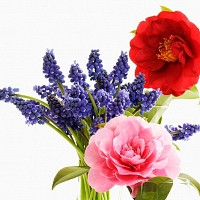 While extraordinarily good-looking on their own, Camellias however look most charming when planted with companion plants. Well-behaved, they make perfect partners with other plants and help create strikingly beautiful combinations in the garden.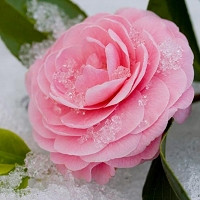 Until recently, Camellias were the privilege of mild winter regions (Zones 7-10). Thanks to advancements in breeding, many new camellia varieties can be successfully grown in Zone 6 where they can endure temperatures as cool as -10F (-23C) if grown in sheltered locations. Here is a selection of winter hardy camellias that could become the highlight of your fall or spring garden!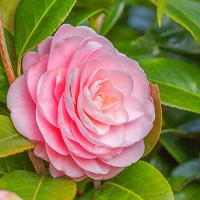 Blooming prodigiously for weeks, some camellia varieties enjoy an extraordinarily long blooming season extending from November to April in the northern hemisphere or from April to September in the southern hemisphere.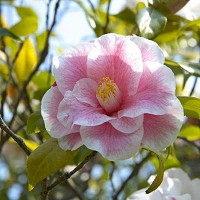 Here is a selection of fragrant camellias that could become the highlight of your fall, winter or spring garden!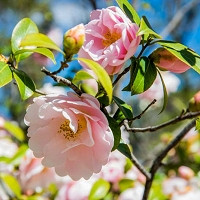 These late season Camellias are in their full glory in August - October in the southern hemisphere; March - May in the northern hemisphere. Adding color and interest to the spring garden, these gorgeous flowering shrubs are highly prized for the beauty of their exquisite blooms, their splendid evergreen foliage and their compact shapely habit.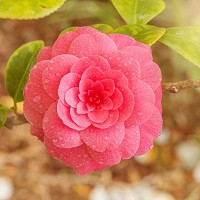 There are camellia varieties for almost any garden situation, in a wide range of flower shapes and colors, sizes, growth habit and blooming seasons.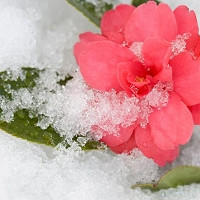 What a treat to find evergreen shrubs that flower during the dull days of winter. Queens of the winter flowers, mid-season Camellias provide a splendid floral show in June - August in the southern hemisphere; January - March in the northern hemisphere. Winters may be long and cold, but your garden can allay that dreariness and be transformed into a place of natural beauty with visually arresting textures or colors. While flowers are usually associated with spring or summer, they can also contribute to the beauty of the winter garden. Adapted to endure harsh winter conditions, they bring the garden to life with their bright, showy colors and attract the eye.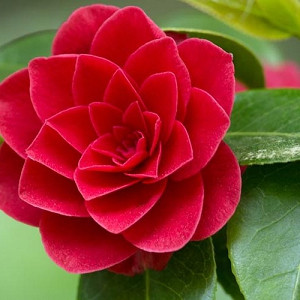 Camellia japonica is the predominant species of the genus and counts over 30 000 cultivars in a wide array of flower forms and colors. Its shapely habit, handsome, glossy foliage and fabulous flowers have attracted gardeners for hundreds of years in Japan, China and Korea. The blooms can reach 5 in. across (12 cm) and create a gorgeous floral display usually from late winter to spring. They range in color from purest white to soft pink to darkest red and may be single, semi-double, double, formal double or full peony form.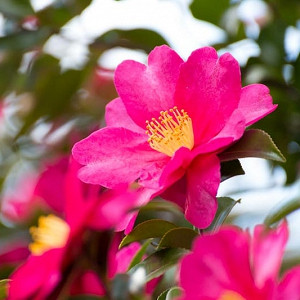 Camellia sasanqua is one of the loveliest fall flowers, graceful in form, tender in color and pleasing in fragrance. As summer fades and the leaves begin to turn, this camellia opens, with aplomb, the camellia season. The flowers, mostly single or semi-double, are not quite as large and showy as those of Camellia japonica, but they are born in such profusion that a camellia sasanqua in full bloom becomes one of the glories of the fall garden. Never bigger than 3-4 in. (7-10 cm), the scented blooms feature fluted, ruffled petals and are usually adorned with a central burst of bright golden-yellow stamens.
Growing Camellias
A common myth about Camellias is that they are very fussy and difficult to grow. This is not true. Camellias are exceptionally care-free plants if they are given a well-chosen site.
Part shade lovers, camellias are best grown in consistently moist;acidic, organically rich, well-drained soils, similarly to azaleas and rhododendrons. Apply a root mulch (leaves or shredded bark) and provide a site sheltered from cold, dry winds as buds and flowers may be damaged by cold winds. Protect from early morning sun and from direct hot summer afternoon sun. Older camellia plants can thrive in full sun when they are mature enough to have their roots shaded by a dense canopy of leaves.
Pruning is rarely needed as most plants develop an attractive shape without pruning. If deemed necessary, pruning should be done just after blooming to avoid removing next year's flower buds.
Pick up blooms that drop to the ground to minimize petal blight. (rust spots on the flowers)
Spring planting, rather than fall, is recommended for northern areas because it gives the plant more time to get established before hard freezes. Watering regularly and deeply is vital in the first summer after planting.
Fertilizing is not necessary, but a light application in springtime will increase growth. Excessive or late feeding can lead to bud drop. Some flower bud dropping may be a natural phenomenon as many camellias set more buds than they can open.
Camellias are susceptible to some viruses and fungal diseases including leaf spots, anthracnose, black mold, petal blight, canker and root rot. Watch also for aphids, planthoppers and spider mites.
Landscaping with Camellias
Highly ornamental, camellias look fabulous in mixed shrub borders where they display their dramatic winter blooms. They still add beauty to the landscape, even when they are not in bloom. Their handsome evergreen foliage always creates a lovely backdrop for other shrubs and flowers. This helps presenting a continuously changing scenery during the year. As each new season approaches, new blooms emerge such as masses of brilliant pink tulips in a pale blue cloud of forget-me-nots for a fresh, new eye-pleasing display.
Plant camellias near other acid-loving plants, such as azalea and rhododendron. Plant at least 5 ft. (150 cm) away from other plants to allow good air circulation and prevent competition for water while becoming established.
Camellias are also well-suited flowering shrub for woodland gardens
Camellias can be used to create screens and hedges. Plant your camellias 3 ft. apart (90 cm) when using them as hedges.
Perfect as specimen plant, many Camellia sasanqua are excellent choices for espaliers.
Camellias make lovely container-grown plants and this is a particularly great method if your garden soil is too alkaline for camellias.
Your Camellia Doesn't Bloom or Losses Flower Buds?
These common problems can be easily avoided by providing good growing conditions:
Water during dry spells in late summer when flower buds are forming
Mulch with an 3-4in (7-10 cm) layer of chipped bark or leaf mould in late winter or early spring to conserve water around the roots
Move container-grown camellias out from under the eaves of the house in late summer or fall so that they catch the rainfall
Do not feed camellias later than the end of July, as excessive or late feeding can lead to bud drop Some natural bud drop may occur where too many buds have formed, particularly with double-flowered cultivars. This should not be excessive and is nothing to worry about
Protect tender cultivars with a double layer of horticultural fleece in winter, as low temperatures can lead to bud drop
Guide Information
Heat Zones
7 - 8

Climate Zones
4, 5, 6, 7, 8, 9, 12, 14, 15, 16, 17, 18, 19, 20, 21, 22, 23, 24
Plant Family
Camellia
Exposure
Full Sun, Partial Sun, Shade
Season of Interest
Fall
Winter

Water Needs
Average
Soil Type
Clay, Loam, Sand
Soil pH
Alkaline, Neutral
Soil Drainage
Moist but Well-Drained, Well-Drained
Landscaping Ideas
Wall-Side Borders, Walls and Fences
Garden Styles
City and Courtyard, Informal and Cottage, Japanese Garden, Traditional Garden
Compare All Camellia
Guides with Camellia
Picture courtesy of: 123RF Stock Photo
While every effort has been made to describe these plants accurately, please keep in mind that height, bloom time, and color may differ in various climates. The description of these plants has been written based on numerous outside resources.
Guide Information
Heat Zones
7 - 8

Climate Zones
4, 5, 6, 7, 8, 9, 12, 14, 15, 16, 17, 18, 19, 20, 21, 22, 23, 24
Plant Family
Camellia
Exposure
Full Sun, Partial Sun, Shade
Season of Interest
Fall
Winter

Water Needs
Average
Soil Type
Clay, Loam, Sand
Soil pH
Alkaline, Neutral
Soil Drainage
Moist but Well-Drained, Well-Drained
Landscaping Ideas
Wall-Side Borders, Walls and Fences
Garden Styles
City and Courtyard, Informal and Cottage, Japanese Garden, Traditional Garden
Compare All Camellia
Guides with Camellia
Related Items