Made famous in the countrysides of France, Greece, and Italy, Mediterranean gardens have influenced many gardeners with their soft colors, gravel walks, brightly patterned tiles, clipped hedges, and informal and drought-tolerant plantings. And not to mention the delightful scent offered by the amazing number of Mediterranean plants with scented leaves.
Pleasing the eye, low-maintenance, and typically water-wise, the Mediterranean garden look can be easily achieved through 9 key elements.
1. Shaded seating areas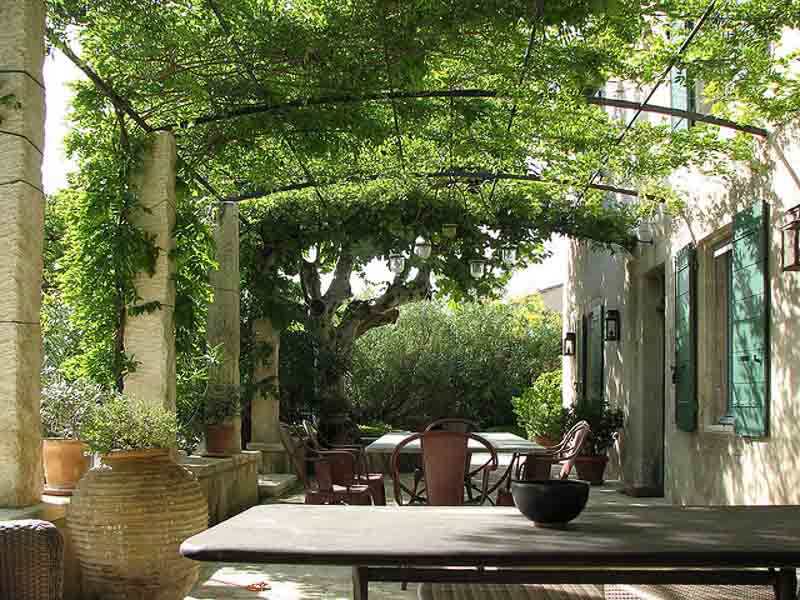 The Mediterranean climate is so agreeable that seating areas are essential. They provide a place to unwind on a balmy summer evening or enjoy a coffee with the first rays of sunshine. However, in these sun-baked gardens, shade is vital. Pergolas are decorative structures that are ideal for providing necessary shade. They also make striking features, specifically when attractively covered with perfumed, climbing plants, which scent the evening air when you sit down and relax. Al fresco meals in the garden are a must and pergolas convert seating areas to inviting extensions of the house, adding intimacy and beauty.
Great plants to consider for pergolas:
2. Pots and containers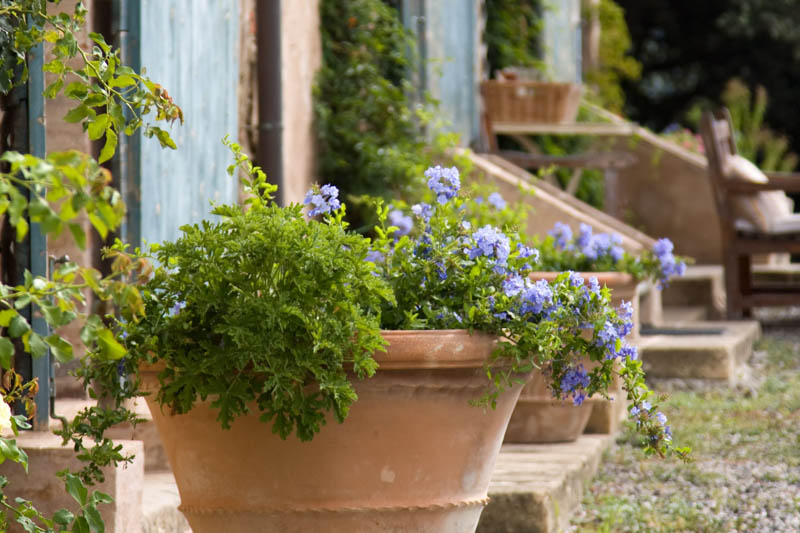 Terra-cotta pots and jars are a famous feature of Mediterranean gardens.
Used as focal points or for container gardening, they come in all possible shapes or sizes, from the simple pot to the large urn or classical garden vases. Select pots with a wide base to ensure they are not blown over. Favor clay pots that will remain cool by evaporation to plastic posts that absorb the sun's heat.
Remember to water your plants regularly. A potted plant has a smaller reserve of water than a plant grown in the ground.
Add a glazed saucer beneath your pot to hold water on which your plant will happily draw.
3. Gravel floor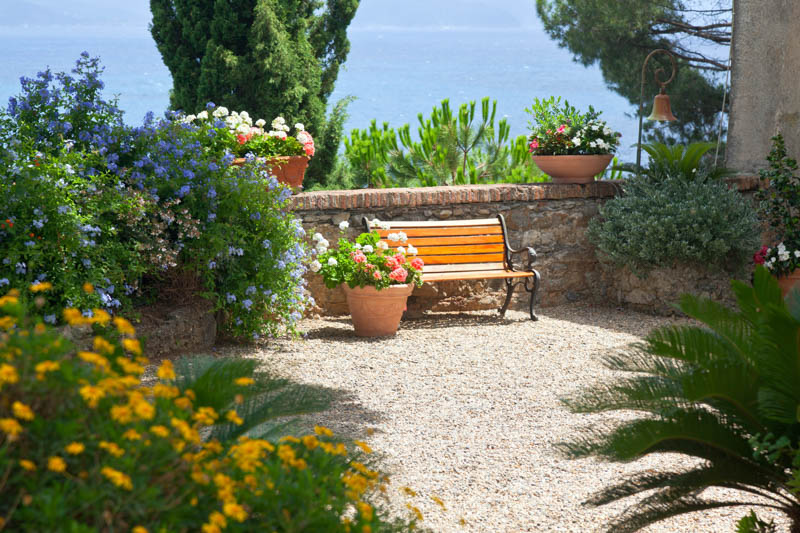 In Mediterranean gardens, where gardeners have long coped with too little water for their plants and gardens or with drought periods, lawns have been considerably reduced or even eliminated and replaced with paving or gravel, or a combination of both.
This considerably reduces water usage and has the incredible advantage of low maintenance and making long-lasting, attractive mulches.
4. Water features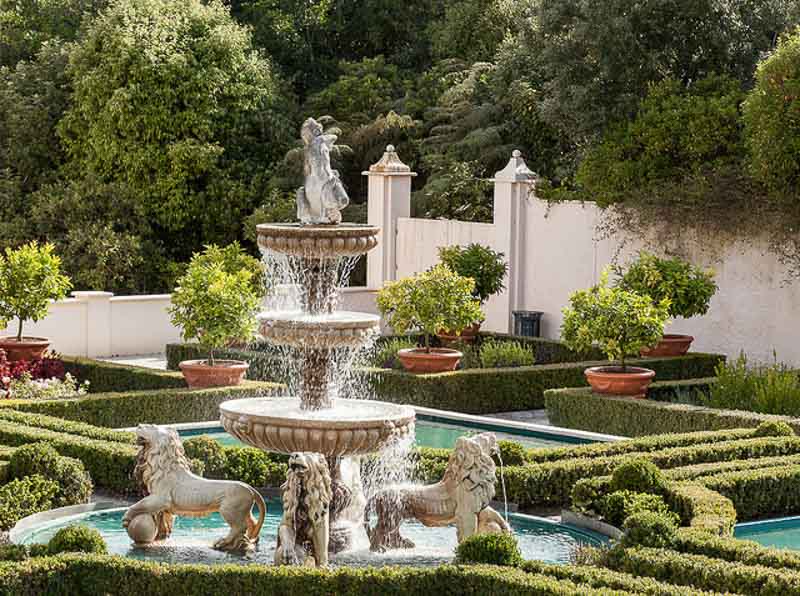 Water features are a must in Mediterranean gardens to cool the air in the heat of summer. The gleam of water also adds a delightful dimension to any garden. A trickle of shallow water and a mister on the hottest days are very attractive.
Whether in ornamental ponds, pools, or fountains, the sight and sound of water always provide an enjoyable relief from hot, dry summers.
Butterflies, bees, and birds enjoy water features too!
5. Pebbles and cobbles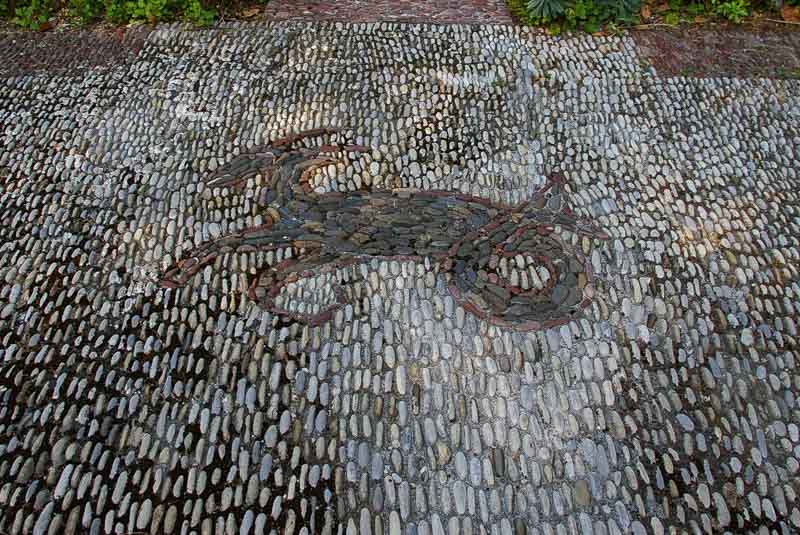 Cobbles and pebbles can be woven into intricate designs, a lovely Mediterranean technique.
These pebble mosaics have a rich history dating back to ancient times. They were used for pavements and were the earliest type of mosaic in all areas of the Eastern Mediterranean. They still can be admired in many Mediterranean towns and villages.
Use stones of various colors and sizes to lay flat or on edge and create your design, just like the Moors in southern Spain!
6. Mediterranean tiles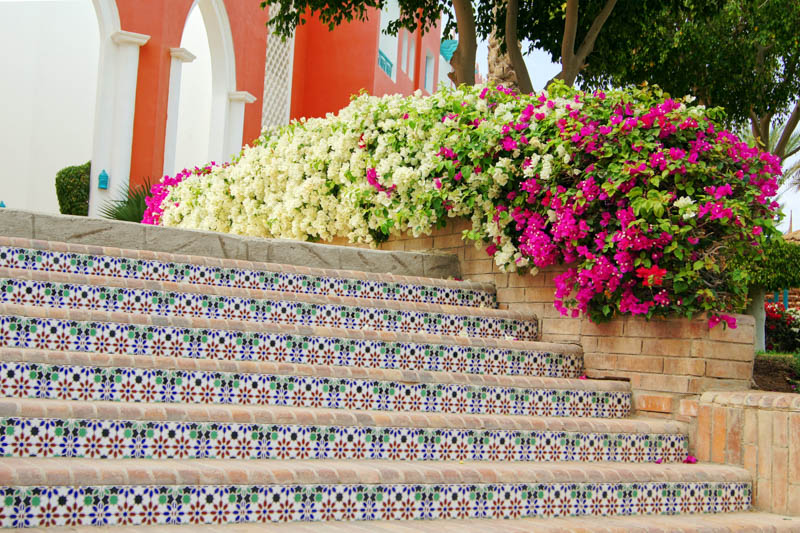 Reminiscent of the Moorish mosaic, glazed colored tiles are very decorative and may be used to decorate walls or patio floors.
Bursting with color, these create lively mosaics and can be used in various climates to create dramatic color accents with their rich combinations of pattern and color.
Here they beautifully brighten up the vertical surface of the risers.
7. Succulents and drought-tolerant plants
While there are different styles of gardens across the Mediterranean region and thousands of plants to be used, those immediately coming to mind belong to the tranquil color palette of grays, purples, and blue-greens. Here is the list of heat-loving and drought-tolerant plants favored by gardeners and admired by onlookers. It includes a variety of fragrant herbs, as the scent is important in a Mediterranean garden:
Orange and lemon trees also add a Mediterranean touch. However, they must be planted in pots and sheltered over winter unless you live in a Mediterranean climate.
8. Clipped hedges and topiary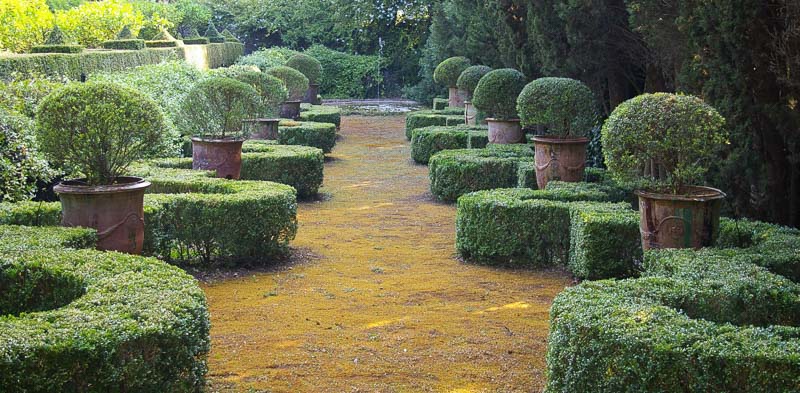 They contribute to the garden's architectural framework and make an excellent foil. Omnipresent of Mediterranean gardens is the Italian cypress (Cupressus Sempervirens), a very versatile, evergreen tree that adds height and drama, provides an attractive green backdrop all year round, and is also ideal for privacy.
The clipped box is also currently used for low-growing hedges, providing both structure and basic ornament in all seasons.
9. Raised beds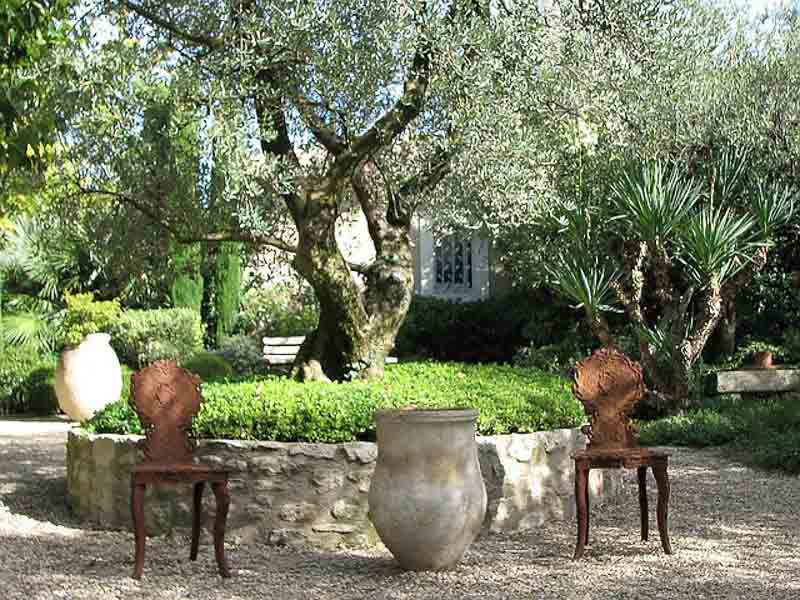 Not only attractive, raised beds are all a fabulous opportunity for creating well-drained sites, an environment that Mediterranean plants love.
They are also great at breaking the monotony, showing plants off to their advantage, and making gardening easier (no need to stoop!).
These raised beds can be formal or informal, dressed with gravel or mulch, and even include larger boulders.
While every effort has been made to describe these plants accurately, please keep in mind that height, bloom time, and color may differ in various climates. The description of these plants has been written based on numerous outside resources.