The pomegranate tree (Punica granatum) is a veritable feast for the eyes and palate, prize for its vibrant red-orange flowers and luscious, jewel-like fruit. A handsome shrub in flower and worthy of inclusion in the border.
Pomegranate: Botanical Insights
Native: Originally native to regions of the Middle East and Central Asia, the pomegranate has been cultivated for millennia and has spread to various parts of the world, including the Americas and Europe.
Plant Type and Habit: Punica granatum is a deciduous or semi-evergreen small tree or large shrub with a multi-stemmed, upright, and spreading habit. It can be pruned to maintain a desired shape or allowed to grow freely.
Size: Typically, pomegranate trees range from 6 to 20 feet (1.8 to 6 meters) in height and 4 to 15 feet (1.2 to 4.5 meters) in spread, although dwarf varieties are available that grow to about 4 feet (1.2 meters) tall.
Flowers: The pomegranate produces striking, funnel-shaped, crepe paper, bright scarlet flowers, 2 inches (5 cm) in diameter. They are borne singly or in clusters at the branch tips.
Bloom Time: Blossoms appear from late spring to early summer, with some varieties producing sporadic blooms throughout the growing season.
Fruit: Shining against the foliage, the flamboyant flowers are followed by spherical, reddish-brown, leathery-skinned fruits up to 4 inches across (10 cm). They can be eaten fresh or used in jams or jellies. Pomegranate is partially self-fertile, so planting two or more varieties increases the fruit set.
Foliage: Its numerous slender branches are clothed with lustrous, narrowly oblong, rich green leaves that emerge bronze in spring. They provide an attractive backdrop for the colorful fruit and flowers. Evergreen in warm winter areas, the foliage changes to soft yellow-green, sometimes brilliant yellow, in the fall.
Hardiness: Pomegranate trees are hardy in USDA zones 7-10, although they appreciate some protection from harsh winter winds in the cooler end of this range.
Uses: Beyond fruit production, pomegranate trees are versatile in the landscape. They can serve as specimen trees, hedge plants, or foundation plants and are great in Mediterranean-style gardens. Pomegranates can also be grown in large pots or containers, making them suitable for small spaces or colder climates where they can be brought indoors. They're also popular choices for bonsai.
Wildlife: Birds are attracted to the fruit, and pollinators like bees or hummingbirds are drawn to the flowers. However, the spiny branches generally deter larger herbivores.
Deer and Rabbits: While not completely resistant, the spiny nature of many pomegranate varieties tends to make them less appealing to deer and rabbits.
Toxicity: Pomegranate trees are generally considered non-toxic to humans and pets, although excessive consumption of the fruit's seeds can be problematic due to their high caloric content.
Drought: Pomegranates are remarkably drought-tolerant once established, thanks to their deep root system. However, they do better with consistent moisture, especially when fruiting.
Invasiveness: Pomegranate trees are not considered invasive in most areas, although they can self-seed under the right conditions. Proper pruning can prevent unwanted spread.
Benefits: Beyond their ornamental value, pomegranates are celebrated for their antioxidant-rich fruit, associated with various health benefits. The fruit can be consumed fresh or used in juice, jams, and culinary dishes. The flowers and bark also have traditional medicinal uses.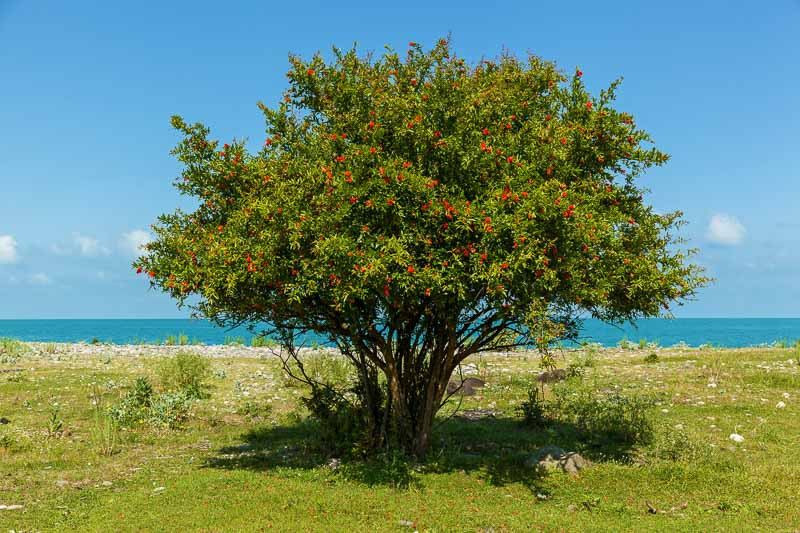 Pomegranate: Any Health Benefits?
Yes, pomegranates are highly nutritious and offer a variety of health benefits, both in fruit and juice form. Here are some of the key health benefits of pomegranates:
Rich in Antioxidants: Pomegranates are packed with antioxidants, which help fight free radicals in the body and reduce oxidative stress.
Anti-inflammatory Properties: The antioxidants also have anti-inflammatory effects, which can help reduce inflammation throughout the body.
Heart Health: Consuming pomegranate juice can help lower blood pressure levels and reduce cholesterol, two key factors in maintaining heart health.
Improves Digestion: Pomegranates are rich in fiber, which helps regulate bowel movements and can assist in preventing constipation.
Boosts Immunity: Pomegranates are a good source of vitamin C, which is known to boost the immune system.
Cancer Prevention: Certain studies have suggested that pomegranates may help prevent prostate and breast cancer, though more research is needed in this area.
Improves Exercise Performance: Pomegranate juice may enhance exercise performance by improving digestion and reducing fatigue.
Blood Sugar Control: Despite their natural sugar content, pomegranates have a low glycemic index and do not significantly raise blood sugar levels.
Joint Health: Some evidence suggests that pomegranates can help treat symptoms of arthritis and reduce joint pain.
It's worth noting that while pomegranates offer a range of health benefits, they are also high in sugar and calories, so moderation is key. Always consult a healthcare provider before making significant changes to your diet, especially if you have existing health conditions or are taking medication.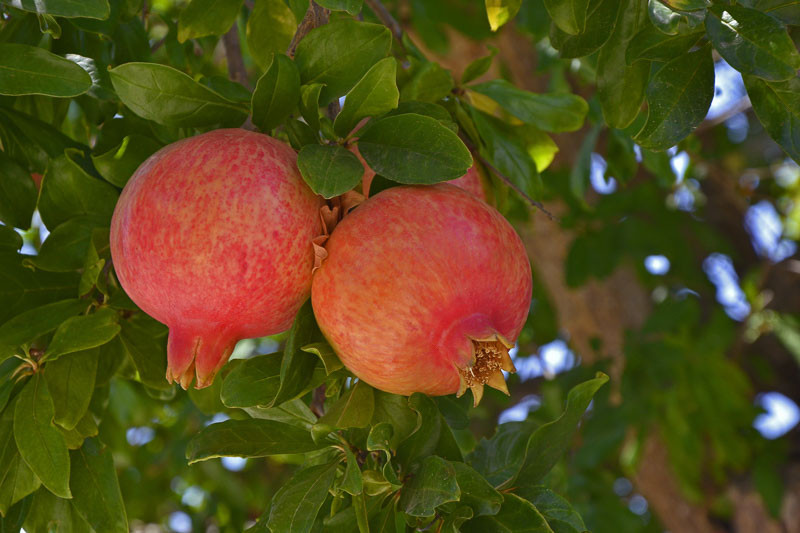 How To Eat Pomegranate?
Eating a pomegranate can be a rewarding but somewhat messy experience if you're not familiar with the proper technique. Here are some steps on how to eat a pomegranate:
Preparing the Pomegranate:
Wash: Start by washing the pomegranate thoroughly.
Cut: Using a sharp knife, cut off the top (crown) and bottom of the fruit.
Score: Gently score the skin in quarters from top to bottom. You're not aiming to cut deep into the fruit, just through the outer skin.
Removing the Arils:
Open: Hold the fruit over a bowl and use your thumbs to gently pull apart the scored sections. This should expose the arils (the juice-filled seeds).
Remove Arils: Loosen the arils from the white pith and let them fall into the bowl. You can also tap the back with a spoon to help dislodge them. Some people prefer to do this step in a bowl of water to prevent juice from splattering.
Eating:
Consume Raw: You can eat the arils as they are. They have a sweet and tart flavor and are juicy and crunchy.
Juice: If you prefer, you can juice the arils using a juicer or simply by mashing them and then straining the liquid.
In Recipes: The arils and juice can be used in a variety of recipes, including salads, desserts, and cocktails. They also make a vibrant garnish.
Tips:
Stains: Be cautious, as pomegranate juice can stain. Consider wearing an apron and avoid contact with porous surfaces.
Storage: If you don't eat all the arils right away, you can store them in an airtight container in the refrigerator for up to 5 days or freeze them for longer periods.
Buying: Choose pomegranates that feel heavy for their size and are free from cuts and blemishes.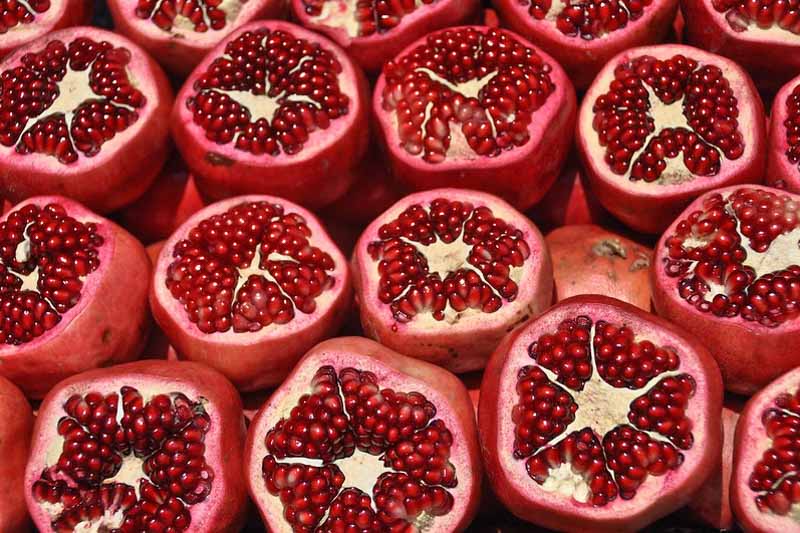 How to Grow and Care for Pomegranate
Growing and caring for pomegranate trees can be a rewarding experience, as these plants not only provide beautiful flowers and foliage but also yield delicious and nutritious fruit. Here are some guidelines to help you successfully grow and care for pomegranate trees:
Site Selection:
Location: Pomegranate trees prefer full sun for optimal growth and fruit production.
Soil: They are adaptable to various soil types but perform best in well-drained, moderately fertile soil.
Planting:
When: The best time to plant pomegranate trees is in late winter or early spring.
How: Dig a hole twice as wide as the root ball and as deep as the root ball. Place the tree in the hole, backfill with soil, and water thoroughly.
Watering:
Regular Watering: Although relatively drought-tolerant once established, pomegranates need regular watering during the growing season. Water sparingly in winter.
Over-watering: Avoid waterlogging as this can lead to root rot.
Fertilization:
Type: Use a balanced, all-purpose fertilizer.
Timing: Fertilize in late winter and again in early summer.
Pruning:
When: Pruning is generally done in late winter or early spring.
How: Remove dead or weak branches and thin out crowded growth to allow sunlight and air circulation. Remove root suckers as they develop.
Pests and Diseases:
Fruit Development:
Pollination: Most pomegranates are self-pollinating but can benefit from cross-pollination.
Harvest: Fruit is typically ready to harvest from late summer to early fall. Ripe fruit will have a deep color and sound hollow when tapped.
By adhering to these guidelines, you can enjoy the multiple benefits of pomegranate trees, from their stunning flowers to their antioxidant-rich fruit.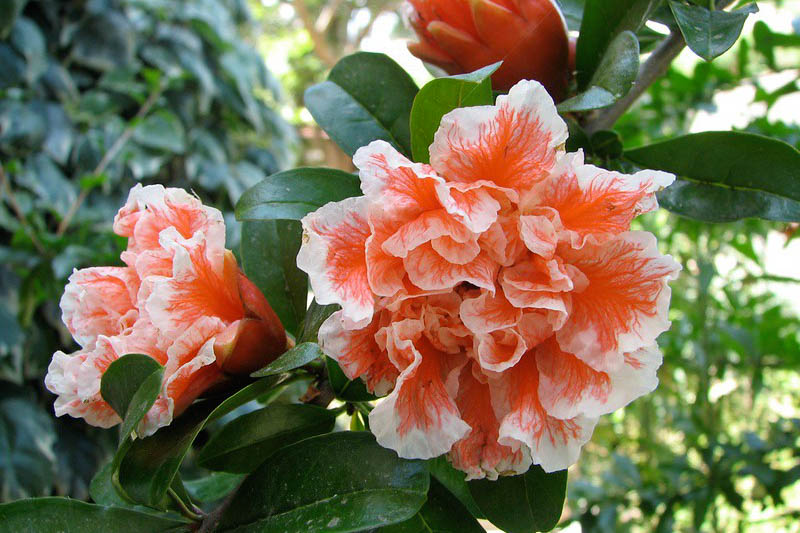 How to Propagate
Propagation of pomegranate trees can be achieved through various methods, including seed, cuttings, and layering.
Seed Propagation:
Extraction: Extract seeds from a ripe pomegranate fruit.
Planting: Sow seeds 1/4-inch deep in a seed-starting mix.
Germination: Keep the soil consistently moist and warm. Germination usually occurs in 3-6 weeks.
Transplanting: Once the seedlings have at least two sets of true leaves and have reached a height of 3-4 inches (7-10 cm), they can be transplanted to larger pots or directly into the ground.
Cuttings:
Cutting Selection: Take semi-hardwood cuttings about 6-10 inches (15-25 cm) long from the current year's growth.
Preparation: Remove all but the top two or three leaves, and dip the cut end into a rooting hormone.
Planting: Stick the cuttings in a pot with a well-draining soil mix, ensuring that at least one node is below the soil level.
Rooting: Keep the soil moist but not soggy and place the pot in a warm, bright area, but out of direct sunlight. Roots usually form in 6-8 weeks.
Layering:
Choosing a Branch: Select a healthy, flexible branch near the base of the tree.
Making the Cut: Make a small upward cut about one-third through the branch.
Rooting Hormone: Optional but beneficial; apply rooting hormone to the cut.
Contact with Soil: Bend the branch down to the ground and bury the wounded part under soil, securing it with a rock or stake.
Root Formation: Roots should form at the cut site in a few months, after which the new plant can be severed from the parent and transplanted elsewhere.
Remember to always use sterilized tools to minimize the risk of transmitting diseases to the plant. Propagating pomegranates can be a rewarding way to expand your garden or share this wonderful plant with friends and family.
While every effort has been made to describe these plants accurately, please keep in mind that height, bloom time, and color may differ in various climates. The description of these plants has been written based on numerous outside resources.