How to Care
Jasmine plants are generally low-maintenance and easy to care for, but they do require some attention to ensure they grow well and produce abundant, fragrant flowers. Here are some essential care tips:
Watering: Jasmine plants prefer consistently moist but well-draining soil. Water regularly during the growing season, ensuring the soil does not dry out completely between waterings. Reduce the frequency of watering during winter or when the plant is dormant. Overwatering can lead to root rot, so it's crucial to avoid waterlogged soil.
Fertilizing: To promote healthy growth and flowering, feed your jasmine plant with a balanced, slow-release fertilizer, such as a 10-10-10 formula, in early spring and again in midsummer.
Pruning: Prune jasmine plants after they finish blooming to maintain their shape, encourage bushier growth, and promote more prolific flowering. Remove any dead, damaged, or diseased branches as needed. For climbing jasmine varieties, train the vines to grow on their support structures and trim them to prevent excessive growth or tangling.
Mulching: Apply a layer of organic mulch, such as shredded bark, around the base of your jasmine plant to help retain soil moisture, suppress weeds, and regulate soil temperature. Keep the mulch a few inches away from the stem to avoid rot and pest issues.
Winter protection: Some jasmine species are more cold-sensitive than others. If you live in a colder climate, protect your jasmine plant from freezing temperatures by moving container-grown plants indoors, applying a layer of mulch, or wrapping the plant in protective materials like burlap or frost cloth.
By providing your plant with the appropriate care and attention, you can enjoy its enchanting fragrance and beautiful flowers for years to come.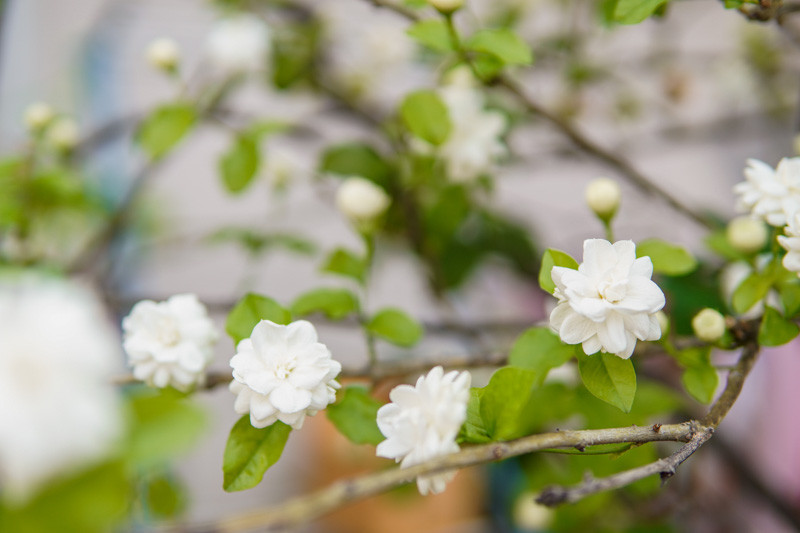 Arabian Jasmine (Jasminum sambac)
Growing Jasmine as a Houseplant
Growing jasmine as a houseplant allows you to enjoy its beautiful flowers and enchanting fragrance indoors. Here are the steps to plant and care for jasmine as a houseplant:
Choose the right jasmine variety: Some species are better suited for indoor cultivation. Jasminum polyanthum (pink jasmine) and Jasminum sambac (Arabian jasmine) are two popular varieties for growing indoors.
Select a suitable pot: Choose a pot with drainage holes to prevent waterlogging. The pot should be large enough to accommodate the jasmine's root system and allow for some growth.
Prepare the potting mix: Use a well-draining, high-quality potting mix that is rich in organic matter. You can make your own by combining equal parts of peat moss, perlite, and compost or well-aged manure.
Plant the jasmine: Gently remove the plant from its nursery container, being careful not to damage the roots. Place the plant in the new pot, ensuring that the top of the root ball is level with the top of the potting mix. Fill the remaining space around the root ball with the potting mix, and press down gently to eliminate air pockets.
Water the plant: Water the plant thoroughly after planting, allowing the excess water to drain through the holes in the bottom of the pot. This will help the potting mix settle and ensure proper root contact with the soil.
Provide a support structure: Many varieties are climbing plants, so providing a small trellis, stake, or hoop within the pot will help support the plant as it grows. Gently attach the plant to the support using soft plant ties or clips.
Position the plant: Place the potted jasmine in a bright location with indirect sunlight, such as an east or west-facing window. Jasmine plants need at least 4-6 hours of bright, indirect light each day for optimal growth and flowering.
Maintain proper care: Jasmine houseplants require consistent care to thrive indoors. Water the plant regularly to keep the soil evenly moist but not waterlogged, and reduce watering during the winter months. Maintain indoor temperatures between 60-75°F (15-24°C) and provide adequate humidity by placing the pot on a tray filled with water and pebbles or by using a humidifier.
Fertilize the plant: Feed your jasmine houseplant with a balanced, water-soluble fertilizer every 4-6 weeks during the growing season. Follow the package instructions for the proper application rates.
Prune and shape: Prune the plant after it finishes blooming to maintain its shape and encourage bushier growth. Regularly check for pests and diseases, treating any issues promptly.
With proper care and attention, your houseplant can thrive and provide you with beautiful, fragrant blooms to enjoy indoors.
How to Propagate
There are two primary methods for propagating jasmine plants: stem cuttings and layering. Both methods can yield healthy new plants with proper care and technique.
Stem Cuttings:
Choose the right time: The best time to take stem cuttings for jasmine propagation is in early summer or late spring when the plant is actively growing and the stems are semi-ripe.
Select a stem: Look for a healthy, disease-free stem with at least 3-4 nodes. Cut a 4-6 inch (10-15 cm) long stem section just below a node using clean, sharp pruning shears.
Prepare the cutting: Remove the leaves from the lower half of the cutting to expose the nodes. You can also trim the remaining leaves by half to reduce transpiration.
Rooting hormone (optional): Dip the cut end of the stem in rooting hormone powder to encourage faster root development. This step is optional but can improve the chances of successful propagation.
Plant the cutting: Fill a pot or container with a well-draining, moist potting mix or a mix of peat moss and perlite. Insert the cut end of the stem into the potting medium, burying at least one node below the surface.
Create a humid environment: Cover the pot with a clear plastic bag or place it in a propagation chamber to maintain high humidity. Make sure the plastic doesn't touch the cutting by using stakes or a wireframe.
Provide light and warmth: Place the pot in a warm location with bright, indirect light. Avoid direct sunlight, which can overheat the cutting and cause it to wilt.
Monitor and care for the cutting: Keep the potting medium consistently moist but not soggy. In 4-6 weeks, the cutting should develop roots. You can check for root growth by gently tugging on the cutting; if it resists, roots have likely formed.
Transplant: Once the cutting has a well-developed root system, transplant it to a larger pot or its final location in the garden.
Layering:
Select a flexible, healthy stem: Choose a long, healthy stem that can be bent down to reach the soil surface.
Prepare the stem: Make a small, upward-slanting cut about one-third of the way through the stem at a point near the middle of the stem's length. This cut should be made just below a node.
Encourage rooting: Apply rooting hormone to the cut (optional) and gently bend the stem down, ensuring the cut portion is in contact with the soil.
Secure the stem: Use a U-shaped wire or a small rock to hold the stem in place, with the cut portion buried slightly in the soil.
Provide ongoing care: Keep the soil around the layered stem consistently moist. Over time, roots will develop at the cut site.
Sever and transplant: Once a healthy root system has formed (usually after a few months), sever the stem from the parent plant and carefully transplant the newly rooted jasmine plant to its final location.
Using either stem cuttings or layering, you can successfully propagate jasmine plants and enjoy their beauty and fragrance in more areas of your garden or share them with friends and family.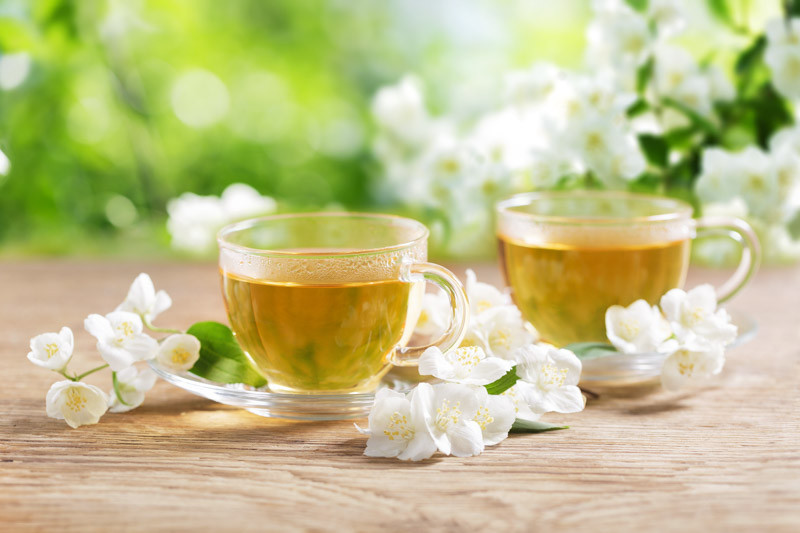 Jasmine tea: some potential benefits of jasmine tea include stress relief, improved heart health, weight loss, improved digestion, and immune system boosting.
Pests and Diseases
Jasmine can be affected by several pests and diseases. It's essential to monitor your plants regularly and take action to control any issues that arise. Here are some common pests and diseases that can affect the plants:
Aphids: These small, sap-sucking insects can cause yellowing and curling of leaves, reduced growth, and poor flowering. To control aphids, use insecticidal soap, neem oil, or a strong spray of water to dislodge them from the plant.
Spider mites: These tiny, spider-like pests can cause stippling, yellowing, or bronzing of the leaves. Severe infestations can lead to leaf drop and plant death. Control spider mites by spraying the plant with insecticidal soap, neem oil, or horticultural oil, and maintain adequate humidity levels around the plant.
Mealybugs: These small, cottony insects can cause stunted growth, yellowing of leaves, and sooty mold. Control mealybugs by dabbing them with a cotton swab soaked in rubbing alcohol, spraying the plant with insecticidal soap, or releasing natural predators like ladybugs or lacewings.
Root rot: Overwatering or poor drainage can lead to root rot, a fungal disease that causes yellowing, wilting, and drooping of leaves, as well as plant death. To prevent root rot, ensure your jasmine is planted in well-draining soil and avoid overwatering.
Rust: Rust is a fungal disease that causes orange or reddish-brown pustules on the undersides of leaves, leading to yellowing and premature leaf drop. To control rust, remove infected leaves, provide good air circulation, and apply a fungicide labeled for rust control.
Prevention is key when it comes to managing pests and diseases. Maintain proper cultural practices, such as regular watering, proper fertilization, pruning, and good air circulation, to keep your plants healthy and better able to resist pests and diseases.
Frequently Asked Questions
What does jasmine symbolize?
Jasmine symbolizes various positive attributes across different cultures. In general, it represents love, beauty, sensuality, and purity. In some regions, like India, it's associated with spirituality, divine hope, and even good luck. Jasmine flowers are often used in wedding ceremonies and religious rituals, symbolizing the deep connection between the physical and spiritual realms.
Is jasmine easy to grow?
Jasmine is relatively easy to grow, provided you meet its basic growing requirements. It needs well-draining soil, bright but indirect sunlight, and regular watering to maintain consistent moisture. Some jasmine species can withstand cooler temperatures, while others prefer warmer climates.
What does jasmine smell like
Jasmine has a sweet, rich, and intoxicating floral fragrance that's often described as exotic, warm, and sensual. The scent can be quite strong, especially during the evening and night when the flowers release their aroma to attract pollinators like moths. The distinctive fragrance of jasmine is highly prized and widely used in perfumes, essential oils, and other fragrance products.
What is jasmine tea good for?
Jasmine tea, typically made by blending green tea leaves with jasmine blossoms, is known for its potential health benefits due to the presence of antioxidants and other beneficial compounds. Some potential benefits of jasmine tea include stress relief, improved heart health, weight loss, improved digestion, and immune system boosting.